The first thing you need to do to stimulate hair growth is to cleanse your scalp. Choose from 5 different scalp detox recipes to revitalize your follicles and promote strong, healthy and abundant hair.
Your Scalp is Like The Soil On Which Hair Grows!
In the quest for healthy, strong hair, the SCALP is often completely ignored.
Yet it is the scalp we need to pay attention to FIRST, before targeting the hair strands themselves. Makes sense, doesn't it?
Consider the scalp to be the soil on which plants (hair strands) sprout and grow. Your scalp has many follicles, which are the roots from which each hair sprouts out from.
If the soil is clogged, filled with toxins and has no nutrients, the plants that grow from it will be weak and dull. If the soil is clean, well-aerated and nutrient-rich, plants will readily sprout out and grow thick, strong and plentiful.
It is the same thing with our scalp and hair! If your scalp is clean, free of toxic product build-up and nutrient-rich your hair will grow readily, and it will grow thick and strong.
Keep in mind that the process of regrowing your hair needs to be approached holistically. Apart from detoxing your scalp and cleansing your hair follicles, you need to supply your scalp with nutrients that promote hair growth, such as omega 6 fatty acids, zinc, potassium and vitamins B and K.
Why You Need to Detox Your Scalp
Wondering why you need to detox your scalp? What are the signs you that warn you to detox your scalp? Read: 5 Reasons to Detox Your Scalp.
5 Scalp Detox Recipes to Stimulate Hair Growth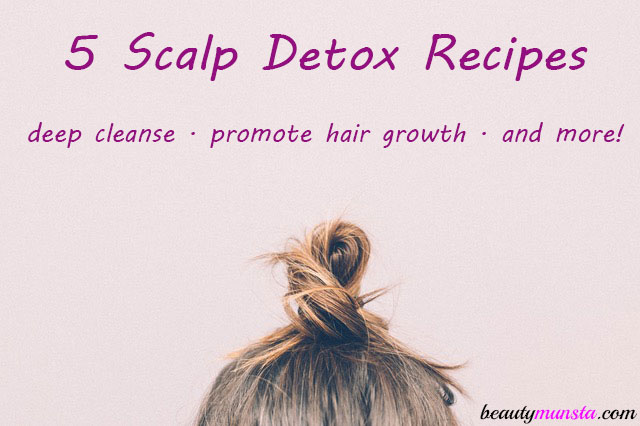 Detoxing your scalp is not just about encouraging hair growth! There are many other benefits you can enjoy from a good scalp detox. These scalp detox recipes will help you get rid of dandruff, acne and inflammation on the scalp, odors and other scalp ailments.
Here are the best 5 scalp detox recipes that you can use:
1. Scalp-Stimulating Massage
Massages are highly stimulating because they encourage blood circulation to the very top of the skin. When you massage your scalp, you will be stimulating blood flow to your hair follicles. This will supply your hair roots with much needed nutrients and oxygen.
Scalp massages also help your blood to detox by carrying away toxins from the scalp and eliminating them from your body via the detox organs.
Besides, there's nothing quite as relaxing as a scalp massage!
Ingredients:
Directions:
Mix all the oils in a small glass bowl.
Dip your fingers into the bowl and begin massaging your scalp gently.
Gradually increase the pressure of the massage, as firm as you can take it.
Massage in circular motions and cover all areas of your scalp.
Now place a shower cap on your head and leave the oil in your hair overnight.
Do this at least 3 – 4 times a week for 6 months.
2. Absorptive Clay Mask
Clay is amazing at absorbing toxins and impurities. You can use any type of clay including rhassoul clay, bentonite clay and fuller's earth.
This makes clay the best choice to detox your scalp. Apply this clay mask to draw out deeply lodged toxins from chemical products, pollution and chlorinated water.
Ingredients:
Directions:
Mix all the above ingredients in a bowl.
Apply using an applicator brush after wetting your scalp and hair.
Allow the clay mask to work on your scalp for at least 15 minutes.
Then wash off with a mild sulfate-free shampoo.
3. Cleansing Baking Soda Mask
Baking soda is one of those versatile ingredients with hundreds of uses for beauty and more. It is highly alkaline and reacts with acids in a simple reaction that is characterized by fizzing and bubbling.
Baking soda penetrates deep into the scalp, exfoliates and cleanses it, unlike any other natural substance.
Ingredients:
Directions:
You need to work fast with this mask, meaning mix it and apply it ASAP to get the goodness of the fizzing reaction.
So in a bowl, mix in all the ingredients except the lemon juice.
Get into the bathroom, and loosen your hair.
Now add the lemon juice, mix it quickly with clean fingers and immediately apply all over your scalp.
Be warned, this mask will tingle and even burn a bit, especially if you have scalp acne. But this is completely fine, and will subside in a few minutes.
Keep the mask on for 5 – 10 minutes.
Rinse off with plain water and shampoo, if needed.
4. Honey Scalp Detox
Honey is incredibly cleansing and there's no end to its benefits for beautiful hair. But keep in mind, we are talking about raw honey here. Not the dead, pasteurized highly refined honey that is devoid of any nutrients and live enzymes.
Raw honey is rich in so many vitamins, minerals, enzymes and healing substances. This makes it great for cleansing the scalp, detoxing the scalp and nourishing it with healing substances.
Honey is also a natural humectant, which helps keep the scalp and hair hydrated and moisturized.
Ingredients:
Directions:
5. Nourishing Coconut Milk Shampoo
Coconut milk is rich in nutrients that your hair will love! Rich in proteins that strengthen the hair strands, nourishing lauric acid that moisturizes the scalp and other nutrients that heal the scalp, coconut milk will help detox your scalp while supplying your hair follicles with much-needed vitamins and minerals.
In this shampoo, we shall also be liquid castile soap, which is a natural surfactant that helps give this all-natural shampoo a great foaming effect. Liquid castile soap is extracted from natural ingredients such as olive oil and is free of DNA-damaging toxins that are found in conventional shampoos such as SLS (sodium laureth sulfate).
Ingredients:
Directions:
Pour all the above ingredients in a glass jar, cover with the lid and shake to combine.
Now apply onto your hair and wash as you would with normal shampoo. Rinse and repeat, if needed.
Use this shampoo in place of conventional shampoo in order to prevent toxic product build-up and detox your scalp.