Hair fall can be a real mental stress for both men and women. In fact, it is not wrong to say that 80% of people worldwide are distressed by hair fall problems. Hair fall is such a condition that does not only affect adults, but anyone at any age can experience hair loss. This condition generally results in receding hairline in women and baldness in men. Excessive hair fall also leads to a psychological problem and is a serious beauty concern for women. Luckily, there are quite a number of potent natural remedies for hair fall that can put a stop to excessive shedding.
What causes hair fall?
There are various factors that cause your hair to fall. Some of these factors include:
Genetics
Mineral deficiency (invest in hair growth supplements)
Harsh weather
Lack of proper care and maintenance
Stress
Dandruff
Excessive styling
Unhealthy diet
Inadequate sleep etc
One of the most common forms of hair fall is alopecia, which can cause hair loss on any part of your body including head, eyebrows as well as eyelashes.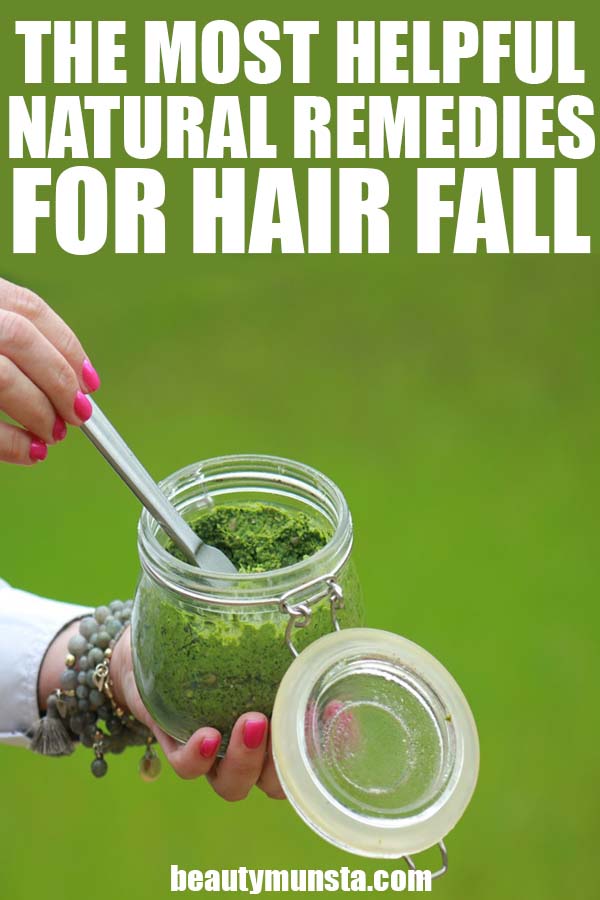 Top 10 Natural Remedies for Hair Fall & to Boost Hair Growth
So if you are looking for measures to stop hair fall and to grow long and strong tresses, check out these natural remedies for hair fall:
1. Fenugreek seeds
Fenugreek seeds are a perfect remedy for all those people who want to boost hair growth and stop hair fall. It can also help in treating dandruff, baldness and can do wonders for your hair. Read: 12 Fantastic Beauty Benefits of Fenugreek Seeds
How to use: Soak 2 tbsp of fenugreek seeds in lukewarm water and leave it overnight. Grind the seeds to make a paste in the morning. Apply this paste to your hair thoroughly and wash your head with regular water after 40 minutes.
2. Greek yogurt
Greek yogurt comes packed with a rich amount of nutrients, vitamin B5, and probiotics that prevents hair fall and makes your hair healthy and strong naturally. It also acts as a natural conditioner and helps you get shiny and long tresses.
How to use: Take 2 tbsp of Greek yoghurt and mix it with 1 tbsp of honey and fresh lime juice. Stir well and apply this paste to your hair strands and scalp. Wash it off with water after 30 minutes.
3. Amla
Also known as Indian gooseberry, amla is a rich source of antioxidants and Vitamin C that builds collagen essential for hair growth. It is also an effective remedy to control hair fall, strengthen follicles and to prevent premature hair greying. You can also include Amla to your daily diet to gain its benefits.
How to use: Take Indian gooseberry oil and coconut oil in equal ratio. Add a few drops of lemon juice to this solution and mix well. Apply this mixture on your scalp and rinse off with water after 40 minutes. You can use this remedy once a week.
4. Neem
Neem aka Indian Lilac contains excellent medicinal and antibacterial properties. It is also a perfect remedy to treat hair fall, dandruff as well as scalp infection. It also boosts the blood flow to the scalp and strengthens hair roots.
How to use: Take 12 neem leaves and boil them in water till the water level comes down to half. Let it cool and wash your hair with this mixture. You can also use neem essential oil to massage your scalp twice a week.
5. Aloe Vera
It is a powerful hair fall remedy that balances the pH level of your hair and scalp. Aloe Vera contains proteolytic enzymes that repair dead skin cells and boosts hair growth. It also conditions your hair and prevents scalp itching.
How to use: Take a leaf of Aloe Vera and extract the pulp from it. Now gently rub this pulp on your hair and scalp. Leave it on for 20 minutes and wash with cold water.
However, you need to be careful if you are allergic to aloe vera. Read: My Allergic Reaction to Aloe Vera – Please Read
6. Chinese Hibiscus
This flower can do wonders for your hair as it contains riboflavin, vitamin C, phosphorus and many other vital nutrients that boost hair growth. It also eliminates the toxins and helps you get stronger and healthier hair.
How to use: Take 2 cups of coconut oil and add 10 hibiscus flowers to it. Boil the mixture until the flowers get charred and let it cool. Now strain the mixture and collect the oil in a container. Massage your head with this oil twice a week.
7. Green Tea
Green tea offers multiple benefits to your hair as well as skin health. It comes loaded with antioxidants that control hair fall, boost hair growth and strengthen your hair naturally.
How to use: Take 2 green tea bags and steep them in a hot water. Let it cool down and rinse your hair with this solution.
8. Egg White Mask
As we all know our hair needs protein to grow which makes eggs a perfect remedy to grow your hair healthier and stronger. It also contains Vitamin B and other essential nutrients that promote hair health.
How to use: Take 2 eggs and separate the yolk and egg white. Beat the egg white until its get thick. Apply this paste to your hair with the help of hair brush. Leave it for 20 minutes and wash your head with water and mild shampoo.
9. Lemon Juice
Lemons have astringent properties that can tighten the pores of your scalp, which, in turn, controls hair fall. Also, if you have an oily scalp, lemon juice is an ideal remedy to treat the problem.
How to use: Take a freshly squeezed lemon juice of 2-3 lemons and add a glass of warm water to it. After washing your hair, gently pour the mixture over your scalp and massage your head. Leave it for 5 minutes and wash it off with regular water.
10. Onion Juice
The antibacterial properties of onion juice are highly beneficial in treating scalp infection and also increase the blood flow that supports hair growth. The high sulphur content of onion juice eliminates the bacteria and stimulates hair follicles.
How to use: Take 2 onions and extract its juice. Apply the juice with the help of cotton ball all over your scalp. Massage your head and make sure that you cover the head from root to tip. Leave it for 30 minutes and rinse off with water and mild shampoo.
11. Rosemary
I saved the best for last, rosemary. Rosemary is one of the most amazing natural remedies for hair fall, and it doesn't get the recognition it deservers. It can do wonders for hair loss and boost hair growth. I wrote a separate article on rosemary here: How to Make Rosemary Oil for Hair Growth
If you want to know more on how rosemary can transform your hair, please check out these helpful articles:
More Free Hair Care Ideas: