Is it possible to be allergic to aloe vera? Yes. Read my allergic reaction to aloe vera and how I overcame it.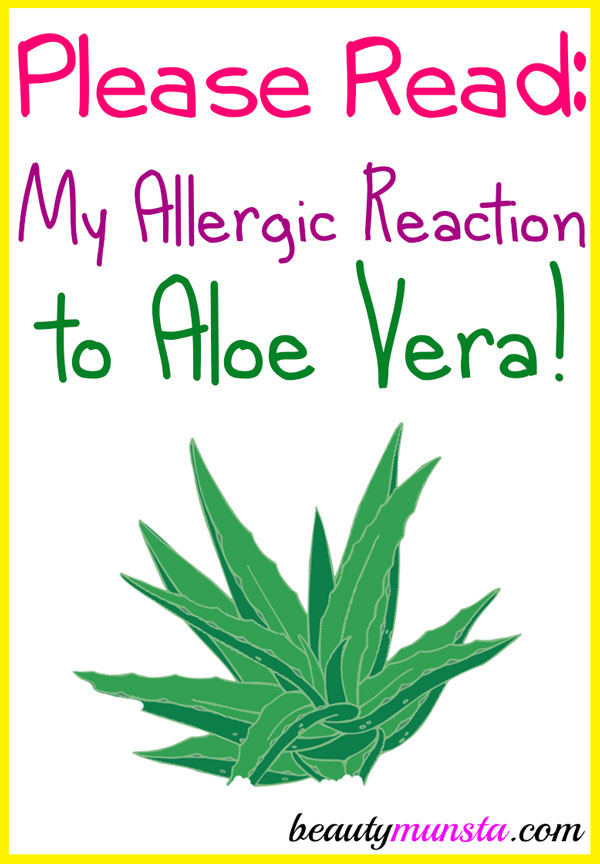 Does Aloe Vera Allergy Exist?
They say it's next to impossible to be allergic to aloe vera, since aloe vera itself has potent anti-allergen effects!
But for me, a fateful few minutes with aloe vera on my skin led to a crazy battle with full body itchiness that lasted well over 3 months. It's a lesson I'll never forget.
I had taken a long while without pampering myself and my significant other was coming to town so I decided to give myself a 'luxurious' full body aloe vera treatment.
I harvested freshly cut blades of organic aloe vera from my tiny balcony garden, washed them and tossed them into the blender. The resulting gooey mixture held promises of silky smooth skin. The weather was also hot as heck so I couldn't wait for the cooling effects of the aloe to kick in.
In the bathroom, I covered my entire body, including my face, in my aloe vera mixture. I waited for 10 minutes. Then started getting weird sensations on my skin. I took that as a sign that the aloe vera had done its job and I couldn't wait to see the results!
I had my bath as usual and within minutes of getting dressed and ready for the day, my entire body was filled with terrifyingly intense itching, which completely shocked me.
NO! it couldn't be the aloe vera! Aloe vera is a soothing, calming plant with amazing beauty benefits for the skin! Nay, the severe itching continued and I couldn't focus on anything! All I could think about was the itching and I was going crazy!
Between morning to night that day, I had tried all remedies under the sun including applying powder all over my skin, oatmeal scrubs and soaks, essential oil rubs and others. The itching only got worse. I can't imagine a worse form of torture.
The thing is, this wasn't a one day trip. The whole ordeal lasted for a good 3 to 4 months. I had severe itching, dry skin, redness and swelling from all the scratching and discomfort and irritation.
My Allergic Reaction to Aloe Vera Explained
Now, I've used aloe vera before. I never had any reactions! I used it for burns, dandruff, skin tightening and more.
So why then, did I react negatively this time round? I have no idea. May be it's because I used the entire aloe vera blade instead of just scooping out the gel from inside. May be it's because the species of aloe vera I used had allergenic qualities. Whatever the reason is, I'm staying away from aloe vera from now on. It's been almost a year and I still have a bit of itchiness left. God, the very thought of it makes me feel itchy.
If I could leave you with one bit of advice, it's this: Please always do a patch test of any product or ingredient that you are going to apply on your skin! Especially if you are applying it for the first time.
And just because something is deemed as 'safe', doesn't mean you can't be allergic to it. Oh, and also, natural remedies aren't always free of side effects, so always exercise caution. Remember, prevention is better than cure. Have a good day!
Do you have aloe vera allergy? Share your experience below!