Today let's look at a great way care for your skin – using a homemade DIY Aloe Vera Body Scrub!
Aloe Vera Body Scrub
Aloe Vera is a versatile plant ingredient which is used in most commercial and home-made products for its remedial purposes. It takes care of our personal health, skin, hair, and beautifies it at the same time.
Apart from the well-known nourishing, hydrating, anti-inflammatory and anti-microbial properties of aloe vera gel, it contains powerful antioxidants which help in cleansing and exfoliation.
Today let's look at a great way care for your skin – using a homemade DIY Aloe Vera Body Scrub! A body scrub is a great way to give your whole body some love. This easy aloe vera body scrub contains the essential properties of aloe vera gel, as well as other useful ingredients.
Where to Buy Pure Aloe Vera Gel
Aloe Vera Gel from Organic Cold Pressed Aloe for Face, Body, and Hair, 8 fl. oz.

Making Your Aloe Vera Body Scrub
The body scrub protects the topical cells on the superficial layer of the skin from getting damaged due to excessive exposure to pollution and other impurities.
If you are having an oily skin and heavily worried with skin impurities like skin infections and rashes, then this DIY Aloe Vera body scrub is what you need to soothe and calm your skin.
The natural ingredients used also keep your skin safe from the toxic chemicals.
The scrub not only gives your skin a smooth and refreshing look but also makes your skin wrinkle-free. Hence, wait no more and prepare your own natural body scrub.
Check out the ingredients and directions to make your aloe scrub below:
Ingredients
Proportion
Aloe Vera Gel: 1 medium sized leaf or 1/4 cup of aloe vera gel
Brown sugar: 1/2 cup
Olive oil: 2 teaspoons
Lavender essential oil: 12 drops
Peppermint essential oil: 8 drops
(Adjust the proportions according to your requirements)
How to Extract Aloe Vera Gel
Take a freshly cut medium sized Aloe Vera leaf and slice it off laterally from the middle.
Remove the latex properly as it can severely affect your health causing diarrhea and indigestion.
Extract the gel using a spoon and take it in a bowl.
Wash off the excess slime under running water.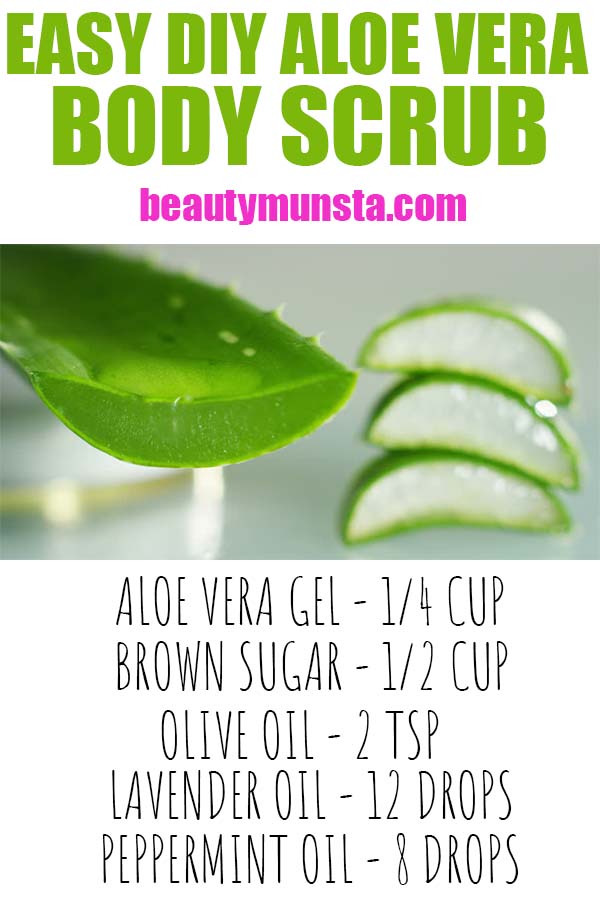 Procedure
In a bowl, take the necessary amount of extracted Aloe Vera gel and smash it evenly.
To the gel, add the entire quantity of brown sugar and thoroughly mix both the ingredients.
To the mixture now add the required amount of olive oil and mix it evenly in the bowl. Olive oil nourishes the skin and keeps it hydrated for a long time. However, if you have oily skin, prefer lemon over olive oil and blend the mixture with the juice of a fresh lemon. Lemon juice exfoliates the skin and removes excess oil and dark spots.
How to Apply
Moisten your face with lukewarm water so that the scrub can penetrate the clogged pores and dead skin layers effectively.
Take the DIY Aloe Vera body scrub in your palm and apply it evenly all over your body.
Use your index and middle finger and gently massage it in a circular motion. While massaging your face and neck, start from your nose and direct the motion towards your cheekbones.
Massage the mixture thoroughly over the applied areas for 5-10 minutes.
Dip a clean and soft towel in lukewarm water and gently wipe off the exfoliating mask from the applied areas.
Wash your face and body with cold running water to close the pores completely.
It's Easy to Make Your Own Body Scrubs at Home!
Chemical scrubs available in the market are often harmful to the skin and can cause irritation. Certain herbal products are also known to add harmful chemicals to the scrub which might show superficial effects but prove to be very harsh to the skin from within. For this reason, more and more women now prefer to use the DIY Aloe Vera body scrub. The procedure not only deep cleanses and exfoliates your skin cells, but also makes the skin soft and glowing after every wash.
Tip: Prepare the scrub and use it immediately as the properties of aloe vera fades out when exposed to air for long.
More Scrubs to Try Out: