The best homemade lip scrub is one that is custom tailored to YOUR lips. Everyone's lips are different. Some have chronically chapped lips, while others have dull, lackluster lips. Make your own handcrafted lip scrub to perk up your lips no matter what their condition now!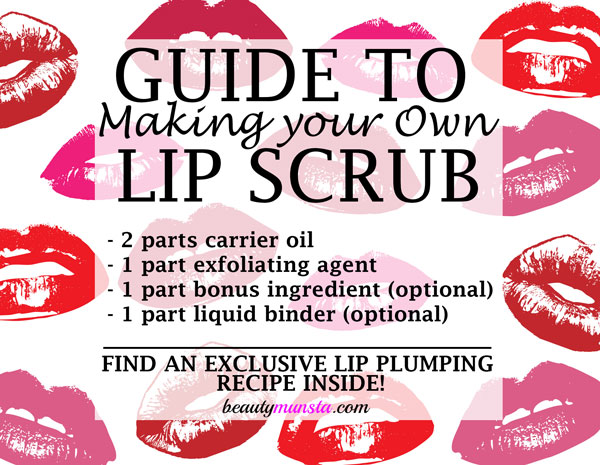 What is the Best Homemade Lip Scrub Ever?
There are so many commercial and DIY lip scrubs to choose from today. There's no limit to the possible combinations and flavors you can come up with.
But if you ask me what the best homemade lip scrub ever is, I'll tell you it's one that homemade with love, made with all natural, safe ingredients, and is custom tailored to meet the needs of YOUR lips. The first step is to identify what type of skin you have on your lips!
What's Your Lip Type?
► Cracked or bleeding lips – Ouch, these have got to be painful! This is a case of extremely dry lips that have cracked and are most likely sore and bleeding. They may occur as a result of dehydration or lack of water. Your diet should also be adequate in healthy fats such as avocado, oily sea fish and grass-fed butter and yogurt.
► Chapped lips – Everyone gets chapped lips from time to time. They may be dry and sometimes flaky. Some bits of chapped lip may also start peeling, but never yank peeling skin on your lips as it may cause bleeding and wounds! Increase your water uptake and also incorporate more healthy fats in the diet.
► Aging lips – As we age, the skin on our lips tends to sag and get more prominent lines and creases. Wrinkles and fine lines also form AROUND the lips and are quick to give away one's age. Remember that smoking causes premature aging of the skin and must be avoided for beautiful lips.
► Thin lips – No matter what the shape or size of your lips, we must be grateful and exercise healthy self-love. But there's plenty that can be done NATURALLY with a stimulating lip scrub to enhance and plump thin lips to make them look more puckered and voluptuous.
► Big lips – If you have big lips, and you're trying to tone them down, for whatever purpose, you can do so naturally with a salt lip scrub, which helps reduce puffiness, swelling and water retention.
► Dull, rough lips – Are your lips dull, pale and far from smooth? You may have extra dead cell build up that's preventing the rosy red new cells from showing up. A nice exfoliating lip scrub can perk things up and add color to your lips.
► Hyper-pigmented or uneven lips – Hyperpigmented or uneven lips may occur as a result of drinking too hot items, hormonal changes or sun damage. A natural lip scrub can help lighten dark lips, reverse sun damage and even out the skin tone.
How to Make the Best Homemade Lip Scrub for YOUR Lips
Now that you know what category your lips fall into, you can now make your own lip scrub to suit your needs using the key components below. To make a wholesome lip scrub that delivers, you need at least 4 items: an exfoliant, a carrier oil, essential oils (optional) and some fun bonus ingredients to add some oomph to your puckers.
Exfoliant
An exfoliant is a mildly abrasive exfoliating agent that helps slough off the dead skin cells from your lips. This will form the base of all your lip scrubs.
♥ White sugar – Although refined and processed, white sugar is the best exfoliant to use in lip scrubs because it is a powerful yet gentle abrasive, mixes evenly and quickly in lip scrub recipes and forms a better consistency. Sugar is rich in glycolic acid, which helps stick to grime, dirt and pollution particles on the skin and pull them out of your skin.
♥ Brown sugar – Natural and unrefined, the vitamins, nutrients and minerals in brown sugar are still intact and therefore provide more nourishment for the skin. Brown sugar is, however, stickier than white sugar and may have less exfoliating properties.
♥ Sea salt – Salt is actually a humectant, which helps your skin retain water. The minerals contained in sea salt, such as magnesium, also help to reduce puffiness in skin. Do not use salt on cracked or bleeding lips as it can STING and cause pain
♥ Baking soda – Baking soda is a gentle abrasive that works as a spectacular exfoliating agent for dry scaly lips. It is highly alkaline, so when mixed with water, or lemon juice, it forms a mild chemical reaction which causes fizziness. This can really help dislodge the dead cells and leave you with silky smooth puckers.
Carrier Oil
♥ Coconut Oil – Coconut oil is my first choice for making the best homemade lip scrub ever because it is rich in essential fatty acids that help repair, regenerate, moisturize and heal skin cells from deep within. It also has a lovely tropical coconutty aroma that is to die for!
♥ Shea Oil – A by-product of the shea butter extraction process, shea oil is a thick, luxurious oil that helps soothe irritated skin, reduces inflammation, repairs damaged cells, reduces hyperpigmentation and more!
♥ Jojoba Oil – The only oil that matches the oil composition of our natural skin oil produced by the skin's sebaceous glands is jojoba oil. It is light and does not clog the pores.
♥ Olive Oil – Olive oil has been used since biblical times for its nutritive properties. The first press oil is the best and is green in color. Avoid refined, colorless or pale green olive oil and go for extra virgin cold pressed olive oil.
Essential Oils
Essential oils can take a humble lip scrub to soaring heights. Potent and concentrated, a drop of essential oil can contain the worth of several pounds of plant matter. So add just a drop or two to your lip scrub because a little goes a long way. Also make sure the essential oils you choose to use are safe for ingestion, just in case you accidentally get some in your mouth. Add some heavenly scented oils such as lavender, vanilla and neroli for an aromatic and pampered pout. To plump up your lips for hours, try some sensation peppermint, clove and cinnamon oils!
Liquid Binders
Use a nutritious liquid binder to make your lip scrub more applicable. You can also skip the carrier oils and replace them with these liquid binders instead. You can also use plain ol' water or fragrant flower hydrosols to bring your lip scrub together.
♥ Honey – Honey is a nutrition powerhouse filled with so many vitamins, enzymes and compounds that scientists are still discovering to date. It is a humectant and a healer that can help repair damaged lips.
♥ Aloe gel – A completely natural plant gel from the aloe vera plant, aloe gel has cooling and therapeutic properties. Applied on the lips, it can help heal and nourish the skin cells and also lighten hyper-pigmentation.
♥ Lemon juice – Rich in citric acid, lemon juice. Lemon juice is acid and can burn sensitive skin so dilution is a must.
Bonus Ingredients
These are optional, bonus ingredients that you can use to bulk up your lip scrubs and make them more beneficial for your lips.
♥ Cinnamon powder – Ground cinnamon or cinnamon powder works as a gentle abrasive as well as a powerful plumper for the lips. You could even rub plain cinnamon powder on your exfoliated lips to achieve voluptuous, red and plumped up lips.
♥ Rose petal powder – Rose petals are rich in vitamin C and have soothing, calming and grounding properties. They are used in Middle Eastern cooking and its hydrosol is revered for its beauty benefits for the skin and hair.
♥ Cacao powder – Give your lip scrub a chocolatey touch with cacao powder. Rich in caffeine, cacao powder can help stimulate the lips, and promote healthy circulation to the lips.
♥ Oatmeal – Oatmeal is fibrous and absorptive so it can help draw out toxins and excess water from the skin. It is highly soothing and helps calm down insect bites, rashes and itchy bumps on the skin.
♥ Clay – There are many clays to choose from including fuller's earth and bentonite clay. Clays help suck impurities out of the lips and help to detox your skin.
Formula for Making Your DIY Lip Scrub
Here's the basic formula for making your lip scrub at home
2 parts carrier oil
1 part exfoliating agent
1 part bonus ingredient (optional)
1 part liquid binder (optional)
Now here's a wonderful plumping and lightening lip scrub recipe, as an example:
Ingredients
2 tsp of shea oil
1 tsp of organic white sugar
1 tsp of cinnamon powder
1 – 2 drop of peppermint oil
1 tsp of lemon juice
Directions
In a small bowl, mix all the ingredients together to form a thick paste.
Adjust the quantity of the oil or lemon juice to make it thicker if you like.
Don't make it too watery as it will be difficult to apply.
Allow the lip scrub to settle for a few minutes before scrubbing off in a back and forth motion.
Wash off and pat dry.
How long can you store homemade lip scrub?
If you use no liquid binders and only oils, your lip scrub can last a long time, between 2 weeks to 4 weeks.
If you do use liquid binders such as water, hydrosols or lemon/orange juice, then your lip scrub will have a much shorter life span. It will keep for 3 days in the fridge before it starts slowly losing its potency.
Store in the refrigerator to prevent it from going bad.
What lip scrub recipes do you like to use on YOUR lips? Tell us in the comments below!