Do you know the secret to smooth, soft and supple lips? It's nothing other than exfoliation! Using this DIY lip exfoliator recipe, you can scrub off dead cells, moisturize the lips and make them smooth and soft within minutes!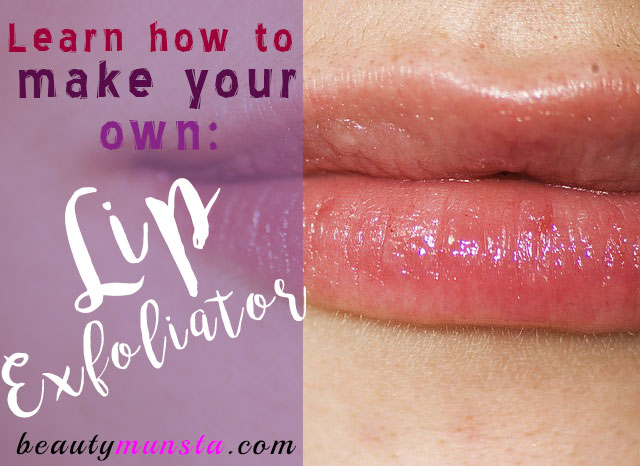 Why You Need to Exfoliate Your Lips
Like the rest of the skin on our bodies, the skin on the lips is constantly shedding and regenerating. If you don't exfoliate your lips you'll find them becoming rough, dull and unhealthy looking. And if you're someone who does drink water and is constantly dehydrated, you'll find your lips being more prone to chapping and flaking.
Exfoliating your lips is a great way to remove the dead cells that build up on your lips on a daily basis. It helps to smoothen the lips so that it can be easier to apply lip balms, lipsticks and other lip products easily.
You can also perk up your puckers and make them lively and rosy by removing the dead cell build up through exfoliation.
To exfoliate your lips, you don't need any fancy products at all! In fact, you can make your own DIY lip exfoliator at home, right now!
DIY Lip Exfoliator Recipe
The reason why this DIY Lip plumper recipe WORKS is because it uses two heavy weights in the natural lip plumping arena – peppermint and cinnamon. In addition, only 2 other ingredients are needed; brown sugar and olive oil. Let's take a closer look at how these ingredients help plump up the lips:
Sugar – the tiny crystals in sugar work together to serve as a gentle yet powerful exfoliating agent. As the sugar crystals rub against your skin, they dislodge the dead cells, dry skin and flaky particles off your lips. Brown sugar tends to be sticky and melts easily so I prefer to use organic white sugar for this as it does a wonderful job as an exfoliator.
Olive oil – You can use any carrier oil such as coconut oil instead but I love extra virgin cold pressed olive oil on my lips. Olive oil has been used since biblical times as a healing, medicinal and nutritional oil. It helps nourish the skin on the lips and also serves as a moisturizing lubricant to help the exfoliator work better.
Cinnamon powder – Why am I adding cinnamon to a lip exfoliator? Because cinnamon smells so good! Cinnamon powder also adds to the exfoliation efforts of the sugar and also helps stimulate the skin and promote circulation to the lips. This will leave your lips looking plump, luscious and rosy!
This is my go-to DIY lip exfoliator recipe that I love to do at least once a week! Here's how to do it:
What you need

1/2 teaspoon of sugar (I prefer white sugar for this one as it has better exfoliating properties)
1/2 teaspoon of olive oil (get it here)
1/2 teaspoon of cinnamon powder (get it here)
A small bowl and spoon for mixing
A soft-bristled tooth brush (get it here)

Directions

Using a bowl and spoon, mix all the ingredients together until they are thoroughly combined.
Now apply the mixture onto your lips and rub it in using your toothbrush, gently.
Within a few swipes and swirls of your toothbrush, you'll find your lips getting smoother and softer.
Wash your lips with water and dry them with a paper towel.
Wow! Don't your lips look clean, smooth, plump and kissable now?
Use once a week or as needed.
Feel free to make a larger quantity and store in your refrigerator so you don't have to make a new batch each time.

Do you have any other natural DIY lip exfoliator recipes that you'd love to share? Tell us in the comments below!