Make this Himalayan salt and coconut oil scrub for pretty skin!
I can't stop gushing about the amazing beauty benefits of Himalayan salt! It not only looks so beautiful with its pretty pink color but is also the purest salt in the world! Here are some benefits of this gorgeous salt for beautiful skin:
Gently exfoliates dead cells
Smooths bumps on skin
Nourishes skin with its many nutrients
Gets rid of excess oily skin
Helps tone skin
Diminishes large pores
Tightens and firms sagging skin
Actively fights acne
Disinfects skin
And more!
You can read more Beauty Benefits of Himalayan Pink Salt by following the link!
Coconut oil is also another amazing ingredient for your skin! It has nourishing properties, easily penetrates into skin cells, fights acne with its antibacterial properties, moisturizes skin and promotes wrinkle-free soft supple skin naturally!
When you combine Himalayan salt and coconut oil together, you get a nice scrub that you can use on your face, hands, feet and general body. Yes, it is very safe and gentle to use on your face!
Himalayan Salt and Coconut Oil Scrub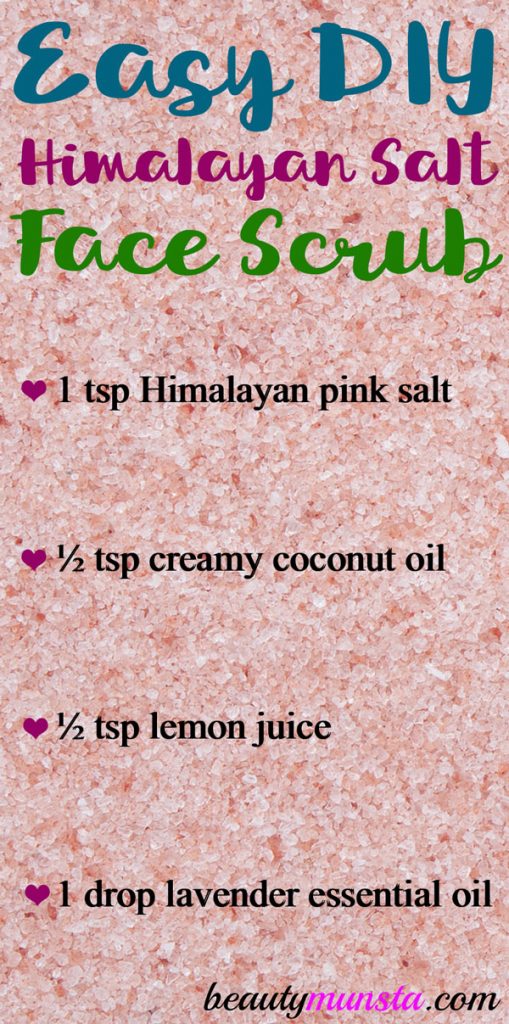 What you need:
1 tsp Himalayan pink salt
½ tsp creamy coconut oil
½ tsp freshly squeezed lemon juice
1 drop lavender essential oil
Small bowl & spoon
Directions:
Simply add all ingredients: 1 tsp Himalayan salt, ½ tsp coconut oil, ½ tsp lemon juice and 1 drop of lavender essential oil into a small bowl.
Now mix 'em up together to form a nice slightly gritty paste.
Scoop up this paste and rub it all over your skin, avoiding the area around your eyes.
For best results, let them scrub sit on your face for 5 minutes before rinsing it off with tepid water. Pat your face dry with a clean towel. There's no need to moisturize since the coconut oil will make your face moisturized and supple!

Try this easy Himalayan salt and coconut oil scrub and come tell me how your face looks and feels afterwards!