A Himalayan pink salt face mask is just what you need to give your face the detox that it needs!
Benefits of Himalayan Pink Salt for Skin
Himalayan pink salt is an unrefined hand mined salt that naturally found in the Himalayan Mountains. It contains 84 trace minerals and elements including chromium, zinc, iodine and sulfur. Some of the benefits of Himalayan pink salt include:
Draws out impurities from your pores
Gently exfoliates skin
Is a natural antiseptic & antimicrobial agent
Dries out acne and helps get rid of it fast
Tones skin
Firms skin
Promotes youthful skin
Balances excess sebum produced on the skin
And more!
For more beauty benefits, please see: 10 Beauty Benefits of Himalayan Pink Salt
DIY Himalayan Pink Salt Face Mask
Let's check out the easy Himalayan pink salt face mask recipe, shall we?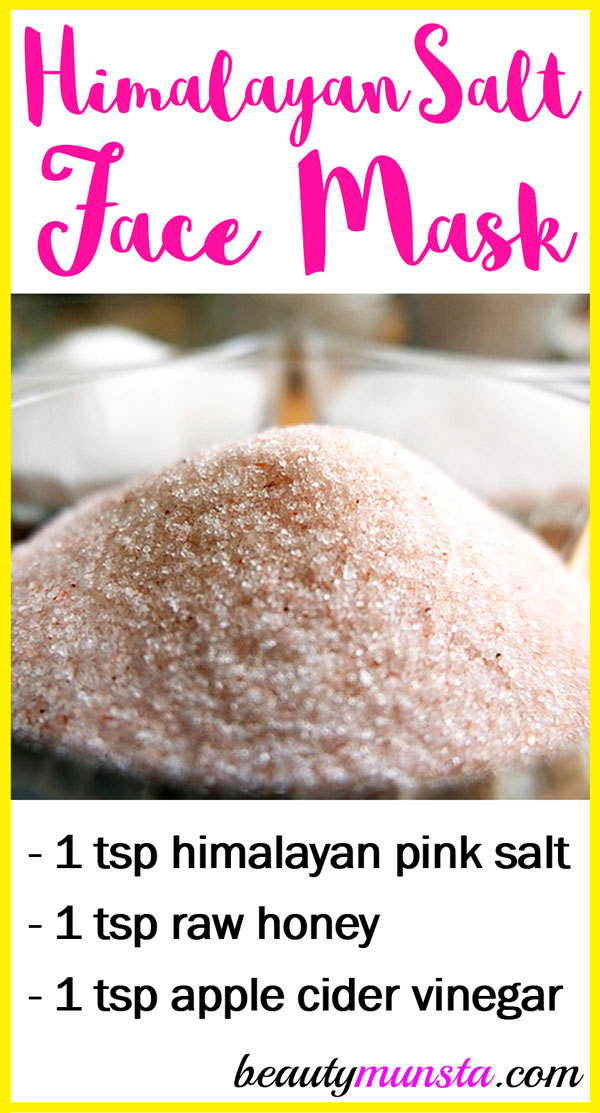 What you need:
1 tsp fine grain Himalayan pink salt
1 tsp raw honey
1 tsp organic apple cider vinegar
Small glass bowl & spoon
Directions:
Mix up all your ingredients in a small glass bowl until you get a well combined mixture with a slightly gritty texture.
Your Himalayan pink salt face mask is ready!
To use, work with a clean and dry face.
Scoop up the face mask using clean fingers and gently apply on your face, avoiding the area around your eyes.
Leave it on for 5-7 minutes then rinse off with tepid water.
Now tone and moisturize your face! To tone, you can put ½ cup of water in a 4 oz spray bottle with ½ tsp of Himalayan salt. Spray on your face then apply 3-4 drops of your favorite skin care oil as moisturizer!
You can use this face mask twice a week!
What do you think? Are you ready to use this Himalayan pink salt face mask on a regular basis?!