People, salt is doing wonders for my acne prone skin! Not just any kind of salt but Himalayan pink salt! I make a facial toner with it and use it every after cleansing my face. Read on to find out more!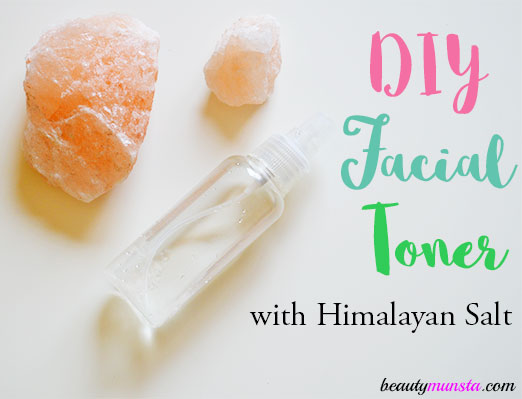 I never knew I could use salt on my face and it would help manage acne. But lo and behold! I had some Himalayan pink salt lying around and decided it was time to make something out of it. And since my lemon apple cider vinegar facial toner was finished, I decided to go experimenting and see if I could make a toner with Himalayan salt!
Turns out, Himalayan salt is very good ingredient for a natural facial toner. It immediately tightens skin and makes it feel taut and firm. This quality makes it excellent for those looking to banish large pores (me!) and make skin more youthful.
What makes Himalayan salt good for the face? Well, take at look at its benefits:
Tightens skin: As I said before, salt is drying and although that may not sound appealing, it's great for those with oily & acneic skin. It removes excess oils and gives skin a tight feeling. It helps diminish large pores, in the process.
Packed with minerals: Himalayan salt is packed with magnesium, sodium, potassium and iron. Did you know that magnesium absorbs better through the skin? All these minerals in Himalayan salt nourish skin and keep it looking glowing.
Natural antiseptic: Salt is a natural germ-killer and I'm sure you already knew that. That makes it good for cleansing skin from acne-causing bacteria.
Skin detoxifying: Yup, you read that right! Himalayan salt helps detoxify skin and that's a major plus point when it comes to disinfecting pus-filled acne and popped acne wounds. It also helps dislodge dirt, toxins and wastes from skin pores.
Okay, so now let's move onto the recipe for the facial toner!
DIY Himalayan Salt Facial Toner for Acne
What you need
Directions
Into your spray bottle, add the Himalayan salt, coconut oil and the essential oil.
Now add the distilled water and give your bottle a shake to mix everything up.
That's it! Your Himalayan salt facial toner is ready!
How to Use
Ideally, you should wash your face (even if it's acne prone) just twice a day. Once you wake up and before going to bed. Not more, not less. This way, you're making sure your face is cleansed from dirt without stripping it of the sebum that it constantly produces.
Once you wash your face with an anti-acne cleanser (I like Thursday Plantation's tea tree cleanser), pat dry with your face towel. Now spray this toner all over your face, with your eyes shut.
Let your face dry up naturally.
Now moisturize! I massage pure shea butter with a few drops of frankincense oil on my face.
So what do you think? Are you ready to make this DIY Himalayan salt facial toner?!