Some people have skin that changes with the weather, like me. I would say my skin falls right under the combination skin category, where the T-zone is oilier than the rest of the face. In winter, my whole face gets drier than ever before and in summer, it's super oily. If you have the same skin problem, you must try this green tea apple cider vinegar toner! It is perfect for all skin types, including oily skin. The green tea apple cider vinegar toner soothes dry skin, checks oily skin and fights acne too.
Apple cider vinegar and green tea are pantry staples that can combat a wide range of skin problems including dry skin, oily skin, acne, sunburn and more! Also, if you also want to give your skin an anti-oxidant boost, use the green tea apple cider vinegar toner.
What makes Apple Cider Vinegar Good for Skin?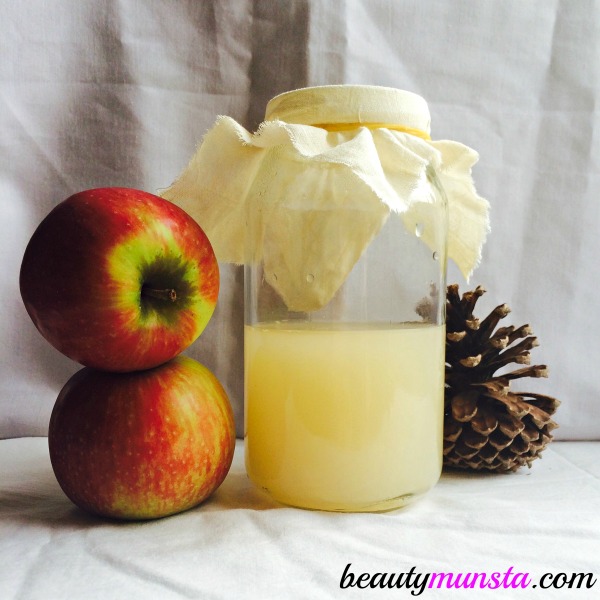 Apple cider vinegar has been used since time memorial in cuisine as well as in medicine. It has particularly been used in healing skin related problems. Though it is acidic in nature, when used topically, it actually maintains and helps balance the natural pH balance of our skin. Apple cider vinegar has numerous topical benefits for skin including, dissolving excess dead cells, steering off free radical skin damage, lightening acne scars and age spots and shrinking large pores. Here are some of the nutrients in raw apple cider vinegar that makes it beneficial for skin:
Alpha Hydroxy Acids– Apple cider vinegar is rich in AHA's which gently exfoliate skin by breaking the binds between dead cells and the skin. Alpha hydroxy acids also dissolve fatty deposits on the skin, thereby controlling oilyness and acne.
Anti-oxidants– Powerful anti-oxidants in Apple cider vinegar protect the skin from oxidative damage and free radical activity. They also fight bacterial infections and acne germs and bacteria, promoting smooth and supple skin.
What Makes Green Tea Good for Skin?
Green tea is anti-inflammatory and contains many powerful polyphenols and flavonoids that will offer skin protection from harmful sun's rays and oxidative damage. It contains:
B-Vitamins– These powerful anti-oxidants not only protect skin from free radical damage but also promote cell renewal and skin regeneration.
Flavanoids– Green tea is rich in flavonoids which act as natural suncreens when applied topically to skin. They protect the skin from harmful sun's rays by absorbing UVB and counteracting inflammation caused by UV rays.
Polyphenols– Polyphenols are amazing skin-saving compounds that help ward off wrinkles and fine lines by fighting free radicals. Their anti-inflammatory action fights off redness in acne. Polyphenols also act as a natural shield from the sun's UV rays.
Catechins– Green tea contains catechins, which natural anti-bacterila agents that suppress germs and bacteria that cause acne. Catechins also promote youthful glowing skin.
Vitamin C– Vitamin C is an essential anti-oxidant for skin which boosts the production of collagen, which is a protein found in our skin that maintains elasticity of skin, enhances the firmness of skin and promotes skin repair.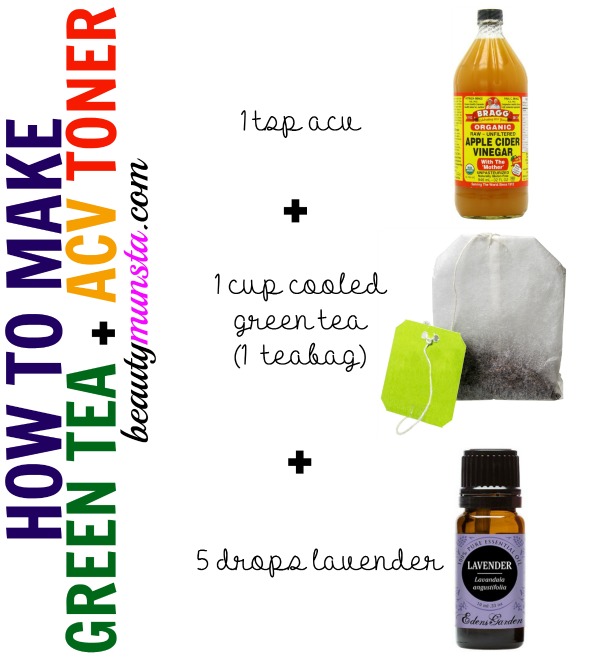 Ingredients
Directions
1. First prepare your green tea by adding 1 cup of distilled water in a small saucepan. Bring the water to a boil, turn off the flame and steep your tea bag (or add your loose tea leaves) for 5 minutes. When the time is up, remove the tea bag and allow the green tea to cool off completely.
2. Pour 1 tsp of Apple cider vinegar into a glass bottle with cork or spray bottle. Top up this up with the cooled green tea. Note: Make sure your green tea is completely cooled down before you do this. Then add 5 drops of lavender.
3. Now just shake up your bottle and you're green tea apple cider vinegar toner is ready to use!
Tips
If you have excess green tea, simply warm it up and enjoy a steaming mug. As an alternative, store excess green tea and apple cider vinegar in the freezer. When your apple cider vinegar green tea toner gets finished, fill up the bottle with this batch!
If you have super sensitive skin, you might want to add less apple cider vinegar.
Do not use tap water to make your toner. Use distilled / filtered water.
As usual, use a patch test on your inner elbow to see that your skin isn't reacting negatively to apple cider vinegar or green tea before using this toner.