Got acne, blemishes, eczema? It's time to whip up this DIY probiotic face mask!
What is a probiotic face mask? Well, it's a face mask that contains probiotics, in the form of probiotic capsules, raw apple cider vinegar, yogurt, kefir and other probiotic substances. Probiotics are live bacteria or yeasts that are good for health. Our body is made up of millions of bacteria – both good bacteria and bad bacteria. Now probiotics are the good bacteria. They keep the bad bacteria at bay. If there's an imbalance of bad bacteria being more than good bacteria, health problems happen!
To make a DIY probiotic face mask, you need a probiotic ingredient. We're going to be using yogurt and probiotic capsules. If you can't get the probiotic capsules, it's fine to stick with just the yogurt.
Okay, now onto the recipe:
DIY Probiotic Face Mask Recipe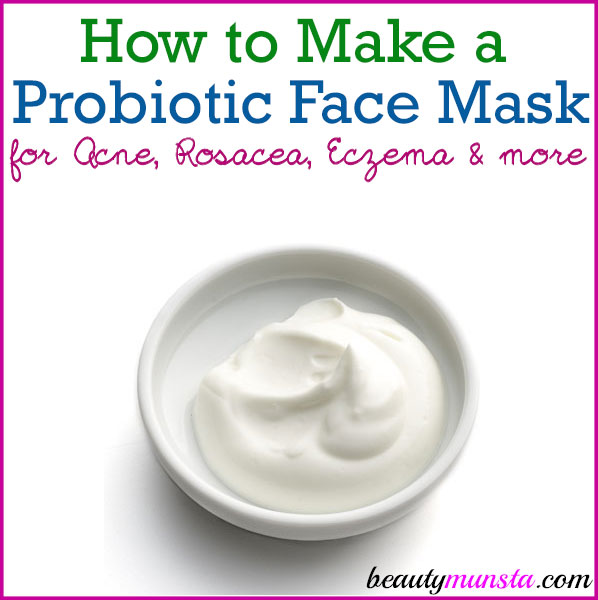 What you need
Directions
Into the small mixing bowl, chuck in the yogurt, raw honey and a pinch of turmeric powder.
Now open and empty 2-3 probiotics capsules into the mixing bowl and add 2 drops of tea tree essential oil.
Mix everything together to create a creamy mixture.
Your DIY probiotic face mask is ready for application!
Go to your bathroom sink with the bowl. Dip your clean fingers into the bowl and start applying the mask in gentle circular motions on your face. Avoid the area around your eyes and mouth.
Once you're done applying, wait for it to sink in for 7 minutes.
When the time is up, rinse off well with warm water then splash your face with cold water.
Pat your face dry with a clean towel, then use a toner (if you do) and moisturize your face with a tiny amount of shea butter.
Use every other day to control acne, reduce redness, soothe inflammation and manage eczema flare-ups.
Are you going to try this DIY probiotic face mask? Please use it and come share your results with me! xoxo