Have you ever heard of making your own DIY probiotic shampoo? It's super amazing so try it out now!
You must have heard a lot of good things about probiotics in the natural health community. Probiotics are live bacteria and yeast that are good for health. We have both good bacteria and bad bacteria in our bodies. But the good bacteria prevails over the bad bacteria (good prevails over bad, right?!) But when the bad bacteria become unruly and start to take over (you must have done something like not eat healthy or get yourself sick), then sickness befalls the human body.
So consuming good bacteria is always a good thing – it keeps those good guys in control. Sources of probiotics include raw apple cider vinegar, yogurt, kefir, fermented foods, etc. Another great source of probiotics is probiotic capsules! They are easy to consume and can be incorporated into DIY health care products like this DIY probiotic shampoo!
Probiotics eat up all the yucky stuff on the scalp like bad bacteria, scalp fungus, dandruff and gunk material stuck in the hair follicles. Dandruff is caused by too much of a yeast called Malasezzia taking over. So when you use probiotics in your shampoo, you're making sure the bad bacteria is eaten up by the good bacteria. Probiotics are also said to encourage hair growth and reduce hair loss!
Let's check out how to make a DIY Probiotic Shampoo now:
DIY Probiotic Shampoo Recipe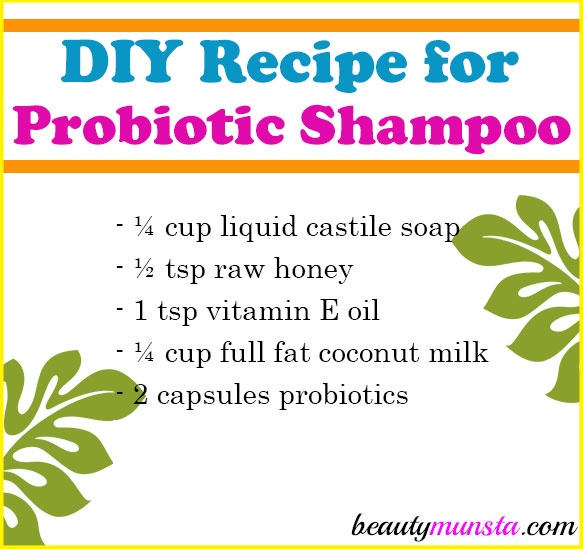 What you need
Directions
Add the liquid castile soap, coconut milk, raw honey and vitamin E oil into the Pyrex measuring cup.
Now empty 2-3 probiotic capsules into the Pyrex cup.
Using an immersion blender, mix everything together to create a smooth and well combined mixture.
Your DIY Probiotic Shampoo is ready!
Pour your shampoo into a soap dispenser, jar or old shampoo bottle. Store in a cool dry place. In fact, the refrigerator would be the best place since coconut milk is perishable. It keeps for about a month (or even more). Just do not get water into it or it will spoil faster. That's why it's best to store it in a flip top bottle, soap dispenser or old shampoo bottle.
Hope you enjoy this DIY probiotic shampoo recipe! xoxo