Check out top 3 ACV hair mask recipes! Apple cider vinegar surprisingly has a lot of benefits for your hair!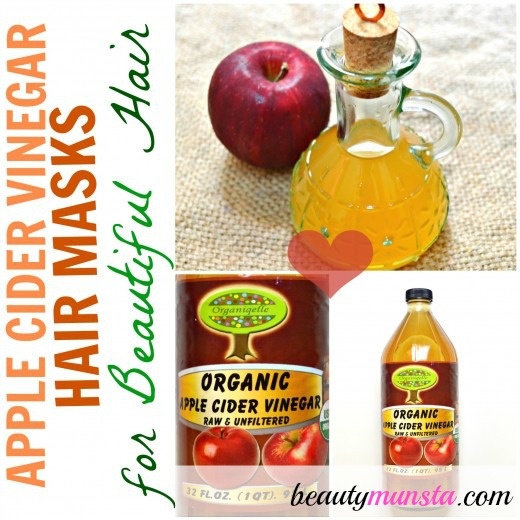 Vinegar, especially Apple cider vinegar (ACV), which is a store house of hair rejuvenating nutrients, is the new hair craze for all those obsessed with natural beauty. Raw ACV is simply fermented juice from crushed apples. You might be wondering why anyone would put something so acidic as vinegar on their scalp! But in fact, your scalp and hair will love it!
The pH of our hair and scalp varies from acidic to neutral. That means, most chemical shampoos and hair products, which are alkaline actually throw the natural pH of our hair out of balance. Apple cider vinegar for hair helps in cleansing, softening and conditioning your tresses, the chemical-free way.
Those who want to avoid using shampoo can add ACV hair masks to their natural hair care routine for amazing locks! Before we look at 3 incredibly easy ACV hair mask recipes, let's first check out some significant nutrients in raw ACV that make it super hair friendly:
Vitamin C – Promotes hair growth by fighting off free radicals that form when the body converts foods we eat such as junk food into glucose. Vitamin C combats these free radicals by neutralizing them so that they cannot steal oxygen from healthy hair cells. Vitamin C also fights off dandruff, improves blood circulation in the scalp and prevents hair loss.
B-Vitamins – Improves blood circualtion in scalp. Prevents hair loss by inhibiting a hormone Dihydotestosterone which is known to cause baldness in both men and women. Regulates the flow of sebum in the scalp, preventing over drying as well as greasiness. Moisturizes and hydrates the scalp and fights dandruff and other scalp infections. Nourishes hair follicles and seals moisture into hair roots. Promotes healthy and shiny hair.
Ascetic Acid – Raw ACV naturally contains ascetic acid which is efficient in killing off lice and nits. It works by loosening the bonds between the nits and hair strands. This makes it easier to remove the nits and clear your hair of lice. It clears the scalp of build up from chemical hair products. Eliminates germs and bacteria hiding within the hair follicles.
3 Super Easy ACV Hair Masks!
The ingredient measurements for these hair mask recipes are for shoulder length hair. Please feel free to adjust the amounts of each ingredient according to the length and thickness of your hair. Remember to get the best ingredients for your precious hair. Purchase raw apple cider vinegar for no side effects and best results!
Where to Get the Real Apple Cider Vinegar with the 'Mother'
Ditch the synthetic red preservative-laden apple cider vinegar you buy at the food store and get the real thing instead – raw apple cider vinegar contains a host of probiotics (also known as the 'mother') that are incredibly powerful antioxidants.
1. Hair Conditioning Apple Cider Vinegar Mask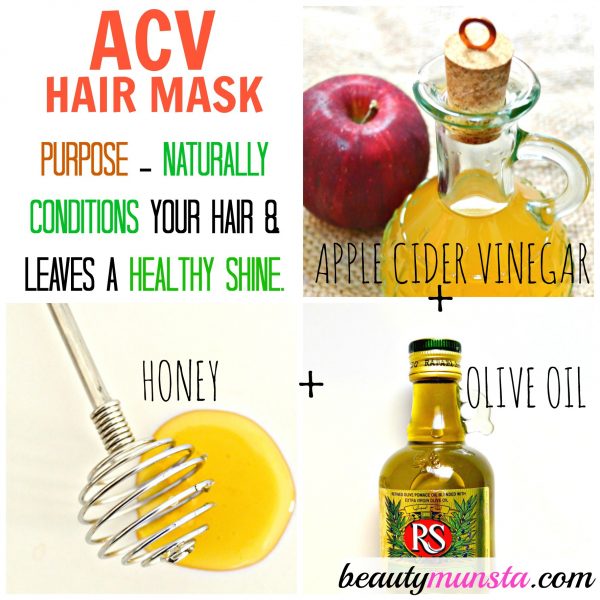 Raw ACV is nourishing to the hair roots and scalp. Apple Cider Vinegar is the best natural hair conditioner and hair rinse. It is great for banishing excess grease in oily hair as it seals hair follicles and draws out grime and excess oils. Coupled with olive oil & honey, this is a nourishing and conditioning hair mask that adds shine to your hair. Olive oil prevents over-drying of hair by the acv and honey moisturizes and hydrates hair roots and ends.
Ingredients
1 tablespoons organic raw ACV (get it here)
2 tablespoons water
3 tablespoons liquid honey (get it here)
1 tablespoon olive oil (get it here)
3 drops lavender essential oil (get it here)
Directions
Mix the above ingredients thoroughly. Apply the hair mask onto your scalp and hair ends. Let it sit for 10 minutes. When the time is up, rinse off the hair mask well. Use organic shampoo and conditioner if you can't do without them.
My Tips on Using Apple Cider Vinegar for Hair
Put a few drops of your favorite essential oils to mask the pungent odor of raw apple cider vinegar. This is optional. Even if you do without essential oils, rinsing your hair very well will surely get the ACV smell off your hair.
The small ACV amounts in these hair masks won't affect your eyes if at all it goes in them. But:
If you have sensitive eyes, please ensure you shut your eyes tight when rinsing off. If the hair mask goes into your eyes, flush immediately with water.
2. Super Hair Growth | ACV Hair Treatment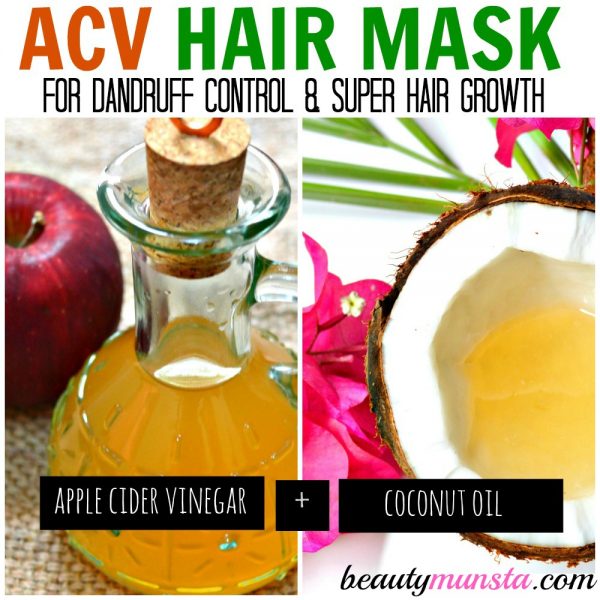 Great for eliminating dandruff and killing off lice, this combination of apple cider vinegar can provide soothing relief for itchy scalp. Coconut oil is a wonder in the beauty world and has been used in reducing acne, solving dry skin and lubricating skin. Check out some cool benefits of coconut oil for hair!
Coconut Oil – A powerhouse of antioxidants and vitamins. Contains antiseptic fatty acids that guard the scalp against acne, lice and fungal infections. Nourishes hair roots. Prevents dandruff and heals itchy scalp issues. Soothes painful scalp. Conditions and moisturizes hair. Softens and smooths dry hair locks. Tames wild frizzy dry hair. Protects hair from split end damage.
Ingredients
2 tablespoons organic raw apple cider vinegar (get it here)
1 tablespoon coconut oil (get it here)
1 tablespoon water
2 drops rosemary essential oil (get it here)
Directions
Mix your ingredients together. Apply it onto your scalp and hair strands. Wait for 10 minutes before rinsing off thoroughly.
More Handy Tips
For easy access and use, store your hair mask in a squeeze bottle in your bathroom cabinet. Keep it for up to a week to prevent the mixture from going bad.
You might want to add only a little coconut oil even if you have longer or thicker hair because you don't want your scalp to look oily. For mid-back hair, use 3 tablespoons and for waist length hair, use 5 tablespoons. Rinse well.
3. DETOX Hair Mask with ACV & Baking Soda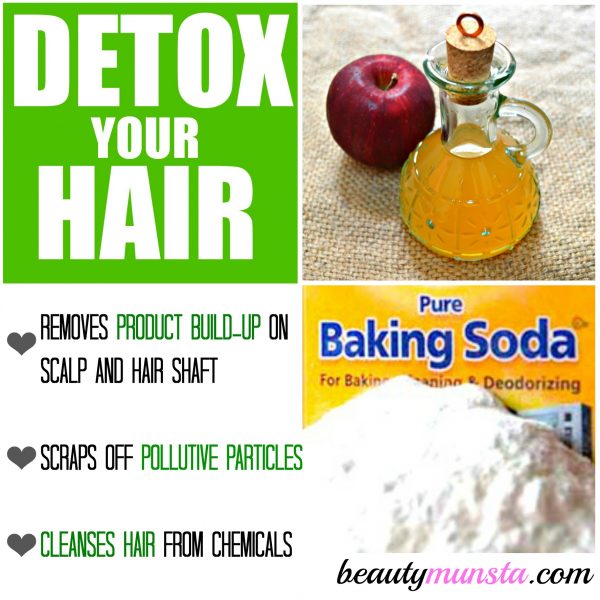 Ever heard of the no 'poo method of washing hair? This is the latest trend for people who hate chemical shampoos ruining their hair! Check out what makes baking soda so great for your hair and scalp:
Baking Soda – Removes product build-up on scalp and hair locks which pollute the scalp, preventing proper hair growth. Cleanses scalp and removes excess dead cells, oils and bacteria which block hair follicles.
Ingredients
For the Hair Mask:
3 tablespoon of baking soda (get it here)
3 tablespoons filtered water
1/4 cup organic raw apple cider vinegar (get it here)
3 drops of geranium essential oil (get it here)
For the Hair Rinse (Optional):
1/4 cup of raw apple cider vinegar
1 cup of filtered water
Directions
First mix your 3 tablespoons of baking soda and same amount of water into a thick paste. Stir in 2 tablespoons of water. Apply the mixture evenly onto your scalp in gentle circular motions. Let it sit for 10 minutes. Wash out your hair.
For an extra, long lasting shine (optional), take mix the ingredients under "For the Hair Rinse" and take it with you in a jar before you start washing your hair. After washing out the mask, slowly pour the ACV rinse throughout your hair strands. Wring your hair and wrap in an absorbent cotton towel. I hope that made sense. Any doubts? Just leave a comment!
More Handy Tips
If you have longer or shorter hair, adjust the ingredient amount to what suits your hair best.
Raw ACV might give you a burning sensation in your scalp if used along. Please dilute it with water before use accordingly.
It's preferable to let your hair dry naturally without using a hair dryer for healthier locks.
Where to Get a Natural Shampoo
If you are going chemical-free on your hair, but want to save the time of making a homemade shampoo, this Maple Holistics Sage Shampoo is a game-changer. It contains powerful herbs such as sage: for dandruff & itchy scalp treatment, rosemary: for hair growth and prevention of hair loss and spikenard for dandruff treatment. It also has argan, jojoba and tea tree oils that all protect the scalp from germs, keep hair clean as well as hydrated and moisturized. This shampoo does not contain sulfates, so it will not lather the way you are used to, but you will quickly get used to it and notice the difference!