Make this DIY pH balanced shampoo that lathers for a healthy scalp & hair!
Do you that regular shampoo is actually alkalinic and throws the scalp's pH out of balance? Not to mention, it strips out most or all of the precious natural oils on the scalp and makes hair incredibly dry. A scalp with an unbalanced pH can get very itchy and flaky with dandruff! Sensitive scalps can suffer from an unbalanced pH so try making this DIY pH balanced shampoo for a healthier scalp & hair! Good thing is, it also lathers but it doesn't get as foamy as the store-bought shampoos, but trust me the lather is good enough!
So what's pH and what does it mean to be pH balanced? Well, the pH scale ranges from 0-14, with 0-6 varying from very acidic to slightly acidic, 7 being neutral and 8-14 being alkaline, from slightly alkaline to very alkaline. Now our skin's (and scalp's) pH is normally between 4.5-5.5. Yes, this is slightly acidic. This pH enables our scalp to be healthy and fight off bacteria. Using normal shampoo which is alkalinic can lead to an unbalanced pH in the scalp. This causes problems like dandruff, increased oil production, itching and others.
Basically, the point of keeping your scalp's pH in balance is to promote a healthy scalp and hair.
For this shampoo, you will need a pH meter/strips to measure the shampoo's pH after you're done making it, by the way. And to balance the pH of the shampoo, we're going to be using citric acid. To thicken the shampoo, we shall use xanthan gum or guar gum. To make it lather, soap nuts which produce natural lather will be used. The rest of the ingredients add nourishing or moisturizing effects to the shampoo.
So let's get on to the recipe for this DIY pH balanced shampoo, shall we?
DIY pH Balanced Shampoo that Lathers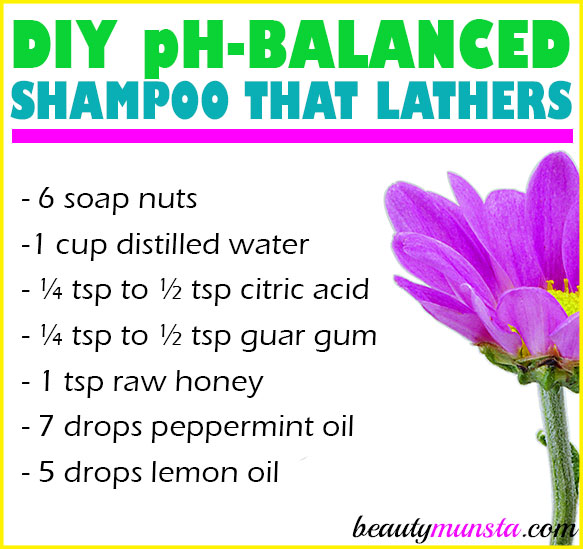 What you Need
Directions
Begin by adding the soap nuts to a saucepan over the stove top.
Now add 1 cup of distilled water and bring the soap nuts to a boil.
Once it's boiling, reduce to low-medium heat and let the soap nuts simmer for 20 minutes.
Remove from heat and let it cool completely.
Strain the soap nuts and keep in a plastic bag once dry in your refrigerator. They can be used again.
Now pour the soap nuts liquid into the Pyrex measuring cup then add the raw honey.
Add ¼ tsp of citric acid and ¼ tsp of xanthan or guar gum.
Mix the ingredients using the immersion blender until smooth and frothy.
Test the pH of the mixture. It should be between 4-7 for a healthy scalp. If the pH is too high, then add another ¼ tsp of citric acid. You're basically adding it pinch by pinch. Add a pinch of xanthan gum also to improve the consistency of the mixture, if you like a thick textured shampoo.
Once the pH is achieved, then mix using the immersion blender until well combined.
Add the peppermint essential oil drops then pour the mixture into your flip top bottle or old shampoo bottle.
Voila, my friends! Your pH balanced shampoo is ready! Store in the refrigerator for the shampoo to last longer (1 month).
To use, tilt the flip top bottle on your wet head in the shower and work it in. Let it sit for about 2-3 minutes while you shave/wash the rest of your body then rinse it out with cold water. To condition, I suggest just applying a little coconut oil to your hair length then rinsing out. You can also use a DIY Aloe Vera Juice Leave in Conditioner, if you have dry hair.
Have fun making this DIY pH Balanced Shampoo that lathers! xoxo