Make your own DIY aloe vera leave-in conditioner to improve your hair's texture and moisture-retention!
Leave-in conditioners are important hair care products, especially for people with dry hair. They have the ability to keep your hair conditioned and hydrated for long. This improves hair texture, softens brittle hair and promotes healthy locks overall.
You don't need to dish out extra cash to buy a leave-in conditioner at the store, when you can DIY your own! And let me tell you, DIYing is so much simpler, cheaper and works very effectively!
Today I want to share with you a super easy DIY aloe vera leave-in conditioner! Read on to see the ingredients we're going to be using and their benefits!
What Ingredients are Needed & Their Benefits
Distilled water – This is your base ingredient. It puts moisture onto your hair which is then sealed by the aloe vera. That's why don't leave it out in this recipe! Instead of distilled water, go ahead and boost your conditioner by using rose water!
Liquid coconut oil – After the water hydrates your hair and the aloe vera locks moisture in, liquid coconut oil will seal the entire deal, so to speak. It's like the outer covering that keeps everything inside set to do the moisturizing & conditioning job. You could use any oil that your hair loves. Avocado oil, olive oil and pomegranate seed oil are also favorites of mine, avocado being good for dry damaged hair.
Jasmine essential oil – Ever wanted to smell heavenly like a beautiful maiden from an exotic land? Then jasmine is for you! Jasmine scented hair is so luxurious I tell you! People won't stop asking what that amazing perfume is every time you enter the room! That's not all – jasmine oil is also VERY moisturizing!
DIY Aloe Vera Leave-In Conditioner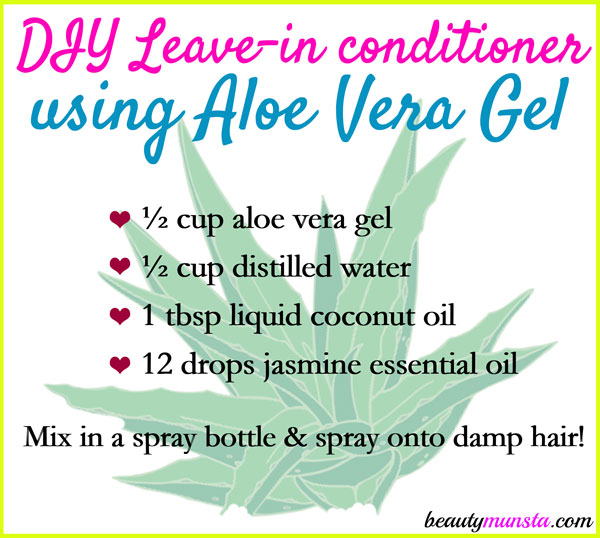 What you need
Directions
Pour your aloe vera gel into the spritz bottle using a funnel.
Next add the distilled water and liquid coconut oil.
Finally, add the essential oil, drop by drop.
Close the bottle and shake well to combine everything.
Store in a cool dry place, away from sunlight.
To use, spray onto freshly washed damp hair then use a wide tooth comb to gently detangle.
Making yourself this DIY aloe vera leave-in conditioner is as easy as breathing! Try it out and let me know how it helped! xoxo