Use this homemade glycerin hair moisturizer for hydrated and healthy locks!
Vegetable glycerin is a great hair care ingredient! It's all natural plus has some serious moisturizing and conditioning properties!
I recently shared 5 Vegetable Glycerin Recipes for Hair but now I have a new recipe to add! The homemade glycerin hair moisturizer below is something that can work as an excellent hydrating product for those with dry, curly, frizzy, coily and kinky hair.
Glycerin acts as a natural humectant. It draws moisture from the surroundings and seals it into hair. If you have oily hair, this glycerin moisturizer may not be the one for you because it can leave your hair feeling heavy and oily!
Okay, onto the recipe:
Homemade Glycerin Hair Moisturizer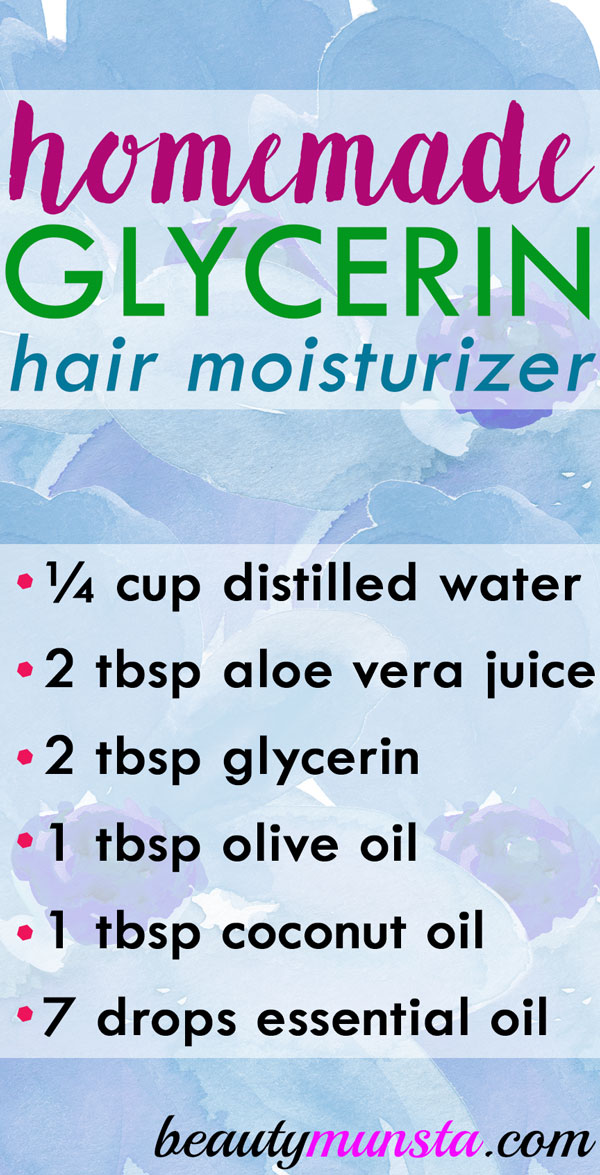 What you Need
¼ cup distilled water
2 tbsp aloe vera juice
2 tbsp glycerin
1 tbsp extra virgin olive oil
1 tbsp coconut oil
Optional: 7 drops essential oil of choice (I like geranium, lavender, rose, jasmine or ylang ylang)
Small funnel
Spray bottle
Directions
Pour ¼ cup of distilled water into a spray bottle.
Next add 2 tbsp aloe vera juice, 2 tbsp vegetable glycerin, 1 tbsp extra virgin olive oil and 1 tbsp coconut oil.
Now you can add 7 drops of an essential oil of choice for a beautiful scent. This is totally optional.
Cap the bottle then shake gently to mix up the ingredients.
Store in a cool dry place.
Spray it onto damp hair that's freshly washed. Let your hair dry then style it as usual. Or, if you have thick, curly, frizzy or natural hair, you can use a heavier hair moisturizer to seal moisture into your hair. You can use a whipped shea butter cream or a carrier oil like argan oil (you may mix it with hair conditioning essential oils like geranium or ylang ylang).
Okay guys! Hope you use and enjoy this homemade glycerin hair moisturizer! Come share your results in the comment below!