Are your dreadlocks dry, frizzy and rough? Then you might want to try this homemade dreadlock conditioning spray.
When caring for dreadlocks, it's wise to steer clear of too many hair products or products with too many ingredients in them. This is to avoid product build-up which always leaves residue in dreads.
Using products with few ingredients, as most homemade products, you can maintain amazing dreadlocks while preventing product buildup.
This homemade dreadlock conditioning spray has just 3 ingredients but it really works in conditioning dry dreads and keeping them in place. It also tames tangles and banishes the frizzy portion of your hair! So if you're mostly dealing with these two problems, then this spray will definitely help you out.
Homemade Dreadlock Conditioning Spray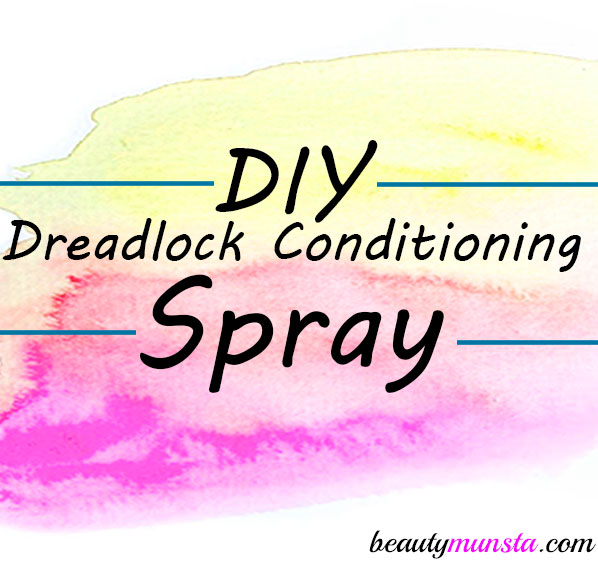 What you need
Directions
In the spray bottle, add the aloe vera gel then the lavender oil. Swirl the bottle to combine the two ingredients.
Now pour in distilled water.
Close the bottle and shake well to combine everything together into an emulsion.
To use, spray on your dreadlocks or on the tangled and frizzy areas. Let the mixture penetrate for 5 seconds then roll your dreads from the scalp to the tips to re-dread the frizzy hair. Don't do this before bed as your dreads will be damp. Preferably use the spray at day time when the sun is out so your dreads can properly dry in the sun.
Tips for Natural Dreadlock Care
Below are some homemade tips to maintain your dreads and make them look good:
► Wash your dreads once a week or every three days, depending on what you prefer. Granted, dreads aren't supposed to be washed often for fear of them undreading. But – it's important to keep your dreads clean to prevent gross buildup which can lead to mold and smelly hair.
► If you have product build up, which can be seen as a white film on your dreads and a greasy feeling on the scalp, then use this wax/oil removal deep cleansing wash. This deep cleanse should be done not less than twice a year. It thoroughly cleanses dreads and removes product build up completely.
► Dry locs? Try moisturizing them with oil and water. First spray your dreads with water from a spray bottle then immediately start applying a lightweight oil such as grapeseed oil on your dreads while twisting and rolling your dreads. You may also use something heavier like shea butter, but remember to wash your dreads regularly to prevent wax/oil residue from the shea butter.
► Do not use shampoos containing oils/butters to wash your hair. Again, this is to prevent product build-up. Always go for water-based shampoos. I find Dr.Bronner's liquid castile soap the best shampoo you can use for dreads. There are even lots of scents to choose from! There's Citrus-scented liquid castile soap and Peppermint-scented liquid castile soap. The peppermint one makes your scalp fresh and itch-free and gives dreads a nice scent!
Do you have any advice on how to keep dreadlocks conditioned? Please share your advise in the comments below!