Ahh…aloe vera is so so soothing and cooling when applied on acne. I personally think it's a must-have product for anyone suffering from acne! It has amazing skin calming qualities and anti-inflammatory effects on acne prone skin. It also alleviates dry and itchy acne so it's an all-round ingredient for acne-free skin!
Today, I'm going to share with you beautiful people three great recipes starring aloe vera gel for acne! Let's get on with the recipes:
3 DIY Aloe Vera Recipes for Acne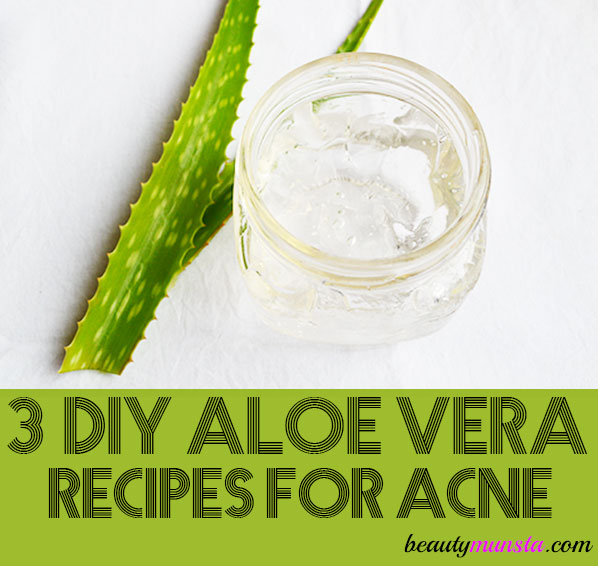 1. DIY Moisturizer with Aloe Vera
Note: Shea butter is great for acne prone skin because it is non comedogenic. This means it is zero on the pore clogging scale. Don't worry at all about it clogging your skin and bringing breakouts! So yay! Enjoy this moisturizer!
What you need
Directions
Add the shea butter, aloe vera gel and rose water into the blender.
Blend for a few seconds until you get a thick cream.
Then transfer the cream into an amber glass jar.
Your aloe vera moisturizer is ready for use! Use a pea-sized amount or less all over your face after toning it.
2. Cooling & Soothing Gel for Angry Red Acne
What you need
Directions
Into the amber container, add the ingredients and mix 'em up real good with a non-food use spoon.
Close the container tight with the lid and store in a cool dry place.
Apply on your skin to calm irritation and soothe it. You can use this in place of your usual moisturizer.
3. Antibacterial Facial Mist for Pus-Filled Cystic Acne
What you need
Directions
Scoop 1 tsp of aloe vera gel into your spray bottle then add the tea tree oil drops.
Now fill up the bottle with ½ cup of distilled water then shake well to combine everything.
Voila! Your facial mist is ready! Spray this mist all over your face with your eyes closed. Do this just after patting your face dry after cleansing it.
Wait for your face to dry completely then go ahead and moisturize.
Where to Get Aloe Vera Gel
It's vital that you get 100% pure aloe vera gel with no additives. I like Amara Organics Aloe Vera Gel from Organic Cold Pressed Aloe. It comes in 8 fluid ounces and contains no added color, fragrance and alcohol. It's your best bet!

Important Tips
✾ Because they're made with pure ingredients and contain no water, the finished products of the above recipes will last a very long while – about a year or more. PROVIDED you don't use dirty or wet hands to dip into them or get water into them.
✾ Store these products in an amber glass containers (follow the link to see what they look like). Amber protects the products from light degradation which makes the product spoil faster.
✾ Keep your DIY creations away from children and pets.
✾ Use regularly to see good results!
✾ And most of all, make sure you share these recipes with anyone who will benefit from it! Everyone deserves to know how awesome aloe vera is for acne! 😀