My previous face cream recipe that I used to apply on my face every night was very simple: I just mixed lavender, geranium and tea tree essential oil in a small container full of pure aloe vera gel. I found this face cream to be very cooling and refreshing to tired skin but it was kinda drying, I have to admit. However, this diy shea butter face cream recipe will never dry out your face since it is made up of nourishing oils and fatty acid rich shea butter. I used both vanilla essential oil  to make this shea butter face cream smell sweet and delicious but you can use any of your preferred essential oils or fragrances.
Beautymunsta's Ingredient Profile
➝ Aloe Vera Gel – Though most popularly known as a sunburn soother, aloe vera gel is immensely good for the facial skin. It is mild and gentle on facial skin and helps reduce skin redness and inflammation. Aloe vera is a natural astringent, which tones & firms the skin as well as gets rid of the greasiness in this shea butter face cream.
➝ Apricot Kernel Oil – Apricot kernel oil is derived from the seeds/kernels of the apricot fruit. It is known for its thin and light consistency, which makes it a perfect ingredient for a face cream, which shouldn't be too greasy. Though apricot kernel oil is great for skin of all types, it's especially good for oily/acneic skin since it is light enough not to clog pores and add a greasy coat on the face. It's rich in vitamins A and E which nourish skin and protect it from impurities.
➝ Vitamin E Oil – Vitamin E oil is a powerful antioxidant and though some may say that it is a natural preservative for any homemade product, it isn't – it is a potent antioxidant that will prevent the oils in this recipe from going rancid/bad. Vitamin E is most known for its wrinkle-preventing and reducing properties. It blocks free radicals that are responsible for sucking out oxygen from skin cells, thereby causing them to become lifeless and form fine lines and wrinkles.
➝ Vanilla Essential Oil – I've used vanilla essential oil for its amazing delicious scent it gives this diy hea butter face cream. But did you know that it has many beauty benefits for the skin & more?! Vanilla essential oil is a powerful antioxidant that protects the skin from notorious free radicals that steal oxygen from healthy skin cells, making them dull and lifeless. Vanilla essential oil was traditionally used in ancient times to soothe and calm burns so it's great for naturally healing sun damaged skin.
How to Make a Shea Butter Face Cream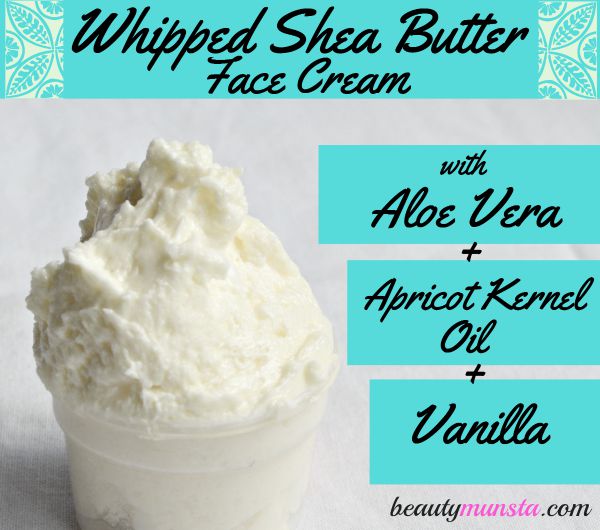 Ingredients
5 tbsp of raw shea butter (buy here)
2 tbsp of pure aloe vera gel (buy here)
2 tsp apricot kernel oil (buy here)
1/2 tsp vitamin E oil (buy here)
3 drops of vanilla essential oil (buy here)
1/2 tsp vanilla extract *optional (for more scent)
Directions
Work with soft shea butter. You do not need to melt it down completely for this recipe. Just pop the shea butter jar in a bowl of hot water to loosen and soften up or leave it on a sunny window sill.
Scoop up 5 tbsp of the soft shea butter and place it in a bowl.
Add the apricot kernel oil, vitamin E oil and vanilla essential oil.
Whip using a hand mixer till smooth and creamy. This will take about 2 to 3 minutes.
Voila! Your diy shea butter face cream is ready to be used!
Transfer it to a small container/jar and store in a clean dry place. Remember: do not get any water into it or it'll spoil!
My Tips
If you don't have a hand mixer/egg beater, you can try using a Magic Bullet to mix up all the ingredients.
For fragrance, essential oils and other scents of your choice can be used. Try lavender essential oil or geranium essential oil as they both blend well with shea butter. Check out my shea butter and essential oils guide to find out which essential oils blend well with shea butter.
My Favorite Tried & Tested Shea Butter Recipes Ebook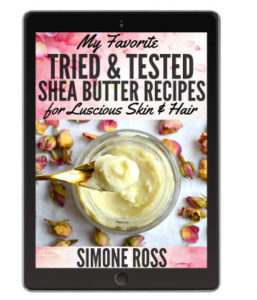 Do you love shea butter and want to make your own beauty products with it?! Check out this ebook "My Favorite Tried & Tested Shea Butter Recipes for Luscious Skin & Hair" for 30 awesome recipes, complete with step-by-step instructions, beautiful pictures and other valuable shea butter info!