Hi beauties! Back at my parents' home, there are humongous and really succulent aloe vera plants that grow wild in the backyard. The leaves are literally BURSTING with gel. Meanwhile in my apartment, I've got two tiny plants that produce only a fraction of the gel that the ones at my parents' have.
Anyway, so I went ahead and bought pure aloe vera gel and I'm loving every minute of using it to lock in much needed moisture! I also use it as a night cream to heal my acne prone face. Aloe vera has got natural astringent properties that leave your face non-greasy and toned. I still use the potted aloe vera plant in my apartment to make face masks or lip scrubs but for my body, I use the pure aloe vera gel I purchased (you can see it in the second picture below). I can't wait for the next visit to my parents' place so I can slather my whole body with that pure oh-so-succulent wild aloe!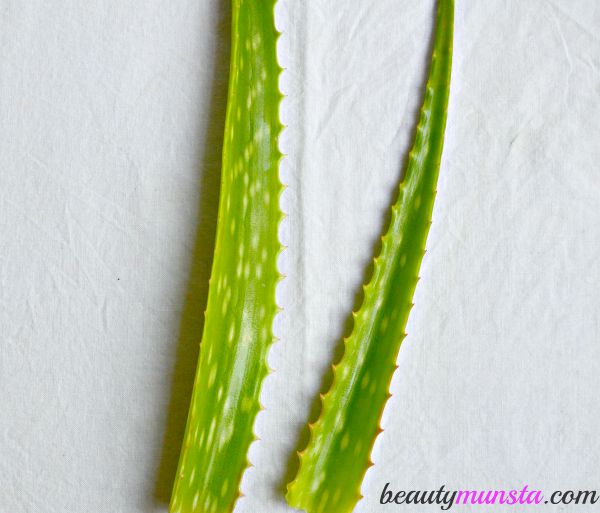 Now enough of the rant lol (-_-)'. The real deal of today's post is this cooling and soothing shea butter and aloe vera gel mix for natural hair! Oh yeah baby! The shea butter and aloe vera gel mix is one of the best things you'd ever put on your hair and since it's a great sealant it's just PERFECT for natural hair! Just take a look at what makes shea butter and aloe vera a great combo for hair below:
Beautymunsta's Ingredient Profile
➝ Shea Butter – From sealing in moisture to soothing an itchy scalp, shea butter has countless benefits for the hair. I use shea butter in almost every diy homemade product of mine as you can see in my posts and I've compiled some of my special & most loved shea butter recipes in my EBook.
➝ Aloe Vera – Aloe vera is incredibly soothing and cooling for a dry itchy scalp and it acts as an excellent sealant for natural hair. For sealing, all you got to do is squeeze out all the water from your hair, apply a pea sized/dime sized amount on your palm, rub together, start scrunching up your hair and you're good to go!
➝ Grapeseed Oil – Extracted from the seeds of grapes, grapeseed oil is well known for its excellent skin and hair moisturizing properties. Some people use it for cooking but I just love using it for my hair recipes because it has a light consistency that perfectly moisturizes hair without weighing it down/making it appear greasy.
➝ Apricot Kernel Oil – Apricot kernel oil, like grapeseed oil, has a light easily absorbable consistency, making it a great hair oil. It's rich in vitamin A, vitamin E and oleic and linoleic fatty acids. Vitamin A Vitamin E soothes an itchy scalp and moisturizes it as well as protects cells from free radicals that cause premature graying of hair. The fatty acids seal moisture into the hair thereby keeping hair naturally hydrated and moisturized.
➝ Lavender Essential Oil – I used lavender essential oil for its strong antibacterial, antiseptic and skin soothing properties. It's great for dry itchy scalp issues which I've been suffering from lately X(. It's popularly known for its skin soothing properties so it wards off any scalp inflammation or irritation. To know more beauty benefits of lavender essential oil, go to this post.
➝ Vitamin E Oil – It's a powerful antioxidant that wards off cell damaging free radicals. Vitamin E is also said to prevent hair loss and promote hair growth! Woohoo! Also, I know it's not exactly a preservative but vitamin E prolongs the shelf life of this shea butter and aloe vera mix for natural hair.
Homemade Shea Butter and Aloe Vera Gel Mix for Natural Hair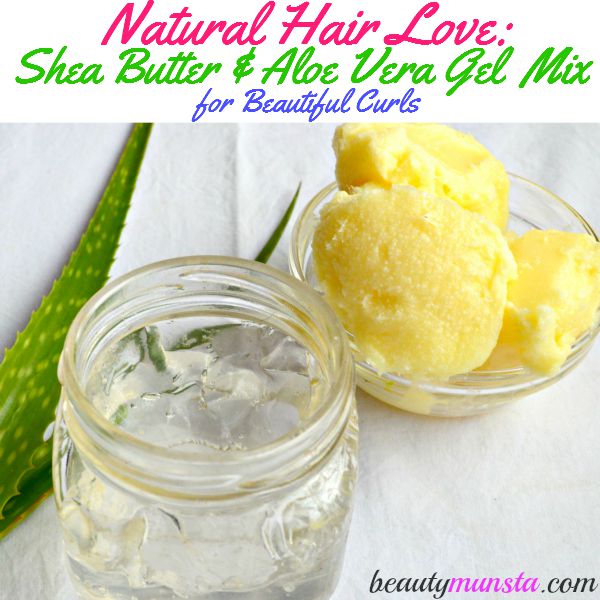 Ingredients
Directions
In a double boiler, gently heat up the shea butter, apricot kernel oil and grapeseed oil over a low to medium flame. Turn it off when the raw shea butter has melted/ softened. You don't need to melt it completely.
Leave it to cool for about 5 minutes.
Add your pure aloe vera gel to a mixing bowl.
Next, slowly pour the butter/oil mixture to the aloe vera gel while beating with a hand mixer. Blend for about 2 minutes until well incorporated.
Add the lavender essential oil and blend again for another couple of minutes.
Ta-da! Your shea butter and aloe vera gel mix for natural hair is ready!
Slather a little on to deep condition/moisturize your lovely locks!
This shea butter and aloe vera gel mix will store for upto 4 months or more. Just make sure not to contaminate it by using clean fingers and protecting it from water.
My Tips
►  Use any other essential oils of your choice to enhance this shea butter hair mix! Here are some of the best essential oils to mix with shea butter for gorgeous hair:
Frankincense Essential Oil – This holy and sacred essential oil is one of my favorites and if I has to choose just five essential oils, frankincense essential oil would definitely be one of them! It also an exotic scent that I find mixes really well with shea butter. Wanna know the beauty benefits of frankincense essential oil? Read them in this post.
Vanilla Essential Oil – You'll get the most delicious scented butter – something that smells like vanilla cookie dough – if you use vanilla essential oil!
Sandalwood Essential Oil – With its warm woody scent, sandalwood essential oil is another best essential oil to mix with shea butter. My sister uses it and it's got this incredibly beautiful scent that's irresistible. It's great for men with natural hair too! Read more about the beauty benefits of sandalwood essential oil here.
►  For a bigger and detailed list of essential oils that mix well with shea butter, click here to go to my shea butter and essential oils guide!
► You may also use pure aloe vera juice in place of the aloe vera gel but only use 1 tbsp so that your shea butter and aloe vera gel mix doesn't turn out runny/liquidy.
My Favorite Tried & Tested Shea Butter Recipes Ebook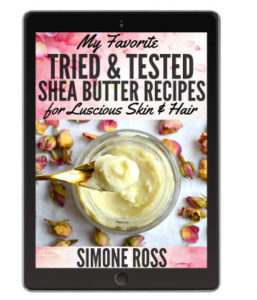 Do you love shea butter and want to make your own beauty products with it?! Check out this ebook "My Favorite Tried & Tested Shea Butter Recipes for Luscious Skin & Hair" for 30 awesome recipes, complete with step-by-step instructions, beautiful pictures and other valuable shea butter info!