Does Shea Butter Help with Acne? – How effective is it?
Shea butter is known to be a highly moisturizing, dense and thick butter that's often used for dry skin – but don't let that put you off! When it comes to acne and pimples, shea butter can be a life saver, and it's true! After all, shea butter is RICH in amazing nutrients and properties that make it a powerful ingredient for acne treatment and management.
Among the nutrients contained in shea butter are Vitamin A, Vitamin E, Vitamin K – all of which are excellent skin-friendly vitamins that help nourish and treat acne. Vitamin A, also known as retinol, is a vital ingredient for fighting acne. Similarly, Vitamin E, also known as the skin protector, is a powerful antioxidant that promotes cell regeneration and is used for treating acne, scar tissue and skin damaged due to pimples.
How you can use Shea Butter for Acne
With this easy homemade, natural acne formulation, you can easily use shea butter to heal, manage and treat your acne. The best part about this recipe is that it's suitable for both your face and your body. It has a light consistency that is easily absorbed into the skin and is non-greasy.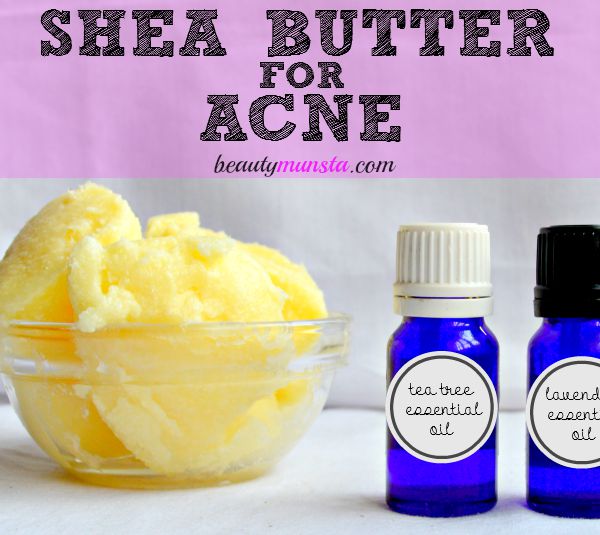 What you Need

Benefits of the Ingredients
Before we move on to the directions, why not have a look at the amazing benefits and properties of the ingredients we're using in this recipe:
► Aloe Vera Gel: Aloe Vera is soothing, cooling and anti-inflammatory – perfect for acne-prone skin, which is often red, itchy and irritated. It's antibacterial and disinfecting properties help kill acne-causing bacteria, as well.
► Tea Tree Essential Oil: This essential oil, also known as Melaleuca alternifolia, is a highly antiseptic, antifungal, anti-inflammatory and antibacterial oil that is perhaps the most widely known and used essential oil for acne treatment. It is also an effective skin cleanser and oil controller.
► Rose Water: Rose water is rich in Vitamin C, which is great for healing and lightening acne scars, dark spots and blemishes caused by pimples. It is also rich in antioxidants, which promote moisturized, healthy and supple-looking skin.
► Raw Honey: When it comes to acne treatment, raw honey is a healing miracle that contains thousands of medicinal compounds, which still haven't yet been profiled by scientists to this day. It is highly antibacterial and rich in vitamins, nutrients and live enzymes, all of which contribute to acne-free skin.
Directions
Begin by melting your shea butter using the double boiler method. You can do this by boiling a pot of water on medium flame, and placing a bowl of shea butter sitting right over the pot. Turn the flame down to low and allow the shea butter to melt. It doesn't need to get totally melted – it can be about 80% melted – all we need is for the shea butter to get soft and easy to work with.
Now remove the melted shea butter off the double boiler and proceed to mix in your aloe vera gel, rose water, raw honey and tea tree oil. Give it a quick stir with a clean spoon.
It's time for the fun part – whipping! Transform your shea butter mix into a luxurious, easily applicable, soft and light formulation that will easily be slurped up by your pores. Get an electric whisk and begin whisking until it reaches a fluffy consistency.
That's it! Your homemade formulation of shea butter for acne is complete.
Transfer to a clean jar and keep in a cool dark place away from direct sunlight.
How to use this Shea Butter Acne Formulation
Wash your face thoroughly with a mild soap or face wash, or even homemade facial scrub, and pat dry.
Do some facial steaming. This can be done by getting a large pot of hot water and holding your face over the steam. Make sure you are seated comfortably and cover your head with a thick towel to prevent the steam from escaping. Do the facial steam for about 5 minutes – this will open up your pores.
Pat your face dry once again and apply your shea butter acne formulation gently all over your face in a circular motion with your finger tips.
You can do this once a day at night so you can let it work its magic, undisturbed, all night long!
My Tips
➝Fancy More Essential Oils? There are many more essential oils for acne that can be added to this anti-acne shea butter formulation. Check out My Top 15 Essential Oils for Acne for more ideas. Another great-smelling anti-acne mix for shea butter is: 2 drops of lavender, 2 drops of geranium, 1 drop of tea tree essential oil. Want essentials oils that mix well and smell great with shea butter? Go to my list of best essential oils to mix with shea butter!
➝Don't have rosewater? Simply replace with distilled water or any other plant hydrosol like orange blossom water!
➝Raw Shea butter or Refined Shea Butter? Raw shea butter is the kind I always use. Did you know why raw shea butter has a yellowish tint compared to refined shea butter? Well, the yellow shade is an indicator of its high Vitamin A content! Edit: I recently also started using East shea butter (Nilotica) and I'm loving every minute of using it – it's softer, not greasy and has a slightly nutty & pleasant scent.
My Favorite Tried & Tested Shea Butter Recipes Ebook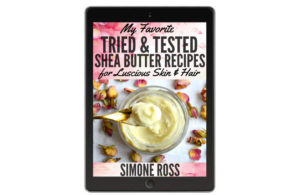 Do you love shea butter and want to make your own beauty products with it?! Check out this ebook "My Favorite Tried & Tested Shea Butter Recipes for Luscious Skin & Hair" for 30 awesome recipes, complete with step-by-step instructions, beautiful pictures and other valuable shea butter info!