Can shea butter assist in skin lightening naturally? Find out!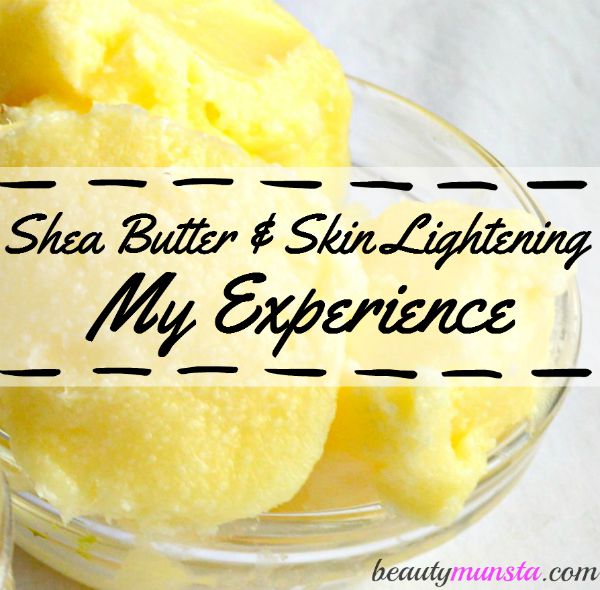 Shea butter is good for healing many skin ailments including stretch marks, scars, dry skin and even acne as you can see in this post. But many people ask the question 'is shea butter good for skin lightening?' One of my friends asked me if it'll tan her skin instead. It's a bit confusing because some people say shea butter tans skin while others say it helps lighten it! So in this post, I'll talk about my experience with shea butter and if it actually has the ability to lighten skin.
Shea Butter Benefits for Skin
Before looking at if shea butter is really good for skin lightening, let's first see some of its amazing benefits for the skin! Since it is rich in Vitamin A, E, K and F, shea butter offers a lot of skin healing and soothing benefits for skin of all types. Some of its beauty benefits for skin include:
Deeply nourishes skin
Moisturizes and lubricates dry skin
Soothes itchy skin
Calms eczema, psoriasis and other inflammatory skin conditions
Heals and treats acne
My Experience with Shea Butter for Skin Lightening

When I first started applying shea butter, my skin was acne prone and I had some acne on my cheeks which was inflamed and a bit red. I also had some scars which I really wanted to heal & lighten ASAP. I used to slather just a pea-sized amount of shea butter on my face using clean fingertips after washing my face with a natural facial cleanser and patting it dry. Note: If you have dry skin, then apply the shea butter on your wet face first then pat dry to lock in moisture and heal it quicker.
My face looked slightly oily after the application but the shea butter rapidly started getting absorbed into the skin after a couple of minutes and left it looking supple. The acne inflammation also considerably reduced which made my acne appear diminished! I'd go out with my face moisturized with the raw East Shea Butter (Nilotica)[ /easyazon_link] alone. I didn't put anything else on my face. Since I'm olive skinned, I don't have to lather up on sunscreen because I tan in the sun rather than burn. Shea butter acts as a good natural sunscreen for me. In Africa, they've been using it as a sunscreen for ages. This also goes for those with brown skin! But if you have pale skin, then you still have to use sunscreen to protect your skin from sunburn.
Note: The smell of [easyazon_link identifier="B00CHMWAY8" locale="US" tag="bm0b8e-20"]raw West shea butter is really overpowering and you might not want to use it on your skin alone so that's why it's better to use East shea butter because it has a slightly nutty scent that is actually pleasant, IMO. But of course, it still has amazing beauty benefits for skin and you can always mix it with you favorite essential oils, to mask the smell, before application!
My face always looked supple and glowing when I put the shea butter and this made it look a shade lighter too. And my friends sincerely used to ask me what I put on my face because it was glowing and had a healthy color to it! I was over the moon because who would refuse such a compliment when they suffered from cheek acne! Lol! 🙂
Is Shea Butter Good for Skin Lightening?
In a nutshell, to answer the question "is shea butter good for skin lightening?, I have to say that yes! Yes it does! If you've got acne, shea butter reduces the inflammation and redness, thereby naturally lightening your face and evening out the skin color.
For a face filled with scars, be it acne scars or any other facial scars, I'd use shea butter daily to moisturize to help lighten the scars quicker, since shea butter is known for its scar and stretch mark healing properties!
Even if you wear makeup, I suggest moisturizing with shea butter first, then applying your makeup on top so that your skin can absorb the shea butter and benefit from its healing and nourishing properties. If you have pigmentation on your face, for example the skin around your mouth/eyes being darker than the rest of your face, I really recommend using shea butter to help lighten and even out the pigmentation!
Shea butter also brightens your skin complexion and improves skin tone.
If you don't want to use raw shea butter neat on your skin, you can try out mixing a few of your favorite oils like jojoba oil and essential oils like lavender to create a sweet smelling and skin healing cream!
My Favorite Tried & Tested Shea Butter Recipes Ebook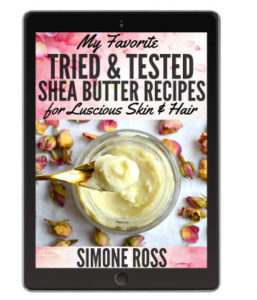 Do you love shea butter and want to make your own beauty products with it?! Check out this ebook "My Favorite Tried & Tested Shea Butter Recipes for Luscious Skin & Hair" for 30 awesome recipes, complete with step-by-step instructions, beautiful pictures and other valuable shea butter info!
Shea Butter is Your Skin Savior! Read More:
♥ 15 Shea Butter Benefits for Skin ♥
♥ 10 Best Oils to Mix with Shea Butter ♥
♥ 12 Beauty Benefits of Shea Butter ♥
♥ 15 Shea Butter Skin Care Recipes for Gorgeous Skin ♥
♥ What are the Best Essential Oils for Shea Butter ♥