Get to know how to make face cream with aloe vera, a soothing skin care ingredient!
Aloe vera gel is much loved in skin care. It is well known for its soothing properties that calm irritated skin. Aloe vera gel is good for treating sunburns, burns, acne, eczema, psoriasis, rosacea, razor burn and more. It also has strong anti-inflammatory properties that reduce inflammation and redness.
Other benefits of aloe vera gel for the face include:
Remove excess oiliness from skin
Tighten & firm skin
Shrink large pores
Seals moisture into skin
Combat acne
Cool down rosacea
Makes skin soft and smooth
Promotes youthful skin
And more!
If you want to read more beauty benefits of aloe vera gel, please see 10 Beauty Benefits of Aloe Vera Gel for Skin and Hair
How to Make Face Cream with Aloe Vera
* The recipe below makes 2 cups of aloe vera face cream!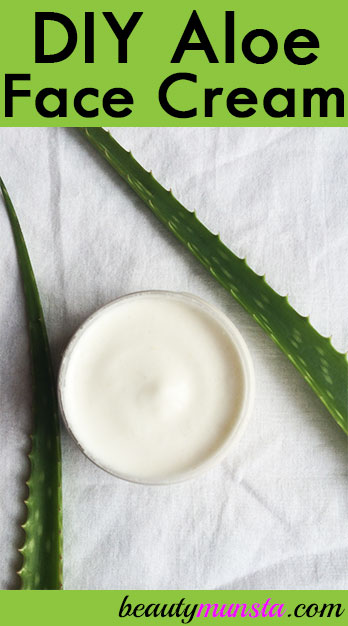 What you need:
Directions:
Begin by placing the distilled water, aloe vera gel and peppermint & lavender essential oils in a Pyrex measuring cup. Set it aside.
Now in a double boiler, gently melt 1 tbsp beeswax pastilles and 1/3 cup shea butter in ¾ cup of jojoba oil over medium low heat.
Once melted, remove from heat and pour it into your blender.
Let it sit until it has cooled considerably to room temperature. Do not let it solidify, it should still be creamy and semi-solid.
Next, turn on the blender at the highest speed then gently and slowly pour the contents of the Pyrex measuring cup (aloe vera gel, distilled water & essential oils) into the blender while its running. This will create a white emulsion. When you see a white smooth cream being formed, turn off the blender.
Pour the mixture into a 16 oz amber glass jar and screw on the lid tightly.
Your homemade aloe vera face cream is ready!
Store in the refrigerator for up to 3 months.
To use, apply a pea-sized amount all over your face after cleansing it. It's best applied on a damp face to lock in moisture.

Hope you learned how to make face cream with aloe vera! Please give it a shot and come share your results!