What are the best oils for your skin type and how can you use them to achieve beautiful skin? Find out in this post!
Choosing the best oil for your skin type can be daunting especially if you have problem skin. I'm talking about those of us with acne, sensitive skin, rosacea and eczema, among other skin conditions.
In this article, I want to show you how to select a skin care oil based on your skin type so you can enjoy beautiful skin naturally!
Benefits of Using Oils to Moisturize Your Skin
If you've turned to using oils to moisturize your skin, then you must have come a long way! There are thousands of store-bought moisturizes and facial creams that promise amazing skin. But one major problem most of them have is that you don't exactly know what kind of ingredients are in there. Most of them contain chemicals and synthetically derived extracts.
On the other hand, when you use 100% pure oils to moisturize your face, you know you're not subjecting your face to chemicals and toxic ingredients PLUS you're promoting healing and nourishment to skin cells!
An In Depth Look at the Best Oils for Your Skin Type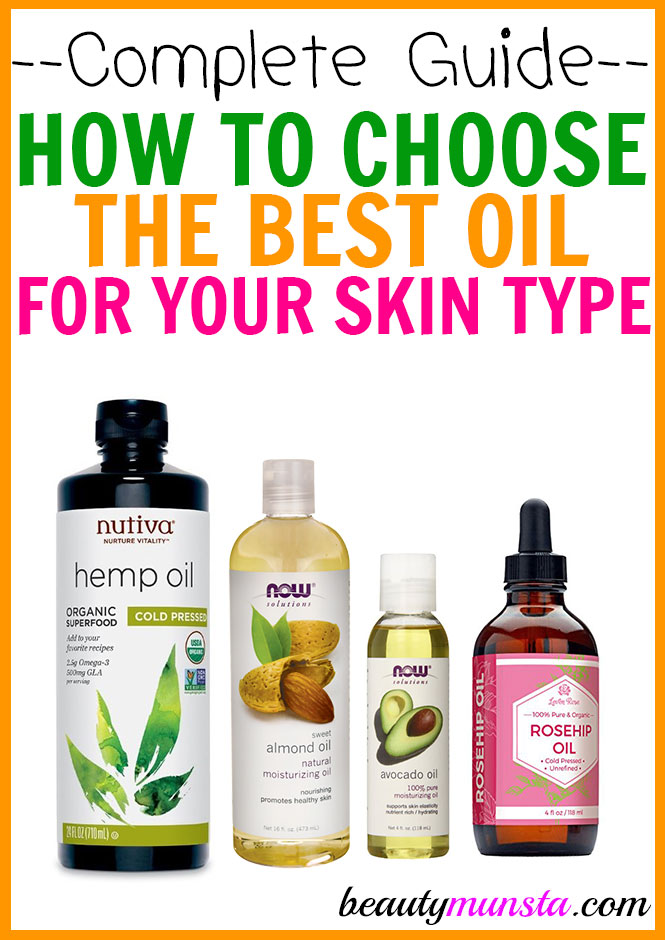 1. Normal Skin:
Do you have normal skin? Then yay! You're blessed! You do not suffer from breakouts – maybe the occasional pimple during that time of the month or when you splurge on junk food. But overall, your skin is well behaved! You can use almost any oil out there! Still, be sure to avoid heavy oils with high comedogenic ratings that can clog up your pores!
Oils to Use: Jojoba oil, sweet almond oil, argan oil, grapeseed oil, rosehip seed oil, coconut oil, shea butter, olive oil, apricot kernel oil
2. Dry Skin:
Dry skin can be itchy, flaky, tight and painful. Thankfully, there are lubricating oils to help keep it moisturized and supple.
When choosing oils for dry skin, look for those with a high oleic acid content. Oleic acid is a a monosaturated fatty acid found in thick and heavy oils. It will sink readily into your dry thirsty skin, lubricating it from deep within.
To improve dry skin from the inside-out, please drink enough water throughout the day and eat healthy fats like olive oil and avocado, among others.
Oils to Use: Avocado oil, shea butter, cocoa butter, olive oil, castor oil, macadamia nut oil, argan oil, hazelnut oil
Also read:
3. Oily Skin:
You feel like you'd rather not use oils on your oily skin. I understand you! Many people try to dry out their oily skin by using astringents and skipping moisturizer. However, this is actually detrimental to oily skin! It makes it go into an overdrive producing even more oil to make up for the extra dryness of your skin. Another benefit of using oil is that oil attracts oil and can dissolve grease, stale sebum, pollution and dirt on your face without stripping your skin of its natural oils.
Furthermore, oils good for oily skin contain linoleic acid, a monosaturated fatty acid that has been proven to be beneficial in reducing oily skin and acne! I've written more about it here: 10 Carrier Oils High in Linoleic Acid
Basically, if you lack linoleic acid, your sebum will be thick and sticky, which makes your skin oily and clogs pores – causing breakouts!
When choosing oils good for oily skin, look for 'dry' oils. This means oils which when applied, do not feel heavy and greasy but rather sink in fast and leave a dry feeling on the skin! Yup, these oils exist! I currently use moringa oil and it immediately sinks into my skin, leaving a dry feeling. It's miraculous really!
Oils to Use: hemp seed oil, jojoba oil, moringa oil, grapeseed oil, apricot kernel oil, safflower oil, sunflower oil
4. Combination Skin
Combination skin is tricky! What do you do? Mix up two oils or use one oil for the dry area of your skin and one oil for the oily area? No lol! What you're going to do is choose an oil that has a balanced ratio of linoleic and oleic acids. Some of these oils include:
Oils to Use: jojoba oil, sweet almond oil, apricot kernel oil, rosehip seed oil, sesame oil
5. Acne Prone Skin
Now this one is quite tricky! You just have to keep experimenting to see which oil your skin likes! You want to choose oils that are not heavy but 'dry' oils, have comedogenic ratings of 0 and have high levels of linoleic acid. I have acne prone skin and I've been using shea butter, moringa oil and black seed oil with good results! You can also check out some antibacterial oils like neem oil.
Oils to Use: Shea butter, argan oil, moringa oil, neem oil, prickly pear oil, watermelon seed oil
6. Sensitive Skin
Sensitive skin needs proper care because most skin care products can irritate it and cause redness. Luckily oils are mainly nourishing and contain protective lubricating fats that soothe skin. If you have eczema, rosacea, psoriasis and other inflammatory skin conditions on your face, you mostly definitely have sensitive skin.
Oils to Use: Jojoba oil, argan oil, shea butter, avocado oil
How to Use Oils for Your Skin Type
In my opinion, the best way to use oils for your skin is by making a facial serum or face cream with them! This combines healing ingredients such as essential oils to make a lovely blend for your skin, whether it's oily skin, acne prone skin or sensitive skin.
Can't you use just one oil on its own? Yes, you can! Do what you prefer, it's all in your hands! If you want to use an oil on its own then apply 3-4 drops all over your face after cleansing and toning. If you have dry skin and sensitive skin, applying the oil on damp skin works wonders. Simply spray your gentle toner (I love pure rose water or my green tea toner) then without waiting for the toner to dry, apply your oil. The oil will seal in the moisture!
But if you want a more nourishing, skin healing and rejuvenating moisturizer, then I say combine your oils with essential oils and other nutrient-rich ingredients like herbs. That way, you'll improve the look of your skin, fight premature wrinkles, reduce blemishes and brighten your face, all while keeping it moisturized.
Please see: