Have you tried countless conventional creams but none of them have worked for your eczema? It's time to make your own DIY eczema face cream, with all natural ingredients that work!
Eczema flare-ups on the face are frustrating. They make your face look red, irritated, dry. What's worse is they can itch like crazy! Instead of using creams and lotions that have a slew of chemical ingredients, try a simple but effective cream made from natural products! When it comes to calming eczema, I think treating it with just a few of the purest ingredients from Nature is the way to go!
You can definitely deal with flare-ups naturally using many home remedies. You can try a DIY eczema cream with oatmeal and a DIY eczema facial mask – both give great results!
In this post, we shall use just 5 ingredients to create a DIY eczema face cream that soothes and heals!
DIY Eczema Face Cream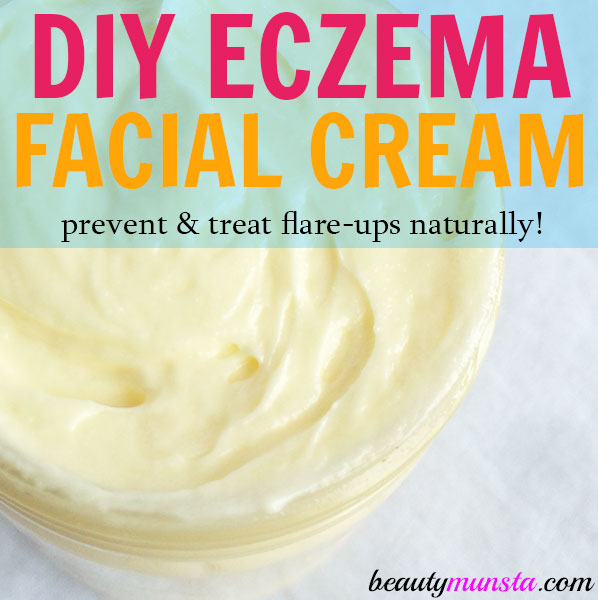 What you need
Directions
Begin by melting your shea butter to liquid form. Use a double boiler over low heat to do this.
Once you've melted your shea butter, stir in the argan oil and raw manuka honey.
Now place the mixture in the refrigerator for about 15-20 minutes or in the freezer for a shorter time so that it can solidfy half way. This makes it easier to mix up the ingredients into a silky cream.
When the time is up, get it out and add the tea tree oil.
Whisk the mixture for about 3-5 minutes or until you get a nice creamy texture.
There you go! Your DIY eczema face cream is ready! Transfer it into a clean amber jar.
To use, gently apply a small amount on your affected skin as a natural treatment, every after washing your face.
My Tips

You can mix the cream using a hand mixer for a smoother fluffier texture.
Go ahead and make a bigger batch, if you get eczema flare-ups elsewhere on your body.
If you can't buy manuka honey, regular raw honey will do. But manuka honey is the among the most healing types of honey. It really works wonders for eczema.
Use this DIY eczema face cream to naturally prevent and treat eczema flare-ups on your face! It's non-comedogenic so even those with oily and acne prone skin can use it too!