Make an aspirin cream for acne to greatly reduce huge angry red acne on your face!
Aspirin is a popular ingredient for treating acne at home. Ever heard of aspirin face masks for acne? Yes, these pain killing pills are very effective for treating stubborn acne. They not only take away inflammation and redness but also have oil control properties and reduce huge painful acne.
What makes aspirin so special is that it contains salicylic acid. You've seen this ingredient in most acne products like face washes and even face creams isn't it?! This ingredient helps reduce excess oils on skin, fight off acne causing germs, tighten skin pores and more!
In this article, I want to show you how to create an effective aspirin cream for acne! It's easy to do plus helps keep acne at bay!
Ingredients Used and their Benefits
Aspirin tablets – Get non-coated aspirin tablets. As mentioned before, this is the star ingredient in this acne cream that fights acne causing germs, reduces oiliness, soothes inflammation and takes away redness.
Shea butter – This is your base ingredient for the acne cream. Although it's a natural plant 'butter,' it is very safe to use on acne prone skin. It is light, penetrates into skin easily and doesn't clog pores! Yes, it has a comedogenic (pore clogging) rating of zero.
Rose water – A pure floral water that is cooling and soothing. It refreshes skin, hydrates & soothes skin while reducing oiliness.
Tea tree essential oil – cleanses & disinfects skin, fights acne causing bacteria, oil control, skin tightening
Lavender essential oil – calms and soothes angry red acne, reduces inflammation, keeps skin sebum regulated.
DIY Aspirin Cream for Acne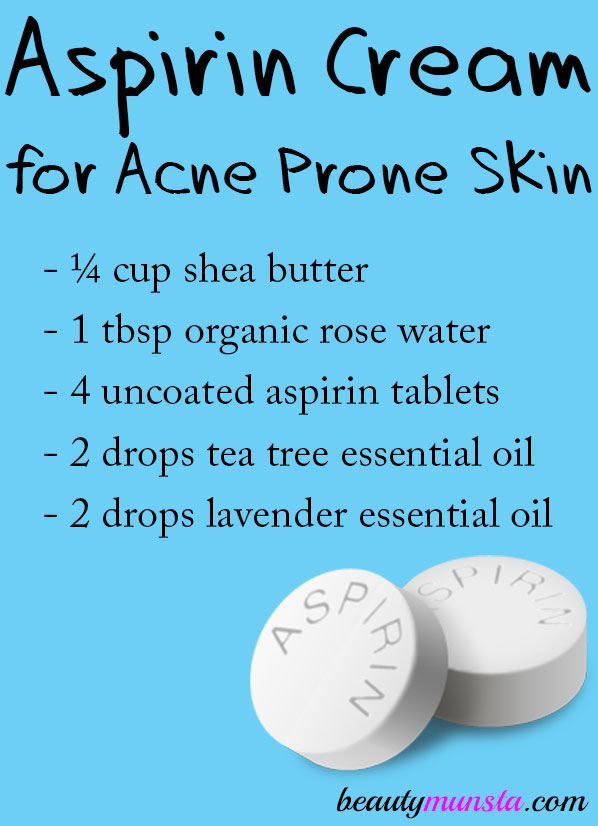 What you need:
¼ cup shea butter
1 tbsp organic rose water
4 uncoated aspirin tablets
2 drops tea tree essential oil
2 drops lavender essential oil
Bowl
Mortar and pestle
Hand mixer
Amber glass container for storage
Directions:
Using a mortar and pestle, crush 4 uncoated aspirin tablets into a fine powder.
Meanwhile, place ¼ cup of shea butter in a medium sized bowl then add 1 tbsp organic rose water.
Beat the ingredients with a hand mixer into a silky white cream.
Now add the powdered aspirin into the cream, followed by the 2 drops of tea tree and lavender essential oils.
Whisk again with the hand mixer till well combined.
Transfer into an amber glass container and store it in a cool dry place.
Apply a pea-sized amount all over your face after cleansing it.
You can also use this aspirin cream for acne as an anti-acne face mask!

Are you ready to try the above aspirin cream for acne?!