If you have acne prone skin, you'll love this homemade salicylic acid peel because it has strong anti-acne properties!
I'm sure you've seen salicylic acid listed as an ingredient in an acne face wash , cream or exfoliating product!
Salicylic acid is a type of beta hydroxyl acid that is derived from willow bark. It is also found in small amounts in fruits like strawberries, blueberries, blackberries, tomatoes and kiwis as part of their natural hydroxyl acid content.
Another source of salicylic acid is aspirin tablets! Salicylic acid is one of the primary components of aspirin tablets so you can use aspirin at home for beauty purposes!
In this post, I want to show you how to make a salicylic acid peel using aspirin tablets! But first, check out some of the benefits of salicylic acid and what you'll gain from using this homemade salicylic acid peel!
Benefits of Salicylic Acid
Not long ago, I talked about 10 beauty benefits of salicylic acid. It is a popular skin care ingredient that is touted to fight acne, help fade away scars, exfoliate skin and more! Let's look at more of its benefits below:
Fight acne
Fade away acne scars & blemishes
Exfoliates skin
Opens clogged pores
Reduces oily skin
Dissolves warts
Loosens blackheads
Helps reduce inflammation and redness
Promotes anti-aging
Read more: 10 Beauty Benefits of Salicylic Acid http://beautymunsta.com/beauty-benefits-of-salicylic-acid-for-skin/
Homemade Salicylic Acid Peel Recipe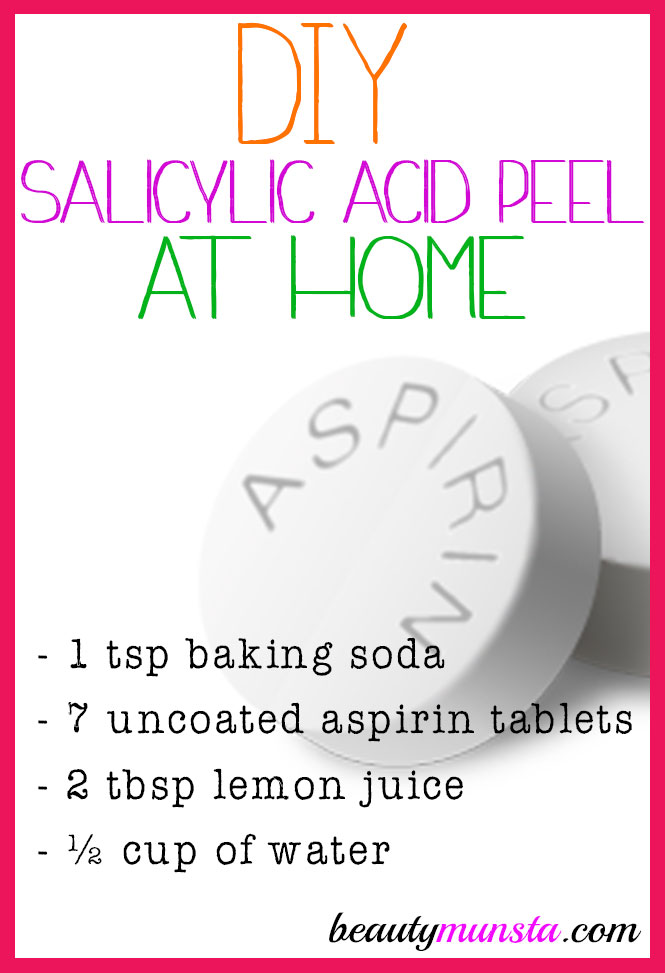 What you need:
1 tbsp baking soda
7 uncoated aspirin tablets
2 tbsp lemon juice, freshly squeezed
1 cup of water
Cotton balls
Small bowl and spoon
Directions:
In a small bowl, place your uncoated aspirin tablets and add 2 tbsp freshly squeezed lemon juice.
Let the aspirin tablets dissolve.
Meanwhile, combine 2 tsp baking soda in ½ cup of water.
Crush the softened aspirin tablets into a paste.
Now using clean finger tips, apply the aspirin-lemon paste onto your clean and dry face. Avoid your eyes.
Let it dry up for 5-7 minutes.
When the time is up, soak a clean cotton ball in the baking soda water and use it to gently wipe off the acid peel. Baking soda is alkaline and so will neutralize the acidic effect of the peel.
Wash your face then pat it dry and moisturize.
Caution:
This can be irritating to some skin types so please do a patch test before use.
If you're allergic to aspirin, then don't do this homemade salicylic acid peel.
What do you think? Are you going to try out this homemade salicylic acid peel?