Salicylic acid is a highly-touted acne-fighting ingredient found in many acne products. It's also very effective in fading blemishes and acne scars! Find out how to use salicylic acid for acne scars in 4 ways.
To find out more amazing benefits of salicylic acid for beauty purposes, check out 10 Beauty Benefits of Salicylic Acid
Where to Get Salicylic Acid for Acne Scars
Salicylic acid can be naturally found in fruits like strawberries, blueberries and kiwis. It's also the main ingredient in aspirin so you can use aspirin tablets for acne scars!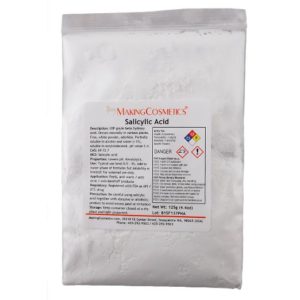 If you want the real thing, then I'd recommend you get this salicylic acid powder for acne scar removal. The powder is concentrated so you would only want to use a tiny amount (about 0.5 – 3 %). Below, you can find recipes with this salicylic acid powder to conquer acne scars. Remember to use just a pinch or two when making your own personal skin care products:
How to Use Salicylic Acid for Acne Scars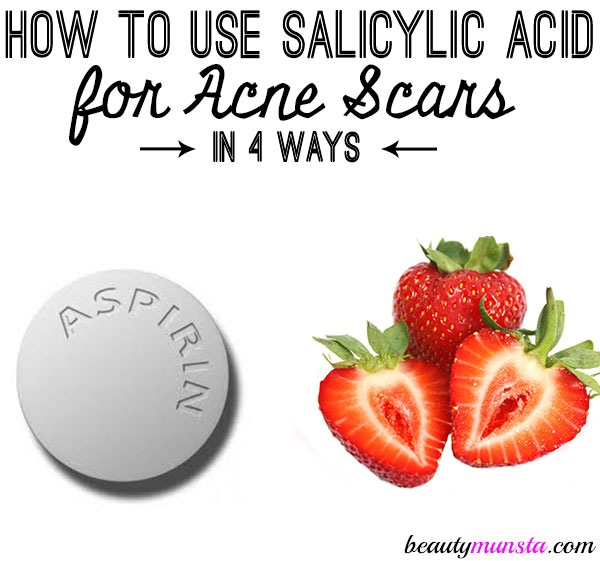 Below are four ways to use salicylic acid for acne scar treatment:
1. Blemish Busting Spot Treatment
What you need
Directions
In a small dish, place ¼ spoon of olive oil and a pinch of salicylic acid.
Mix well with a q-tip then apply on your blemishes.
Leave it on for about 7 minutes then rinse off. Use once every day for a week to see results!
2. Exfoliating Face Mask
What you need
Directions
In a small bowl, put the aspirin tablets and pour in 2 tsp of hot water.
Let the tablets dissolve.
Massage the paste on your skin and let it sit for 7 minutes.
Rinse off with tepid water, pat dry and apply moisturizer.
3. Scar Lightening Face Cream
What you need
Directions
In a medium-sized bowl, add the shea butter and argan oil. Now whisk them up until you get a light fluffy and creamy mixture.
Add the salicylic acid powder and organic lemon oil and whisk again.
Transfer your face cream to a glass jar and use a pea-sized amount on your face every night.
4. Gentle Facial Scrub
What you need
Directions
In the small mixing bowl, muddle up the strawberry until it's mashed completely. Then add in the honey and mix again.
Scrub this onto your clean face for about 2 minutes.
Rinse off with cold water.

Are you ready to use salicylic acid to treat your acne scars? Which of the treatment recipes above appeals to you most?