There are so many natural remedies for hormonal acne that you can try out at home! Hormones play a big role in causing acne, did you know? You may be wondering why you have acne yet you're 30 years old. That's 90% your hormones at play! Most female adult acne is caused by hormonal imbalances.
An excess of androgens or male hormones, that are produced in both males and females, causes acne by triggering excess oil production. This excess oil clogs up pores and causes the dreaded acne.
By lowering androgen levels in the body, you can reduce or completely get rid of hormonal acne! Most doctors prescribe birth control pills or anti-androgen drugs to help treat hormonal acne. But most of us don't want to mess up our hormones in the process, am I right?! That's why you need to know some effective natural remedies for hormonal acne:
6 Natural Remedies for Hormonal Acne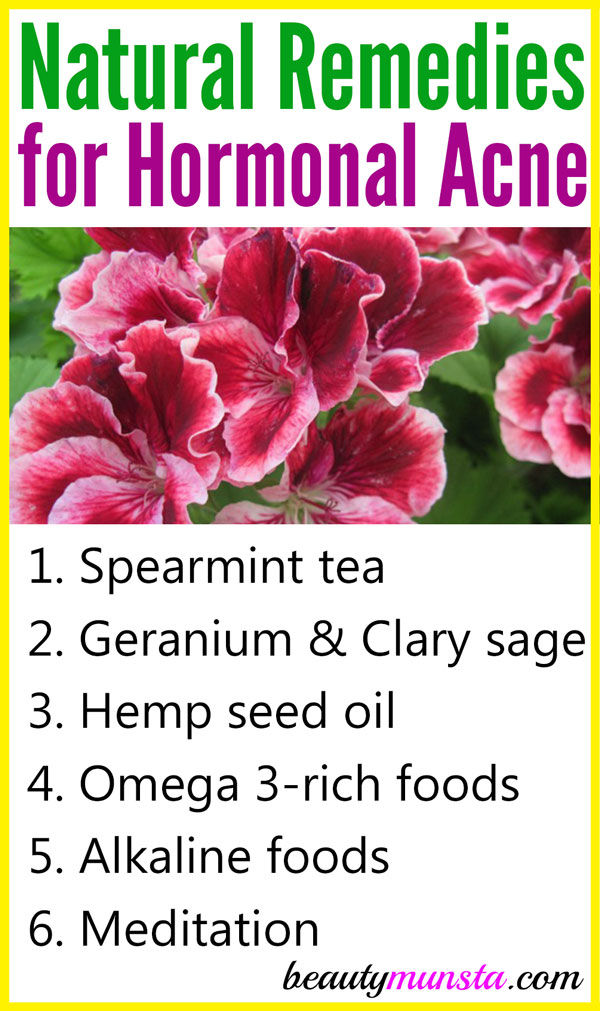 1. Spearmint
Spearmint is a refreshing herb that is said to possess anti-androgen activity. One study showed that women who drank 2 cups of spearmint tea had both total and bioavailable testosterone dropping considerably. They also experienced less hirsutism symptoms. Another study showed that 12 women with PCOS and 9 with hirsutism given a cup of spearmint tea for 5 days experienced reduced amounts of bioavailable testosterone .
2. Essential Oils
Essential oils are highly concentrated plant extracts in liquid form. Certain essential oils are known to regulate hormonal functions, support the hormonal glands and correct hormonal imbalances. These include geranium essential oil and clary sage essential oils. Use these essential oils by adding a few drops to your face serum or make your own acne serum at home! Here's the easiest recipe:
DIY Hormonal Acne Serum: Using a small funnel, pour 2 tbsp hemp seed oil and 1 tbsp argan oil into a 2 oz amber glass dropper bottle. Now add 3 drops of geranium essential oil, 3 drops tea tree essential oil and 3 drops clary sage essential oil. Cap the bottle tightly and gently roll it between your palms to gently combine the ingredients. Use 3-4 drops to moisturize your face after cleansing it twice daily!
3. Hemp Seed Oil
Hemp seed oil is an edible plant oil extracted from hemp seeds. It's very nutrient-dense and rich in linoleic acid which makes it a very good oil for oily and acne prone skin types. Hemp seed oil helps treat hormonal acne from the inside and out! It helps balance hormones because it contains GLA (Gamma Linoleic Acid). According to Veria.com, GLA is the precursor for the production of the protective and calming prostaglandin PGE1 which helps regulate hormonal balance and support menopausal health. Read more: How to Use Hemp Seed Oil for Hormonal Acne
Also read: What is the Best Face Oil for Hormonal Acne?
4. Eat Foods Rich in Omega 3 Fatty Acids
Omega 3 fatty acids have been found to lower androgen levels. They help balance excess testosterones, which helps fight off hormonal acne. Omega 3's also fight inflammation in the body, which treats acne inflammation and soothes redness. Foods rich in omega 3 fatty acids include flaxseeds, cod liver oil, chia seeds, fatty fish like salmon, mackerel and anchovies, sea food, spinach and others. For busy people, you can take Seven Seas Cod Liver Oil Supplements. This is what I do and it helps!
5. Increase your Intake of Alkaline Foods
Eating too many acid-forming foods such as sugar, alcohol, coffee, red meats and processed grains causes the body to become acidic. And to neutralize this acidity, the body has to use minerals that are used to nourish the body such as potassium, calcium, magnesium and others! Cortisol, the stress hormone is at increased levels in people with hormonal acne.Eat alkaline foods like fresh fruits and vegetables to neutralize acidity and reduce cortisol level.
6. Meditation
Stress is a major cause of hormonal acne. Cortisol is the stress hormone and it is  at higher levels in those who suffer from hormonal acne. One sure-fire way to lower stress is by taking time to meditate. Every weekend, sit down or lay on a mat in a peaceful area such as your grassy backyard, close your eyes, breathe deeply and concentrate on releasing negative energy and thinking of things you love. This simple mediation can fill your body with positive vibrations and help lower stress tremendously, which helps balance high cortisol levels in the body and reduce hormonal acne.
Are you ready to try natural remedies for hormonal acne?