Use hemp seed oil for hormonal acne to finally improve your skin and keep pesky cysts under control!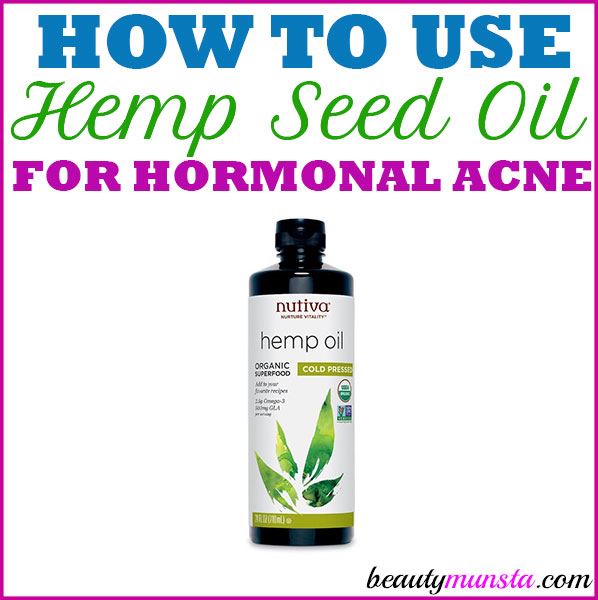 How to Does Hemp Seed Oil Help for Hormonal Acne
First off, hemp seed oil will not get you high. It's very different from that kind of hemp. Hemp seed oil is an edible oil that is very nutrient-dense. It's extracted from hemp seeds. What makes it good for hormonal acne? Read below:
1. Has a high content of linoleic acid. Did you know that people with acne/oily skin have low levels of linoleic acid in their bodies? Yes, it's true and you can read more about it in this study. Low levels of linoleic acid cause too much sebum production, which causes oily skin and breakouts. People with acne prone skin have sticky and thick sebum which easily blocks pores. Linoleic acid helps in the production of high quality sebum that has a non-sticky and medium consistency that won't clog up pores!
Not long ago, I talked about the Top 10 Oils Rich in Linoleic Acid for Acne Prone Skin. Yup, hemp seed oil was among them! It has a linoleic content of 54.3% which is high! You can boost your linoleic acid levels by consuming hemp oil or applying it on your skin.
2. Balances hormones. Some of the oils that balance hormones include Evening Primrose Oil, Borage Seed Oil and Hemp Seed Oil! These oils contain G.L.A or gamma linoleic acid. "G.L.A is the precursor for the production of the protective and calming prostaglandin PGE1 which helps regulate hormonal balance and support menopausal health" (Veria.com). Hemp seed oil has a perfect ratio of omega fatty acids that help to regulate hormones, which helps manage hormonal acne.
3. It's non-comedogenic. One of the most exciting things about hemp seed oil for hormonal acne is that is it non-comedogenic. A comedogenic rating is a scale of 0-5 showing how much an oil/product can clog up your skin, with 0 being non-pore clogging and 5, being highly pore clogging. So having a comedogenic rating of zero makes hemp seed oil a very safe oil to use for acne prone skin because it absolutely won't clog your pores ever!
4. Has astringent properties. Hemp seed oil is a very 'dry' oil. When applied to the skin, instead of making it feel oily, it has an astringent effect instead. Meaning it'll leave your skin feeling firm and tight instead of greasy! This makes it good to use on acneic skin.
5. Regulates sebum production. Hemp oil used topically or consumed helps the skin regulate over production of sebum. One of the characteristics of hormonal acne is oily acne. And hard plug found in skin pores. Hemp seed oil keeps skin from clogging up and breaking out by balancing sebum.
Where to Get Hemp Seed Oil

Make sure to purchase 100% pure and high quality hemp seed oil. I love Nutiva Organic Cold Pressed Hemp Seed Oil. It can be used for both cooking and topical use.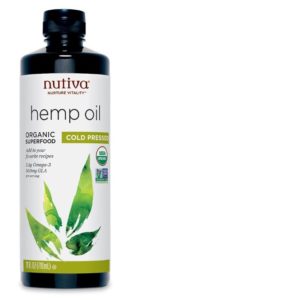 How to Use Hemp Seed Oil for Hormonal Acne
1. Eat it. Hemp oil is edible and very nutritious. It contains 50-60% of your daily recommended value of linoleic acid. As we saw above, linoleic acid is very crucial for preventing and reducing breakouts in acne prone individuals. Take 1 tbsp of hemp seed oil every day. How? You can use it as cooking oil, mix a little in your usual cooking oil, add it to smoothies, stir-fry with it and more!
2. Oil Cleansing Method (OCM). This is an amazing way to cleanse facial skin, using just oils and hot water. Basically, you massage ½ tsp to 1 tsp of an oil or oil blend onto your dirty skin. Then get a washcloth and wring it out in hot water. Firmly dab the washcloth on your oily skin. This opens up pores and help the good oils to go deep inside the skin, dissolving stale sebum & pushing out dirt and other gunk. OCM works perfectly for acneic skin, if you use anti-acne skin care oils like hemp seed oil! Once you're done dabbing your entire face, wring out the cloth in hot water again then wipe off the excess oils. Now pat your face dry and that's it! No need to moisturize.
To make an oil cleansing method blend for hormonal acne, mix up in an amber dropper bottle: 3 oz of hemp seed oil, 3 drops clary sage essential oil and 3 drops geranium essential oil. To use, place 6 drops on your palm, then use clean fingers to massage it on your skin. Follow up with the hot washcloth dabbing and wiping.
3. Moisturizer. In an amber dropper bottle, add 2 tbsp argan oil and 2 tbsp hemp seed oil. Now add 6 drops of tea tree essential oil and 6 drops of lavender essential oil. Shake well to combine and use 2-3 drops to moisturize your face after cleansing it.
Hope this information about hemp seed oil for hormonal acne has benefitted you! Please do try out the Oil Cleansing Method recipe and moisturizer recipe I've provided for you! Let's heal hormonal acne the natural way! xoxo
More Hemp Goodness: