Did you know that you can use activated charcoal for cystic acne? Find out its benefits and how to use it in this post!
Benefits of Activated Charcoal for Cystic Acne
Sucks out gunk stuck in acne: In hospitals, activated charcoal is given to people who've swallowed poison because it's a very powerful absorbent. In this same way, activated charcoal helps cystic acne by absorbing or sucking out all kinds of gunk that are stuck inside cystic acne. Stuff like stale sebum, bacteria, pus, pollution, dead cells and impurities are removed.
Exfoliates skin: By sucking out all kinds of dirt from the skin, activated charcoal gently exfoliates skin with cystic acne, without being too harsh.
Clears blemishes & acne scars: Cystic acne is accompanied by lots of acne scars and blemishes from past pimples. Activated charcoal can actually lighten up these blemishes by lifting off the darkened dead skin.
Reduces acne inflammation: Red angry cystic acne can be calmed down by the anti-inflammatory properties of activated charcoal.
Balances oily skin: Acne and oily skin most times go hand in hand. Activated charcoal reduces excess oiliness and helps balance out sebum on skin.
How to Use Activated Charcoal for Cystic Acne
Okay so the best way to use activated charcoal for cystic acne is by making a DIY face mask out of it. Here's how to make an effective anti-acne mask:
DIY Activated Charcoal Face Mask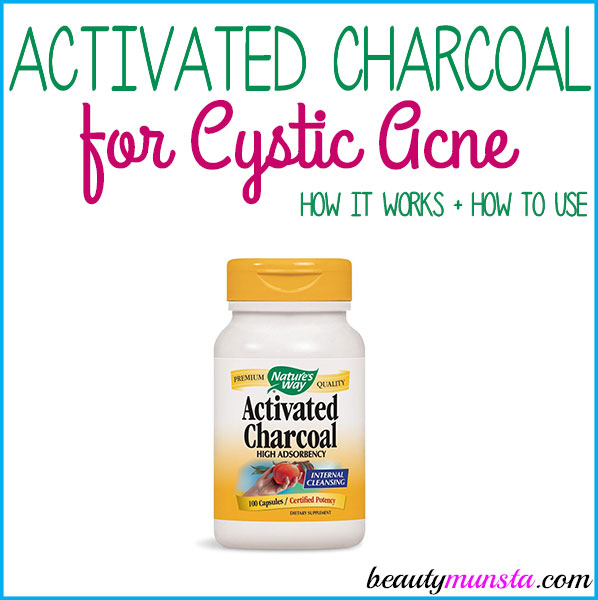 What you Need
Directions
Twist and empty a capsule of activated charcoal powder into your bowl. Use plastic/wood not metal.
Now add the aloe vera gel and tea tree oil. Also drizzle in ½ tsp of manuka honey. If you can't get manuka honey, then use raw honey. But manuka honey is your best bet.
Now mix everything together into a creamy black paste using a spoon.
Stand in front of your mirror and gently scoop up the mask with the face mask brush and apply on your clean face. Avoid the area around your eyes and mouth.
Keep the mask on for 10 minutes then rinse off gently with warm water.
After rinsing, pat your face dry then tone (if you do it) and use a tiny amount of shea butter to moisturize your face. If you like water-based face moisturizers for your acne prone skin, try out my DIY Vegetable Glycerin Face Moisturizer or DIY Aloe Vera Juice Face Moisturizer.
Are your ready to start using activated charcoal for cystic acne? Personally, it's one of the most effective natural remedies to get that acne under control!
Also See: