Learn how to make your own drawing salve using this homemade amish drawing salve recipe!
My mom used to tend to her own small rose garden and would sometimes get tiny rose thorns, stuck deep in her fingers/arms. I know, ouch! Before, I would use a safety pin to gently ease the thorn out of the skin. But now, fortunately, I've found a natural remedy that works wonders in helping draw out more than rose thorns!
This homemade Amish drawing salve recipe helps draw out wood/metal splinters, boils, warts, cystic acne, ingrown hairs/toenails and so much more!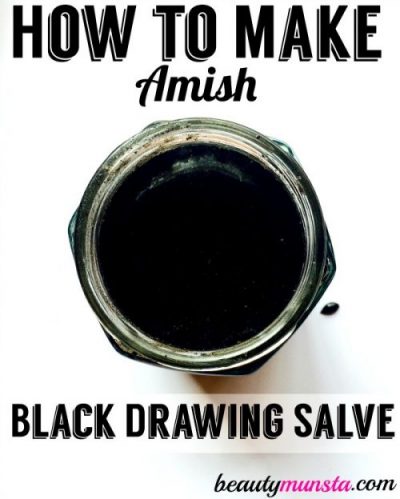 How does a Drawing Salve Work?
Black drawing salves were used since ancient times, especially by the Amish community to draw out splinters, boils, pieces of glass, etc. They are basically ointments containing a mixture herbs, oils, wax and tar or activated charcoal, which are both known to draw out toxins and other foreign material stuck in the skin. The drawing salve works in a way that when you apply it on the affected area, it softens the skin by weakening it, then increases blood circulation to the area which causes pus to form around the splinter/boil, etc. As you apply the drawing salve consistently, the foreign object and pus are naturally drawn out of the skin, hence the name drawing salve.
What this Black Drawing Salve will Help Draw Out & Heal
Here's a list of skin problems that can be healed naturally using this homemade Amish drawing salve recipe:
Metal splinters
Wood splinters
Boils
Thorns
Warts
Moles
Cystic Acne
Spider Bites
Poison Ivy/Oak Rashes
Bug bites
Ingrown toenails
Ingrown hairs
Skin cancer growths
Ingredient Profile 
Activated Charcoal – This is the main ingredient in this black drawing salve. It not only gives the salve the black color but also helps pull out toxins and foreign objects such as splinters from the skin as well as reduces the sting of poison ivy and bug bites.
Calendula Infused Olive Oil – This is a healing oil infusion that helps reduce inflammation, moisturizes the skin, is antibacterial and helps the affected area heal faster.
Coconut Oil – Has anti-inflammatory, antibacterial, antiseptic, moisturizing and skin healing properties.
Bentonite Clay – Just like activated charcoal, bentonite clay helps draw out toxins, chemicals and foreign bodies stuck in the skin. It also gives the salve a non-greasy consistency.
Beeswax – Helps thicken and harden the salve and also acts as a binding agent that sticks the healing ingredients to your skin.
Honey – Is antibacterial, moisturizing and has healing properties.
Frankincense Essential Oil – Is a powerful anti-inflammatory, antiseptic and antibacterial agent. It also has potent anti-scarring properties which makes it good for treating cystic acne, boils, warts, moles and ingrown hairs. Frankincense is an effective anti-cancer essential oil so it's particularly useful when using this black drawing salve on skin cancer growths.
Lavender Essential Oil – Soothes the skin, calms inflammation and reduces redness. Is also a potent antibacterial and antiseptic ingredient.
Homemade Amish Black Drawing Salve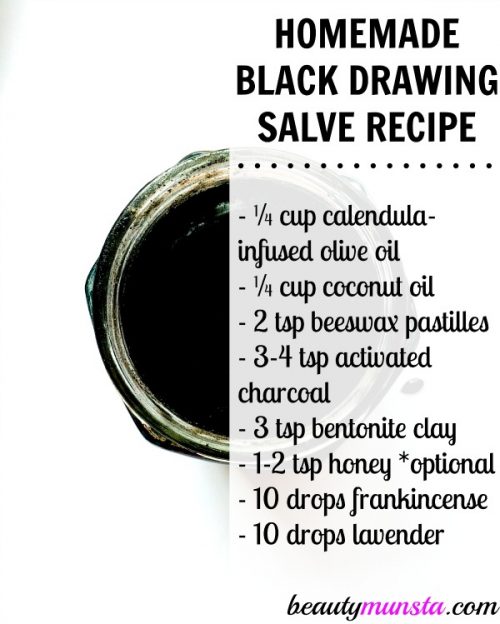 Ingredients

Directions
Create your own makeshift double boiler by placing the glass jar you'll be storing your salve in, in a pan filled with a couple of inches water. The water should not enter the jar.
Add the calendula-infused olive oil, coconut oil and beeswax pastilles to the glass bowl and heat on a low flame until everything completely melts down.
Once melted, remove from heat and stir in the rest of the ingredients with a non-metal spatula.
Let it cool down completely and harden.
Store this homemade black drawing salve in your medicine cabinet and use it to heal almost anything from bug bites to poison ivy rashes to warts!
Note: To make calendula-infused olive oil, heat up the olive oil in a pan with 3-4 tbsp of dried calendula flowers. They must be fully dry! Cook the ingredients on a low flame for about 15-20 minutes. Then remove from heat and let it cool down completely before straining into a mason jar.
Alternatively, add the dried calendula to ¼ cup of olive oil in a mason jar and leave it to infuse in a sunny window sill for 2 weeks or more. This method is longer so I prefer the first one – and no, the ingredients won't be destroyed in the 'cooking' process, in fact, the anti-oxidants will be released better with the heat, which happens with many herbs/vegetables. Check out my carrot lime hair growth oil post with step-by-step pictures and instructions!
How to Use
Cleanse the affected area with warm water and a mild soap. Pat dry with a towel or paper towel. Scoop a pea-sized amount of the salve using a clean fingertip then apply on the affected area. You may cover with a band-aid or bandage if you wish, since it may be a bit messy. Let it sit for about 6 hours then cleanse the area again and re-apply. It usually takes 6-48 hours for the splinter to come off completely. Do the same if using for a boil, wart or pimple until you see results.
My Tips
This homemade Amish drawing salve recipe can also work as an acne spot treatment! The clay helps draw out impurities lodged within the pimples while the rest of the ingredients work in reducing inflammation, swelling as well as preventing scarring (frankincense helps with this).
The dry ingredients may clump up when you mix them alone. To prevent that from happening, ensure to mix a small amount of the infused olive oil in the dry ingredients to form a paste before stirring it in the rest of the batch.
Don't have the herbs in the recipe above? Then use other herbs instead to create your olive oil infusion! You can try using plaintain, comfrey, chamomile, rosemary, catnip and dried lavender among others.
Instead of frankincense and lavender, you can use any other essential oils of your choice!