Use any of these essential oils for halitosis to get rid of that bad breath forever!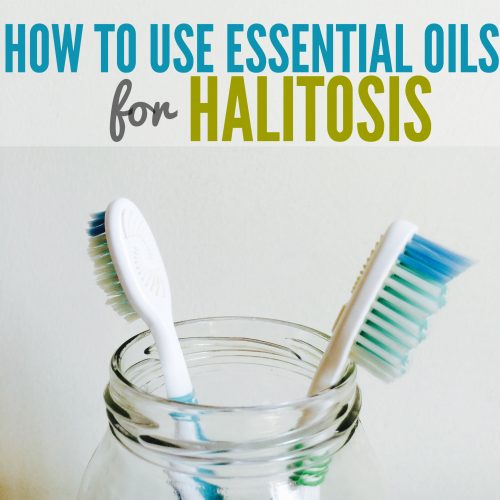 Halitosis is the medical term for bad breath and is common among many people due to a variety of factors including over consumption of pungent and strong-tasting foods such as onions, garlic, coffee, etc, tooth decays, gum disease, poor mouth hygiene, smoking, alcohol consumption, dry mouth, certain medications and underlying medical conditions such as tonsillitis, digestive issues, acid reflux, gastritis, diabetes, kidney/liver problems etc. In case you have chronic halitosis, please see your doctor as it may be due to some underlying illness.
Note: Pregnant/lactating women must consult a professional medical practitioner before using essential oils. If you have any severe/chronic health conditions, please also consult your doctor before using essential oils. Essential oils are highly concentrated and very powerful. A little goes a long way so ensure to use only the recommended amount to avoid burning your mouth. Most essential oils require dilution before use. Always use a patch test on your inner elbow and monitor the area for 12-24 hours for any irritation to ensure that you are not allergic.
Which Essential Oils to Use for Halitosis
From refreshing peppermint to antibacterial clove, find out the most effective essential oils for bad breath or halitosis below!
1. Peppermint Essential Oil
Scent Profile: sharp, clean, minty, fresh
Having a high menthol content, peppermint essential oil freshens the mouth, removes bad breath and also has antiseptic properties that fight off bacteria in the mouth. One of the numerous therapeutic benefits of peppermint is its ability to treat indigestion, which is useful for people who have halitosis due to digestive issues.
2. Lemon Essential Oil Essential Oil
Scent Profile: fresh, clean, lemony
Lemon essential oil instantly fights off bad odor and gives your mouth and clean and fresh feel. It's also a natural teeth whitener, however use only a few drops as lemon can be harsh on the enamel and wear it down.
3. Spear Mint Essential Oil
Scent Profile: sharp, fresh, minty
Spearmint is a relative of peppermint and is also commonly used in toothpastes and other oral care products for its fresh scent and taste. Spearmint essential oil not only eliminates bad breath but also has potent antiseptic properties that destroy plaque-building and cavity-causing bacteria.
4. Cinnamon Essential Oil
Scent Profile: warm, sweet, spicy
Having a popular sweet and spicy aroma and taste, cinnamon essential oil not only eliminates bad breath but also strengthens the gums and numbs tooth pain. Note: A little goes a long way with cinnamon since it is a 'hot' oil that can burn the mouth if used in excess/without dilution.
5. Eucalyptus Essential Oil
Scent Profile: fresh, sharp, camphoraceous
Just like peppermint, eucalyptus essential oil has cooling and refreshing properties that instantly rid your mouth of any foul odor. It also fights cavities, removes plaque build-up, clears out tartar on teeth and treats gingivitis.
6. Clove Essential Oil
Scent Profile: warm, strong, spicy-fruity, sweet
One of the best essential oils for healthy teeth and gums, clove essential oil is a great tooth pain remedy and it helps strengthen the gums for those with bleeding gum issues. Clove also has powerful antiseptic properties that kills germs and bacteria in the mouth. Using clove essential oil neutralizes bad breath and leaves you with a sweet taste in your mouth.
7. Rosemary Essential Oil
Scent Profile: clear, herbaceous
Rosemary essential oil is great for cleansing the mouth, masking bad odor and fighting off mouth bacteria with its powerful disinfectant and antimicrobial properties. This essential oil also helps reduce appetite for those with constant snack cravings!
8. Wintergreen Essential Oil
Scent Profile: fresh, clean, minty, sweet
Though not as common/ popular as peppermint or lemon, wintergreen essential oil is also good for naturally treating halitosis and bad breath. It cleans the mouth, freshens breath and fights plaque accumulation.
9. Myrrh Essential Oil
Scent Profile: warm, balsamic with a hint of fruitiness
Myrrh essential oil not only has antibacterial and antiseptic properties that fight off bacteria and germs in the mouth but also has anti-inflammatory properties that soothe gum inflammation and bleeding gums. It strengthens the gums and fights halitosis by keeping the mouth free from plaque-building bacteria.
7 Easy & Effective Essential Oil Recipes for Halitosis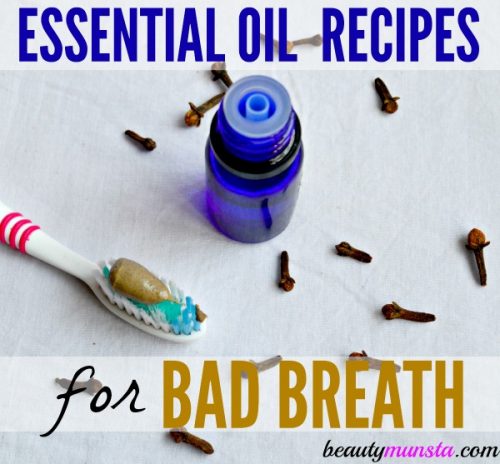 1. Quick Tongue Cleaning Routine
Do you still have bad breath even after brushing your teeth with the mintiest toothpaste? Try this quick tongue cleaning routine to fight off bacteria on the tongue, which might just be the cause of your halitosis. Remember: A clean tongue = no bad breath. After your usual brushing, add a drop or two of peppermint essential oil to your toothbrush and brush your tongue. Then, use a tongue scraper to clean your tongue. Rinse your mouth and you'll have fresh breath for a good long while! Try doing this every time you brush your teeth to beat halitosis.
2. Powerful Bad Breath Potion
In an small amber glass dropper bottle, add 7 drops peppermint, 5 drops tea tree, 3 drops lavender and 2 drops clove. Shake well to combine. To use, place 1-3 drops on your tongue and hold it in your mouth till enough saliva collects in your mouth to swish with. After swishing for a minute, spit and rinse. Your mouth will feel so fresh and non-stinky!
3. Minty Mouthwash
Combine 2 tsp xylitol, 4 drops peppermint, 2 drops wintergreen, 1 tsp baking soda and 1 cup distilled water in an amber bottle. Use as normal mouthwash.
4. Anti-Tartar Toothpaste
Tartar and plaque are major harbingers of nasty breath. Get rid of it with this homemade toothpaste that works! In a non-metal bowl, add 4 tbsp of bentonite clay, ¼ tsp baking soda, ¼ tsp sea salt, 2 tbsp coconut oil, 10 drops of peppermint, 4 drops myrrh and enough filtered water to create a paste. Then add liquid stevia, drop by drop for a sweet taste. Transfer the paste into a squeezable toothpaste tube.
5. Fruity Toothpaste
Create a fruity flavored toothpaste by combining 4 tbsp coconut oil, ¼ tsp baking soda, 2 tsp bentonite clay, 10 drops of sweet orange essential oil and liquid stevia, drop by drop as required, to sweeten.
6. Lemony Mouth Rinse
Make a refreshing lemon flavored mouth rinse by combining 1 cup of distilled water, ¼ tsp of baking soda and 5-7 drops of lemon essential oil.
7. Freshen up Mouth Spray
In a essential oil spray bottle, add 5 drops peppermint and 2 drops tea tree. Top with filtered water. Shake to combine. Spray your mouth as necessary for fresh and pleasant breath. Keep it in your purse/bag so you can use whenever!
Note: As with all toothpastes/oral care products, refrain from swallowing.
Other Natural Remedies for Halitosis
Green Tea. The polyphenols in green tea not only fight cancer and promote youthful skin but also destroy compounds in the mouth that lead to bad breath, decay and other oral diseases including mouth cancer!
Water. Drinking 4 cups of warm water first thing in the morning gradually gets rid of halitosis forever. Constipation is one cause of halitosis and drinking water helps immediately flush out toxins and unwanted waste stuck in the colon. Water also hydrates a dry mouth which is the most common cause of bad breath, especially in the morning.
Citrus fruit. Apples, oranges, strawberries, pineapple, etc all have mouth-odor fighting properties. Apples, in particular, contain a key compound known as pectin, which eliminates bad odors and promotes saliva production. Fresh fruit also naturally clean the teeth and gums, inhibiting bacteria from accumulating and forming plaque.
Chew on herbs and spices. Aromatic herbs such as mint, parsley, basil and cilantro automatically remove bad breath when chewed on. Spices such as fennel seeds, cinnamon and cloves also neutralize bad breath and fight halitosis by not only removing bad odor but also treating digestive issues such as indigestion and constipation which are causes of halitosis.