Do you want to know how to make perfume with witch hazel? Read on! It's very easy!
Perfume making is complex but you can try your hand at it right in the comfort of your own home! The perfume recipe I'm sharing below is for those of us who just want to avoid toxic fragrances yet create an affordable and easy to make perfume.
Why witch hazel? Because it acts as a good enough substitute for rubbing alcohol or vodka which are two ingredients DIYers usually use to make a simple perfume AND you probably have it at home now. The only downside to this perfume is that you'll have to shake it very well before use which is absolutely not an issue, am I right?!
Ingredients You'll Need
To make your own perfume, you MUST have essential oils on hand. Essential oils are natural liquid plant extracts got from aromatic parts of plants. They are super concentrated and have potent fragrances. That's why we need them.
You can use fragrance oils but essential oils are all natural so why not use them instead?!
Okay, so these are the ingredients you'll need:
Witch hazel – It's the base ingredient in this perfume recipe. We're going to be using it instead of vodka/rubbing alcohol. Witch hazel is what's going to mix up your essential oils. Still, shake the perfume very well before use because witch hazel will not completely mix up your essential oils. It's bound to separate after a while.
Vegetable glycerin – This ingredient keeps the perfume together. It helps the perfume stick to your skin or clothing so it lasts longer! It's also moisturizing so when you apply it to your skin, it's going to be moisturize it nicely.
Essential oils – I'm using bergamot (fresh, citrusy & slightly spicy), lavender (soft floral), geranium (floral) and lemon (sweet & lemony) essential oils. The scent is pleasant – I'm sure you'll love it!
Distilled water – You'll need distilled water too! It makes your perfume a bit lighter so it's not a heady scent plus it keeps it refreshing. It's better not to omit it.
How to Make a Perfume with Witch Hazel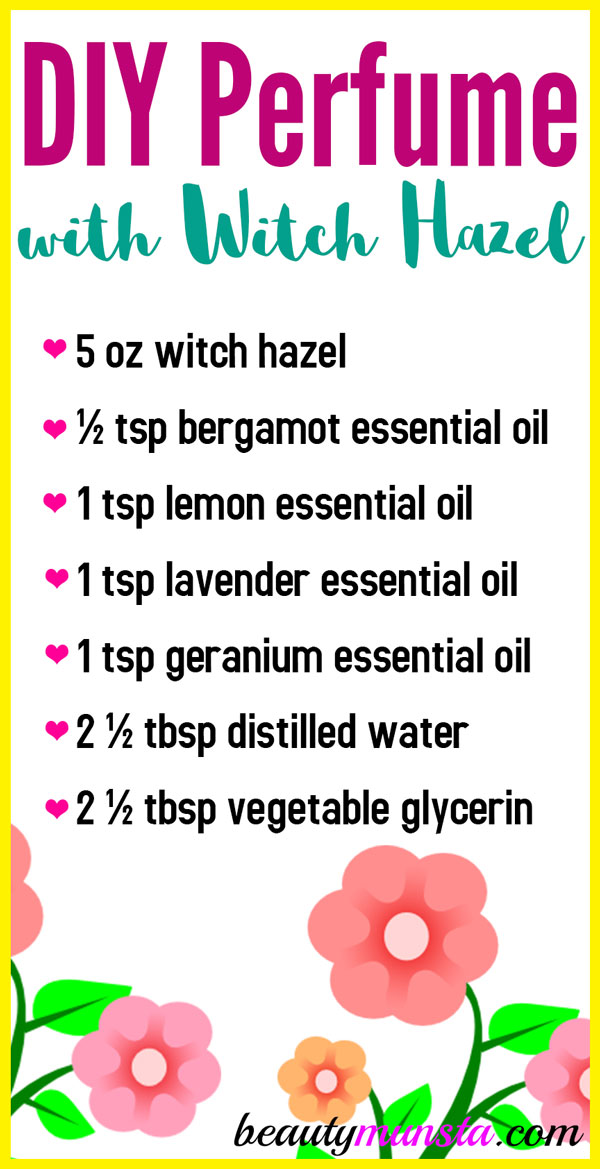 Ingredients:
5 oz witch hazel
½ tsp bergamot essential oil
1 tsp lemon essential oil
1 tsp lavender essential oil
1 tsp geranium essential oil
2 ½ tbsp distilled water
2 ½ tbsp vegetable glycerin
Container for storage like: an amber spray bottle
Directions:
Gather all your ingredients, measure out each one and pour carefully into your container for storage.
Shake well and leave it to 'mature' for 2 weeks. Keep shaking it often.
After two weeks, it's ready to use! If you're spraying it on your skin, beware of exposing that part of your skin to sunlight as bergamot and lemon oils are photosensitive.

I hope you benefited from this post on how to make perfume with witch hazel. Please make it and come share your results! Hope you like it as much I do!