You simply won't wait to get your hands on a bottle of tea tree if you read these 14 terrific tea tree oil uses for skin!
Tea tree oil is perhaps the most popular essential oil on the planet. What makes it amazing is that it is a multi-purpose oil. You can use it for green cleaning, acne treatment, neutralizing bad odors and more!
But the real deal when it comes to tea tree oil is its beauty benefits for skin! Let's explore 14 terrific tea tree oil uses for skin below:
14 Terrific Tea Tree Oil Uses for Skin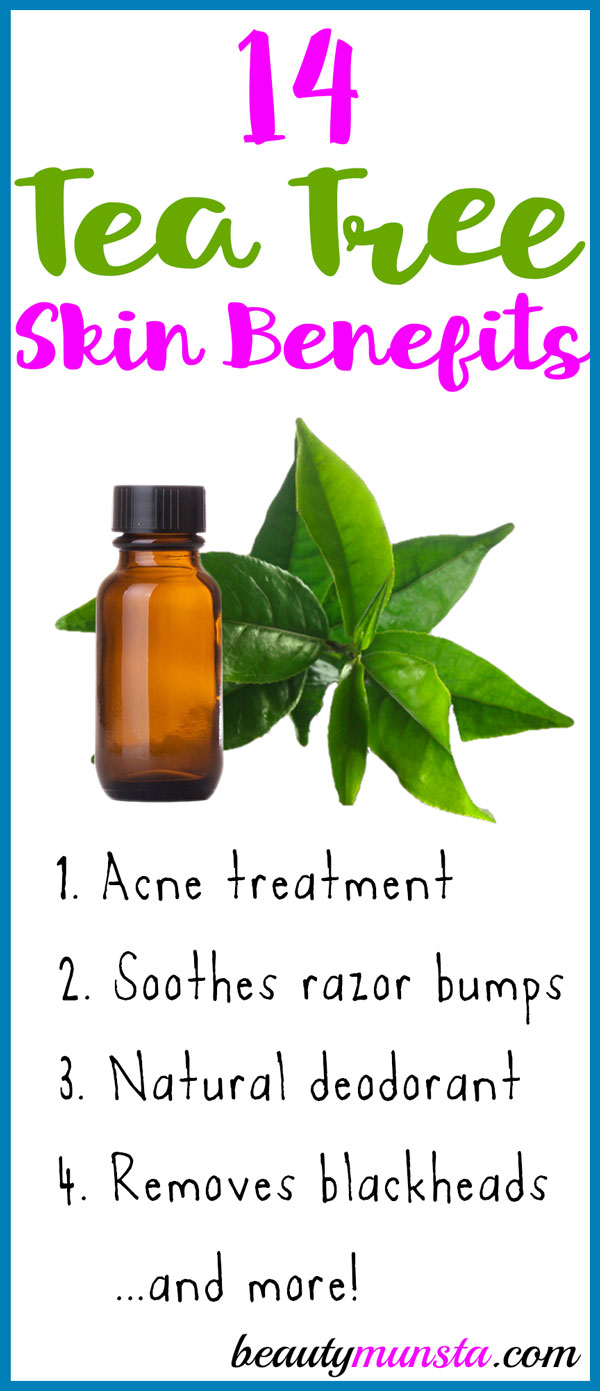 1. Acne Treatment
Everyone's using tea tree oil as a natural acne treatment! It kills acne causing bacteria which helps clear up your skin. You can dab a drop of tea tree on large pimples, or mix 2 drops of tea tree oil in 1 tsp of witch hazel and apply it all over your acne prone skin. See How to Use Tea Tree Oil for Acne
2. Relieves Itchy Skin
Itchy skin can be relieved using tea tree oil. When applied on skin, it gives relief fast, kills skin irritants like germs that are causing the itching. Tea tree also brings a cooling sensation that's soothing for itchy skin. Dilute it with a carrier oil or aloe vera gel and apply it onto itchy skin.
3. Soothes Eczema & Psoriasis
Mix tea tree oil in your lotion and apply it to soothe your eczema or psoriasis. You can also make your own eczema cream. Do this by whipping ½ cup coconut oil in your hand mixer then add 10 drops tea tree essential oils and whip again. Store in a cool dry place and apply liberally after a shower.
4. Fights Fungal Skin Infections
Tea tree oil has anti-fungal properties that fight off fungal skin infections.
5. Removes Skin Tags
Got a skin tag or wart? Place a drop of tea tree oil on a cotton ball and tape it to the skin tag. This will dry up your unwanted skin growth and make it fall off quickly.
6. Treats Ingrown Hairs
If you suffer from ingrown hairs every time you remove body hair, then it's time to pull out your bottle of tea tree oil. It's antiseptic, anti-inflammatory and helps prevent the ingrown hair from getting infecting and forming boils.
7. Reduces Oily Skin
Tea tree oil has natural astringent properties that remove extra oiliness from skin. This helps balance oily skin.
8. Shrinks Large Pores
Using tea tree oil helps shrink large pores! This is because of its astringent properties that tighten up skin. Use a DIY Tea Tree Oil Serum or toner to help with this!
9. Gets Rid of Blackheads
Blackheads are a result of stale oil getting stuck in pores. The stale oil becomes black after being oxidized. One of the best essential oils for blackheads includes tea tree oil! Make the Blackhead Busting Scrub below:
Blackhead Busting Scrub: In a small bowl, add 1 tsp of baking soda, ½ tsp of honey and 2 drops of tea tree oil. Mix well to form a paste and scrub the paste on your whole face. Leave it on for 10 minutes then rinse off with tepid water. Look at your blackheads area: it'll look clearer than before! Try this mask 1-3 times a week.
10. Natural Deodorant
The clean fresh scent of tea tree oil neutralizes bad body odor. Its antibacterial properties kill bacteria on skin that mingle with sweat and are responsible for causing that bad odor. Try this Homemade Tea Tree Oil Deodorant Spray.
11. Unclogs Blocked Pores
One of the best ways to unclog blocked pores is to do facial steaming with essential oils, especially tea tree oil. This is how to do it: DIY Facial Steaming with Essential Oils
12. Cleanses Skin
Tea tree oil is a disinfectant with powerful antiseptic properties. Use it to cleanse your skin by making a DIY Tea Tree Face Wash, DIY Face Mask or DIY face scrub.
13. Soothes Razor Bumps
Soothe razor bumps by applying a mixture of tea tree oil and aloe vera gel on them. Also use this natural aftershave immediately after shaving to prevent razor bumps.
14. Reduces Inflammation
Tea tree oil is anti-inflammatory in nature. It helps reduce inflammation on skin related to eczema, psoriasis, acne and more.
Where to Get Tea Tree Essential Oil
I recommend Plant Therapy's Pure Tea Tree Essential Oil. It comes in a 10ml dark amber essential oil bottle. You can also buy essential oils from Mountain Rose Herbs, Eden's Garden and Rocky Mountain Oils.
Take Care
Remember to always dilute tea tree oil before use. For adults, dilute 2 drops of essential oil into 1 tsp of base ingredient/carrier oil. See How to Dilute Essential Oils for more info on how to dilute for children and more tips.
A little goes a long way with essential oils. Do not use a large amount on your skin, especially without diluting it.
How do you use tea tree oil on your skin? Share below!