Take a look at some of the best healing tea tree oil face mask recipes for acne prone skin!
What is Tea Tree Oil?
Tea tree oil is a volatile oil that is extracted from Melaleuca alternifolia, an native Australian plant. It has been used for its highly antiseptic, anti-fungal, anti-inflammatory, antibacterial and other healing properties since Aboriginal times, and today is popularly sold all over the world for its renowned antimicrobial action.
Tea tree oil is sold in 2 forms, as a concentrated essential oil, which is more expensive and as an 'oil', where it is mixed with other oils and is therefore in a more diluted form. Tea tree oil is known to be an effective skin cleanser, oily skin controller, remedy for toenail fungus, treating ingrown hair and many more. Read more about the beauty benefits of tea tree oil here.
Why is Tea Tree Oil Good for Acne?
Tea tree oil is rich in Terpinen-4-ol and other terpene hydrocarbons, which all make it a unique oil with targeted antibacterial properties that are good for acne and pimples as well as other skin disorders like psoriasis, eczema, rashes, dandruff and fungal infections. Many acne sufferers around the world choose to use tea tree oil to manage and treat their acne, as a natural alternative instead of taking heavy antibiotics prescribed by doctors.
Note: Please make sure you are not allergic to any of the ingredients before you use them.
Here are some tea tree oil face mask recipes that you can use to reduce your acne as well as pimples:
1. Tea Tree Oil Face Mask with Honey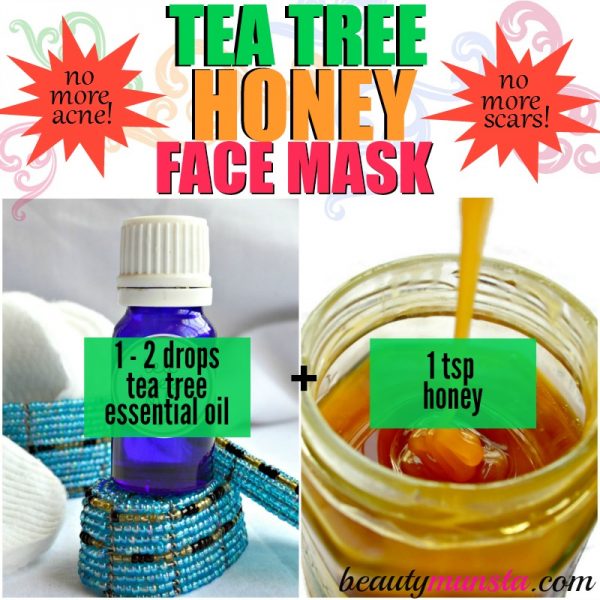 Did you know that up to today, scientists have not been able to fully record the nutritional profile of honey? It contains so many enzymes and other components that make it a miracle healer for all sorts of health issues, including skin disorders like acne. Honey is highly antimicrobial and hydrating and combined with tea tree oil, it makes a potent anti-acne treatment. Honey also has skin-lightening properties, which helps lighten acne scars, as well.
Ingredients
Directions
In a small bowl gather 1 tsp of honey and pour in 1 – 2 drops of tea tree oil and mix them thoroughly with a small spoon.
Then, using the back of the spoon or your clean fingers, apply this mask onto your cleaned skin and allow it to rest undisturbed for 10 – 15 minutes. Now if you are a first time user of honey, be warned honey can get feel really itchy on your skin as it is sticky – but not to worry!
Just massage the area that itching you and try to keep the mask on for the full 10 – 15 minutes. It will be worth it, promise!
My Tip
Don't use any more tea tree oil than is recommended. Remember, less is more. Too much tea tree oil can burn your skin. Always dilute essential oils with other oils/ingredients before application.
2. Avocado Tea Tree Oil Face Mask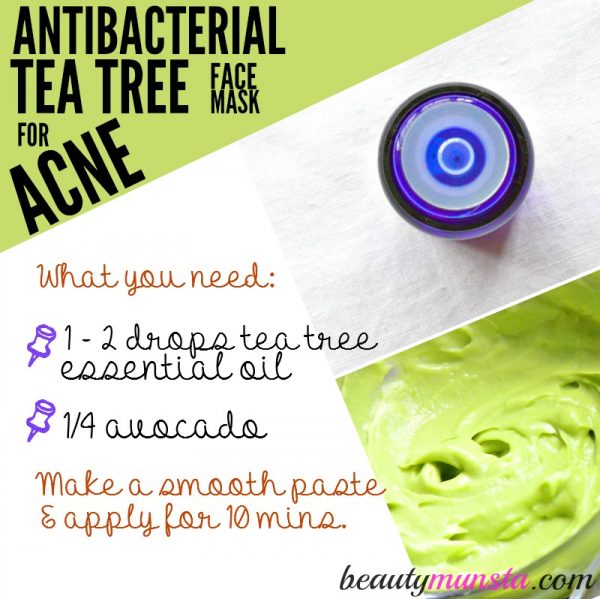 Avocado is rich in essential fatty acids, which actually moisturize the area around your acne and rehydrate dry areas, which are often found around the acne in the form of flaky skin. Avocado contains Vitamin E, biotin, and essential fatty acids, which all help fight damaging free radicals, lighten acne scars and dark spots, heal dry skin and also keep skin hydrated and moisturized. Combined with tea tree oil, this makes a wholesome acne treatment solution.
Ingredients
1 – 2 drops of Tea Tree Oil (buy here)
¼ of an Avocado
Directions
First chop your avocado into small chunks, place it in a bowl and mash it as smoothly as possible with a fork or back of a spoon.
Now add 1 – 2 drops of your highly antimicrobial tea tree oil and mix it in thoroughly.
Apply this mixture onto your clean face and allow it to rest for 10 – 15 minutes.
Wash off with lukewarm water and pat dry with a clean towel.
My Tip
Next time you're making an avocado smoothie, just take out a scoop of the avocado puree and use it for a quick easy and smooth face mask. I like to do this type of "multi-purposing" all the time!
3. Soothing Aloe Vera Tea Tree Oil Face Mask
Aloe vera in this tea tree oil face mask serves to act as a soothing cooler that cools and reduces the inflammation and redness of acne and pimples. Aloe vera reduces the pain and distress experienced by acne-prone skin and it also contains vitamins such as Vit C and Vit E, which will greatly help diminish the appearance of acne scars. Here's how you can make this soothing and brightening face mask for acne.
Ingredients
Directions
Measure out the aloe vera gel and tea tree oil and mix them thoroughly in a small bowl. Apply this gel onto your clean face and allow it to rest for 10 – 15 minutes.
Rinse off with tepid water, pat dry and apply toner and moisturizer. Try my DIY Green Tea Toner & Water-Based Moisturizer with Green Tea
My Tip
This aloe vera tea tree oil gel treatment can effectively be used as an overnight face mask for acne treatment. The aloe vera gel will dry over your face and the tea tree oil can really work its magic all through the night so you can wake up to noticeably healthier skin!