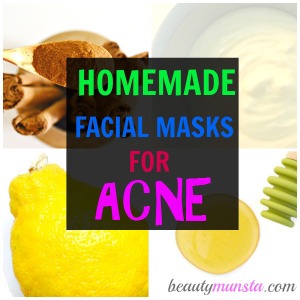 Acneic skin is very sensitive and needs to be properly cleansed and taken care of in the right way which is by using 100% natural and homemade products. We don't need to spend money on a huge collection of store bought products specially 'made for acne'. These artificial products including store-bought facial masks are very harsh on acneic skin and they actually worsen acne because they contain numerous chemicals, parabens and artificially synthesized Alpha hydroxyl acids. In a nutshell, just skip the chemical laden stuff and go natural instead! Here are 3 effective homemade facial masks for acne that will disinfect, regulate sebum and soothe your skin:
Disinfecting: Turmeric Facial mask for Acne
Turmeric is a potent spice which helps fight off acne. Coupled with other effective ingredients like lemon juice and yogurt, this is a perfect anti-bacterial homemade facial mask for acne
Benefits of Turmeric for Acne
Turmeric contains antiseptic properties that will cleanse the skin off germs and bacteria that can cause acne. It also has anti-inflammatory properties that will cool down inflammation.
Benefits of Yogurt for Acne
The lactic acid in yogurt helps dissolve dead cells and cleanse off dirt, grime and germs stuck on the skin's surface and within pores. Yogurt contains live enzymes that will keep off germs which promote acne.
Benefits of Lemon juice for Acne
Lemon juice, being antiseptic and an astringent, helps fight off acne causing bacteria as well as cleanse skin and keep it free from dirt, dead cells and excess sebum.
Ingredients
Directions
Mix all the ingredients well in a small bowl. Apply the facial mask to a clean dry face and rinse it off after it has dried up. Gently pat dry with a clean towel.
My Tip
Turmeric that is used for cooking may stain your skin. However, 'wild' turmeric, which has traditionally been used only for skin, doesn't stain skin. If you can't find wild turmeric, don't worry as the amount of turmeric we're using in this facial mask is small and it won't stain.
Soothing: Oatmeal Facial Mask
This oatmeal facial mask for acne also contains tea tree oil and rose water. Check out their benefits below:
Benefits of Oatmeal for Acne
Oatmeal has long been used to soothe many skin infections and allergies including itchy skin, eczema, psoriasis and acne. It provides a soothing relief for painful and itchy acne. Oatmeal also helps get rid of redness caused by acne.
Benefits of Tea tree oil for Acne  
Tea tree oil has antiseptic properties that will disinfect acne prone skin without being harsh. Its astringent properties will eliminate excess sebum which leads to oily skin + acne. We're using tea tree oil in this facial mask mainly because it provides a soothing relief for itchy acne.
Benefits of Rose water for Acne
Rose water gives a cooling sensation when applied to skin and this makes it a great facial mask ingredient for painful, itchy, inflamed and irritating acne. Its anti-inflammatory properties will calm down acne inflammation.
Ingredients
1 teaspoon ground oatmeal (get it here)
2 drops of tea tree oil (get it here)
2 teaspoons of rose water (get it here)
Directions
Grind your oatmeal in a coffee grinder if you don't already have oat flour, and place just 1 teaspoon of it in a bowl. Add a drop or two of tea tree oil and 2 teaspoons of rose water. Mix these three ingredients well to form a paste. If it's drippy, add more oatmeal and if it's chunky add more rose water. Ultimately you should end up with a creamy & spreadable paste. Slather this gently onto your face and wait for about 5 minutes. When the time is up, gently remove the face mask using tepid water. Pat dry with a soft towel and moisturize if needed.
My Tip
If you can't find organic rose water, you can substitute it with green tea.
Oil Control: Honey Cinnamon Facial Mask for Acne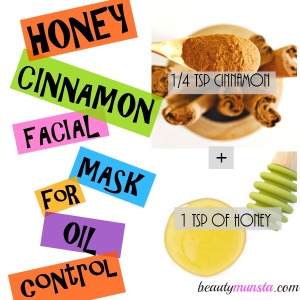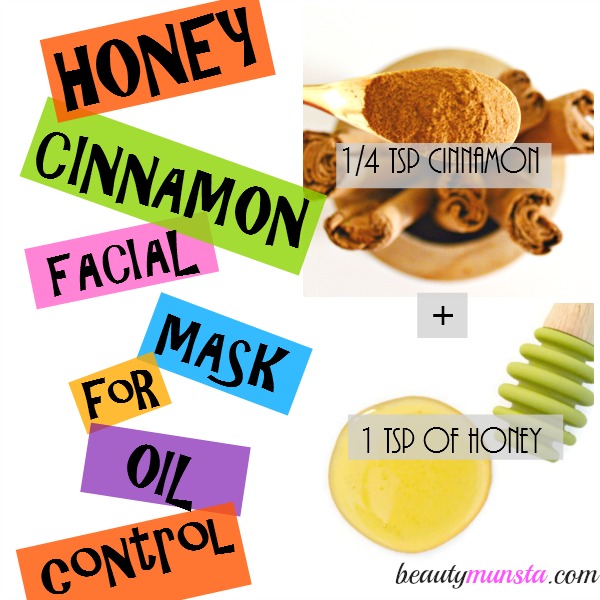 This facial mask for acne contains two powerful acne-fighting ingredients: honey and cinnamon. Cinnamon used on its own can burn and aggravate acne but in this facial mask, we're combining this powerful spice with honey, which is incredibly soothing for acne. Check out more benefits of cinnamon and honey for acne below:
Benefits of honey for acne:
Honey is a miracle cure when it comes to skin ailments like acne. It contains soothing properties that will help cool down angry red acne. Honey also has anti-inflammatory properties that will reduce acne inflammation, thereby making the acne appear smaller. Honey will also help cleanse acne prone skin, thereby eliminating any excess sebum on the skin's surface ad deep within the pores which make skin appear greasy.
Benefits of cinnamon for acne:
Cinnamon is a spice that is a popular ingredient you can find in many store bought or homemade facial masks for acne. It contains strong antiseptic properties that will help fight off acne causing germs. The mild abrasive texture of cinnamon powder acts as an exfoliating agent which will help scrounge off dirt and excess sebum on the skin's surface. Its anti-inflammatory properties will help calm down redness and inflammation caused by acne. However, if you use too much of it, cinnamon will actually redden you face so be sure to use only a little as a pinch of this potent spice.
Caution: Since this facial mask contains cinnamon, it will give your skin a slight tingling sensation and this is totally normal. However, if it starts stinging uncomfortably, immediately rinse off with water and a mild facial cleanser.
Ingredients
Directions
In a small bowl, add 1 teaspoon of organic honey and ¼ teaspoon or a pinch of cinnamon powder. Mix the two ingredients well with a spoon. Using clean fingertips, apply this honey facial mask onto your clean face in gentle circular motions. Be gentle as this facial mask contains cinnamon which has a slight abrasive texture that can irritate acne. Avoid the areas around the eyes and mouth. Please ensure not to get this facial mask in your precious eyes as it can sting horribly!  Once you've finished applying, wait for about 3 to 5 minutes for the mask to penetrate. When the time is up, rinse off gentle with tepid to cold water. Pat your face dry with a soft towel and apply this green tea toner for oily skin.
My Tip
Please use only ¼ teaspoon of cinnamon powder as this spice is potent and if you use too much, it may burn your skin and aggravate your acne.
Take Care
The above homemade facial masks for acne are mild for skin and will not aggravate your acne as long as you follow the directions well. However, please ensure that you are not allergic to any of the natural ingredients mentioned above before applying them onto your skin.