This breakfast favorite is not just for breakfast anymore – discover 10 beauty benefits of oatmeal for your skin and hair!
Oatmeal does have beauty benefits from gently cleansing skin to making a perfect dry shampoo. Ancient people including Egyptians, Arabs, Greeks and Romans have all used oatmeal especially in baths to heal skin problems. It brings a soothing relief to dry skin, bug bites, sun burn, nettle rashes and more!
Check out 11 amazing beauty benefits for skin, hair and general beauty:
11 Beauty Benefits of Oatmeal for Skin and Hair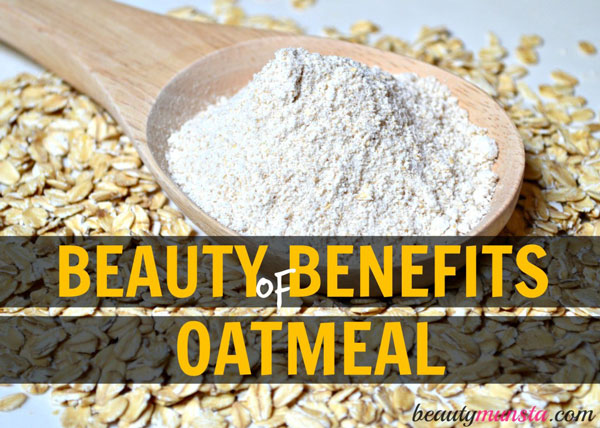 1. Cleanses Skin
Oatmeal contains saponins, which are ingredients found in most skin cleansers and soaps. Saponins are natural cleansing agents that dislodge and drive out excess sebum, dirt, dead cells, grime and germs from deep within skin pores.
Skin Cleanser: Grind 1/2 cup oatmeal using a coffee grinder. Pour 1/4 cup of warm water over the powdered oats, add 3 drops of skin cleansing tea tree essential oil and scrub it all over your face and neck to remove dirt.
2. Dead Cell Remover
Oatmeal has a slight abrasive texture that is suitable for exfoliating skin of all types. Grind whole oats into collodial oats using a coffee grinder. Mix it with enough filtered water or liquid honey and use it to scrounge off flaky skin on the skin's surface and excess dead cells within skin pores.
3. Hydrates Skin
Rich in essential fatty acids, oatmeal is a great skin moisturizer. It contains polyssacharides that provide skin hydrating benefits. When making oatmeal, you might have noticed it formed a gelatinous substance after being mixed with water. This creates a thin protective film over your skin, sealing in moisture and preventing drying and flaking of skin. Make a hydrating oatmeal face mask using 1 tablespoon oatmeal and 1 tablespoon liquid honey to plump up dry skin with moisture.
4. Great Soother for Itchy & Inflamed Skin
Soaking in an oatmeal bath to soothe chicken pox, burns or poison ivy is no mere old wives tale! It really works! Since ancient times, Egyptians and Arabs used oatmeal in their baths for soothing skin inflammation. Later on, the Greeks and Romans adopted this practice which is proven to be beneficial in calming redness, itchiness and burns. Pour 1 cup of oats in warm bath water and soak for a good time to heal your skin problems.
5. Anti-Acne Ingredient
Oatmeal contains zinc, which is the best go-to mineral for acne sufferers. When used topically, zinc is known to fight off acne germs, control sebum secretion and even heal acne scars. Oatmeal also contains b-vitamins and selenium which ward off pore-blocking free radicals that may contribute to acne. Oatmeal's soothing anti-inflammatory properties calms acne inflammation as well.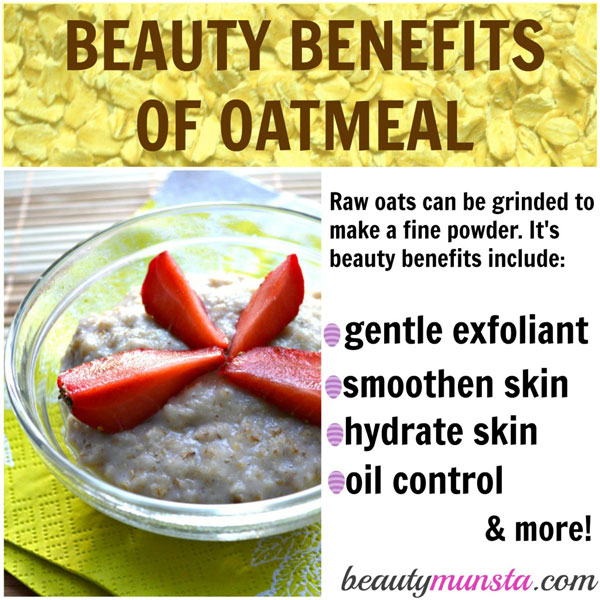 6. Soaks Up Excess Oils
For oily skin, use oatmeal which is a natural absorbent. It absorbs stale oils stuck deep within. Use an oatmeal face mask once a day to remove excess sebum which is a cause for acne and black heads.
Oily Skin Face Mask: Mix 1 tbsp of colloidal oatmeal with 1 tbsp warm water and add 3 drops of lavender essential oil. Slather this all over your face and oily skin areas to soak up the excess oils. Leave it on for 15 minutes before wiping off gently with a damp washcloth.
7. Skin Protection
Being hypoallergenic, oatmeal is great for all skin types including super sensitive skin. The polyssacharides in oatmeal forms a thin protective film over the skin, keeping skin hydrated and free from irritants. The protein in oatmeal bolsters the skin's natural protective barrier, steering away skin contaminants, germs, UV rays and free radicals.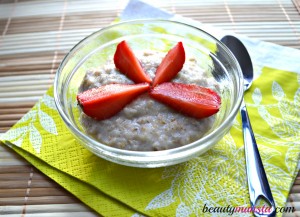 8. Itchy Dry Scalp Treatment
A dry scalp results into hair fall as the hair follicles are not properly nourished with water and nutrients. A dry scalp also forms dandruff and itchiness. The amino acids in oatmeal work as a great water binding agent which will hydrate and moisturize a dry itchy scalp.
9. Dry Shampoo
Ground oatmeal serves as an excellent ingredient for a homemade dry shampoo. Grind whole oats into a fine powder and rub it all over your scalp to soak up excess oils and keep your hair feeling clean. For blondes, oatmeal powder can be used as a stand alone ingredient. For brunettes, mix your ground oatmeal with raw cacao powder and apply. Make sure to brush off excess oat particles using a brush or wooden comb.
10. Eliminates Toxins
This is one of the beauty benefits of oatmeal that work from within the body. Eating a bowl of cooked oatmeal will provide you with fiber, which promotes regular and proper bowel movement. Being constipated is dangerous for your body and skin! The toxins in the colon slowly reabsorb back into the blood stream and the body will drive them out using the next elimination organ – the skin. The skin can break out as a way of releasing toxins from the body.
11. Soothes Eczema
Oatmeal is soothing for dry itchy and painful eczema. Here's How to Make an Oatmeal Paste for Eczema!
Now that you know 11 solid beauty benefits of oatmeal, there's no reason to ignore this cheap, versatile and useful beauty ingredient!
Take Care
Though oatmeal is said to be suitable for all skin types including super sensitive skin, it's always good to be cautious. Before slathering oatmeal all over your skin, first use a test patch on your inner elbow to see that you aren't allergic to oats. If you notice any redness, burning or any other alarming irritation within 24 hours, please refrain from using oatmeal topically.