Make your very own DIY oatmeal shampoo to soothe scalp eczema, psoriasis or a sensitive scalp! If you're looking for a natural non-soapy shampoo recipe, then you'll love this one!
Oatmeal is a very soothing substance. For years, it has been used to calm skin conditions like rashes, allergies, irritation & inflammation. But did you know that it's also good for your scalp and hair too?! Especially if you have scalp eczema, psoriasis or a sensitive scalp, you'll find oatmeal very beneficial.
It has natural cleansing agents known as saponins that provide a natural slippery sort of 'lather'. This helps cleanse skin and remove dirt, dead cells, stale oils and other impurities. Oatmeal is also good for reducing inflammation and redness.
Okay now here's the DIY oatmeal shampoo recipe:
DIY Oatmeal Shampoo Recipe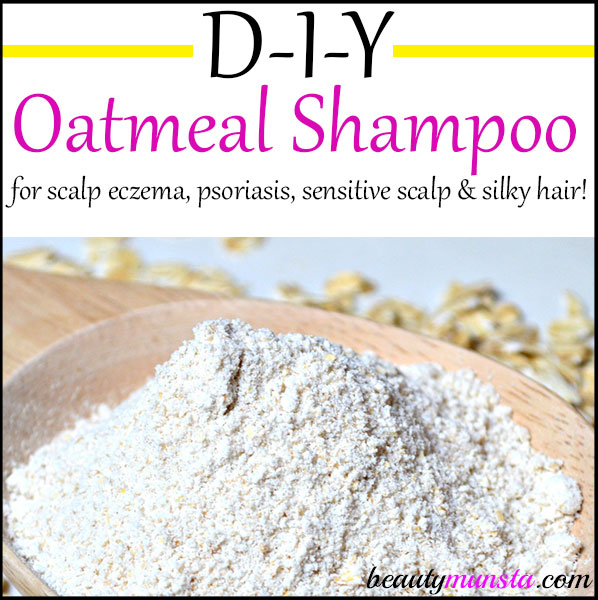 What you Need
Directions
Bring 2 cups of water to a boil in a steel pot.
When it's boiling, add the colloidal oatmeal, reduce the heat and start stirring continuously until it turns gooey.
Once it turns gooey, turn off the heat and let it cool down completely.
Strain the oatmeal using a plastic fine mesh strainer to collect only the thick liquid, leaving the oatmeal residue on the strainer.
Once you've strained everything, add your lavender and tea tree essential oils plus the vitamin E oil and raw honey.
Stir with a whisk to combine everything.
Pour your DIY oatmeal shampoo into a squeeze bottle. Use immediately. You can store it in the refrigerator for up to 5 days, but it's best to use it up quickly.
To use, first wet your scalp and hair in the shower. Then work the shampoo into your scalp and hair strands. Leave it in for one minute then rinse off very thoroughly with tepid water. Make sure to rinse very well.
Please try out this DIY oatmeal shampoo and let me know how it helps you! xoxo