Make this easy African black soap shampoo that's totally natural and leaves your hair clean, soft and smelling good!
African black soap originates in Africa, where ancient women would make this soap using all natural ingredients like cocoa pod ash, plantain peel ash, camwood, palm oil, shea butter and a few other ingredients. It is soapy, meaning it forms a good lather and cleans really well.
Make a DIY African black soap shampoo and enjoy the natural alternative to chemical-laden store-bought shampoo!
Okay, let's get onto with the shampoo recipe:
DIY African Black Soap Shampoo Recipe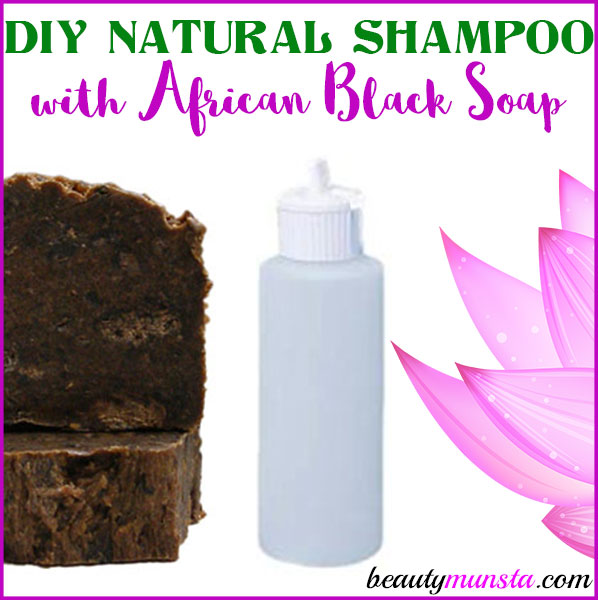 Note: If you want a thicker shampoo, you can add ½ to 1 tsp of guar gum and mix well.
What you need
Directions
Into the Pyrex measuring cup, add your ¼ cup of African black soap chunks/grated soap.
Pour ½ cup of hot distilled water into the Pyrex cup and leave the black soap to completely dissolve overnight.
When it has dissolved, add 1 cup of distilled water to the mixture, then add the vegetable glycerin, vitamin E oil and grapeseed oil. Mix well with a spoon to combine everything.
Finally mix in the tea tree, lavender and geranium essential oils, drop by drop.
Your DIY African black soap shampoo is ready! Pour it into your stainless steel soap dispenser using a small funnel. You can also use an old shampoo bottle. Store in a cool dry place. It will last a month or more. Do not get tap water/other contaminants into your shampoo. That's why a flip top bottle is good for storing it.
To use, pour some directly on your scalp then work it in. Also apply on your hair length and work it in. Wait a minute then rinse off well. To condition your hair, simply apply a small amount of coconut oil to the hair length then rinse off well with cold water after a minute.
Go ahead and try this DIY African black soap shampoo and let me know your thoughts! xoxo