Coconut milk is naturally cleansing which makes it a popular ingredient for natural shampoo. Find out how yo make a DIY shampoo with coconut milk in the post below!
Extracted from the flesh of coconuts, coconut milk is said to be the closest substitute to cow milk. It has a rich fatty acid content and is incredibly nutritious for the body. When applied to skin and hair, it has a balancing, moisturizing and cleansing effect.
What Makes Coconut Milk So Special for Shampoo?
If you're into making your own DIY shampoos, then chances are you've come across many recipes starring coconut milk. What makes coconut milk so special to be used as a shampoo? Check out below:
It cleanses the scalp
Pushes out dirt and grime from within the pores
Balances scalp pH
Nourishes hair follicles
Strengthens the hair strands
DIY Shampoo with Coconut Milk and Liquid Castile Soap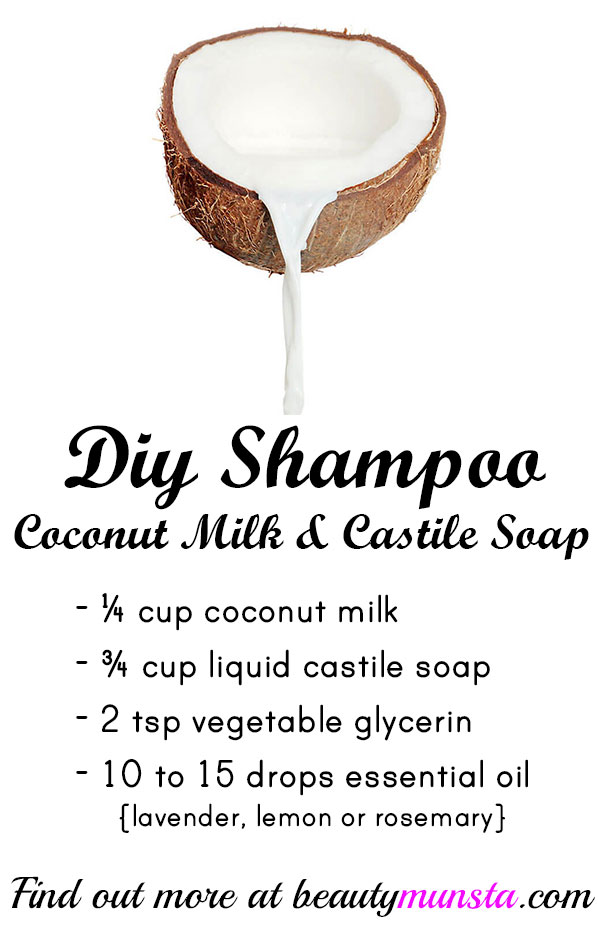 What you need
Directions
In a Pyrex measuring cup, add the vegetable glycerin and drops of lavender oil and stir very well.
Now pour in the coconut milk and liquid castile soap.
Stir well with a spatula.
Pour into a disc top dispenser bottle.
Use as regular shampoo.
Pro Tips
After using this DIY shampoo with coconut milk, it's always a good idea to use an apple cider vinegar rinse to prevent product buildup and promote shiny hair.
Instead of vegetable glycerin, try using aloe vera gel or witch hazel. All of these have similar effects on hair.
Do a patch test with essential oils before using them to ensure you don't have negative reactions or skin sensitivities to them.
Do not get water into this homemade shampoo because it might get spoiled.
Store it in the refrigerator to last longer but at room temperature (like in your bathroom cabinet, it'll last like 1-2 weeks minimum).
If you want it to last longer, consider adding about 1/2 tsp of vitamin E oil.
What do you think? Are you ready to try out this DIY shampoo with coconut milk and liquid castile soap?