It's incredibly easy to make homemade shampoo and conditioner that really work! And it's possible to make a shampoo that also acts as conditioner such as this homemade shampoo!
There's something so amazing with many homemade shampoos: you do not need to follow up with conditioner or a hair tonic or whatever! The shampoo does it all! The only thing you do need to use is a pH-balancing ACV hair rinse to counteract the alkalinity of the castile soap.
You will need only 5 ingredients for this recipe: coconut milk, castile soap, grapeseed oil and lavender & geranium essential oils. Yes, that's all!
Now let's get on with learning how to make homemade shampoo and conditioner!
How to Make Homemade Shampoo and Conditioner at A Go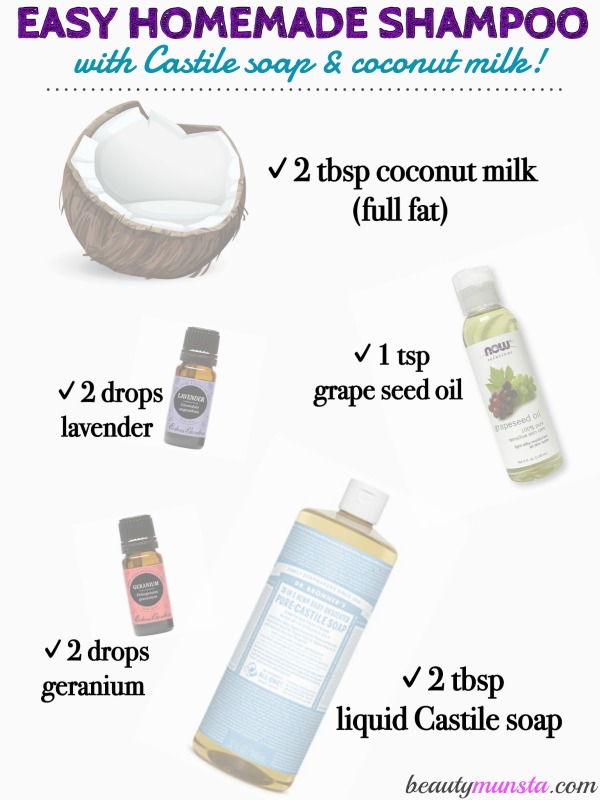 Ingredients
Here's what you'll need. For the coconut milk, make sure to use full-fat if you're using the canned version but if you're using your own DIY coconut milk, then you'll need to make it thicker by adding only a little water during the extracting process.
– 2 tbsp full fat coconut milk
– 2 tbsp liquid castile soap (where to get it)
– 1 tsp grapeseed oil (where to get it)
– 2 drops lavender essential oil (where to get it)
– 2 drops geranium essential oil (where to get it)
What Each Ingredient Does
Make sure you aren't allergic to any of these ingredients by using a patch test on your inner elbow!
Coconut milk – Naturally cleanses the scalp, nourishes hair follicles, adds shine to hair, checks hair fall and helps create a rich lather when mixed with castile soap!
Grape seed oil – Moisturizes dry hair, combats dandruff, promotes silky locks.
Lavender essential oil – Conditions hair, strong antibacterial properties, aids in hair growth.
Geranium essential oil – Prevents hair fall, promotes silky hair, strengthens hair strands.
The combination of lavender + geranium produces a beautiful flowery scent!
Directions
In a glass jar, add all the ingredients above then stir well using a spoon until everything is combined with just some little bubbles on top. Do not shake vigorously or you'll activate the soap and end up with only bubbles for shampoo.
So that's it! Your DIY homemade shampoo with castile soap and coconut milk is ready! Keep in mind this is a one-time use recipe.
If you want to make a bigger batch, then you can double/triple the recipe but make sure to store it in the refrigerator. It lasts just about 2-3 days out in the open at room temperature. In the refrigerator it can last up to 5 days but if it starts smelling funky, then be sure to throw it out!
How to Use
This homemade shampoo has a thin liquid consistency but it does lather amazingly – though don't expect a lot of lather like for conventional sulfate shampoo. It does a perfect job in cleansing your scalp, removing dirt and stale oils and keeping your hair well moisturized.
You do not need to use conditioner afterwards! The coconut milk, essential oils and grapeseed oil are all conditioning ingredients that will leave your hair silky and easy to detangle. One of the best things about this homemade shampoo is that it definitely won't leave you with icky product-build up overtime!
Here's how to effectively use this homemade shampoo with castile soap and coconut milk:
Take the container you stored the shampoo in to the shower with you.
Now pour it gently onto your scalp until every area is covered then using clean fingertips, work it in about a minute to loosen dirt, sebum and grime.
Next, thoroughly rinse your scalp and hair with tepid water until all the shampoo is off!
Your last rinse should be with this pH-Balancing ACV Hair Rinse: Mix 1 tbsp raw ACV in 1 cup of water. Gently pour this over your head.
Wring and wrap your hair in a cotton T-shirt or non-fluffy towel.
When your hair is dry, you'll marvel at how easy your fingers comb through it without getting stuck in any annoying tangles!
More Homemade Shampoos!
♥ Cleansing & Nourishing Egg Shampoo
♥ Hair Growth Boosting + Moisturizing Shampoo with Garbanzo Flour & Yogurt
♥ 3 Homemade Shampoo Recipes without Castile Soap
DIY Herbal Hair Oil Infusions Guide with Recipes
Want to make your own herbal hair oils? Check out our DIY Herbal Hair Oil Infusions eBook that contains an A-Z list of healing herbs and spices to infuse for hair, what base oil to choose for your hair type, methods of infusing your hair oils plus 20 exciting hair oil recipes for dry hair, heat damaged hair, hair growth, even gray hairs, scented hair and more!
❁ Hope you learned how to make homemade shampoo and conditioner and will stick with it for life! Come share your wonderful results in the comments below! ❁