Nourish and rejuvenate your hair back to its former glory using this DIY hair serum for damaged hair!
Damaged hair can be caused by a variety of factors, including hard water, strong sunshine, overuse of heat tools, chlorine from pools and poor nutrition.
Though damaged hair looks and feels terrible like nothing can be done to get it back to its original state, don't worry! Regular DIY treatments such as this DIY hair serum can help.
Other Natural Tips for Damaged Hair
1. DIY healing hair masks: Every week, apply a healing hair mask. Choose from these Nourishing Coconut Oil Hair Masks, Avocado Hair Masks or Coconut Milk Hair Masks!
2. DIY shampoo & conditioner: Stop using store-bought shampoo & conditioner that contain sulfates and other chemicals Instead, check these recipes for a DIY shampoo and conditioner. If you don't have time to make your won, consider buying my favorite sulfate-free Maple Holistics Natural Shampoo and Conditioner.
3. Get a shower filter: To lessen damaged hair, also invest in a shower filter, which removes chlorine & chemicals plus softens hard water before it hits your hair.
4. Eat hair growth promoting foods: Eating the right foods can get your hair healthy by 3-6 months! Check out my Top 10 Common Superfoods for Hair Regrowth .
Okay, now that's been covered, let's get straight onto the recipe for this DIY hair serum for damaged hair:
DIY Hair Serum for Damaged Hair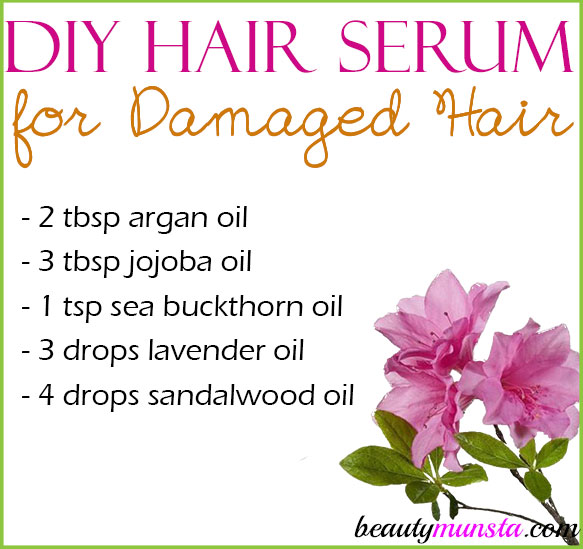 What you need
Directions
Using a small funnel, pour in the argan oil, jojoba oil and sea buckthorn oil.
Next, carefully add the essential oils, drop by drop.
After adding all the ingredients, close the bottle and shake well to mix everything up.
Your DIY hair serum for damaged hair is ready! Store in a cool dry place, away from sunlight.
To use, apply just a few drops (2-4 drops) on freshly washed damp hair. Leave it on as a leave-in conditioner.
Please try this DIY hair serum for damaged hair and come share your results! Here's to gaining back your healthy luscious hair! xoxo