Coconut milk is super rich in nutritious oils, healthy fatty acids and protein that are incredibly good for the hair follicles and locks. These three fabulous coconut milk hair mask recipes help nourish, hydrate as well as condition your hair and most importantly: rejuvenate sleeping hair follicles thereby boosting your hair growth!
Below is a list showing the amazing nutrients in coconut milk that make it good for hair:
➝ Healthy fatty acids– Coconut milk is rich in medium chain fatty acids that nourish and lubricate hair strands and dry hair follicles. Dry hair follicles lack nutrients and enough sebum and easily lead to hair fall and split ends! The fatty acids in coconut milk easily penetrate deep, thereby hydrating and strengthening the hair follicles by feeding them with the healthy fat that they need.
➝ Vitamin E– Topically, vitamin E can promote hair growth, fight scalp inflammation and reduce hair loss. Vitamin E also helps repair hair damage, split ends and prevent premature graying.
➝ Protein– The protein in coconut milk may amount to just a little but it penetrates deep into the hair follicles and shaft. Protein is the best ingredient for hair as hair is made up of protein itself (think keratin)! Protein in coconut oil strengthens your hair, prevents breakage and stimulates growth!
Note: The measurements used in each of these hair masks are for the average shoulder length to mid back hair. Feel free to double the ingredients for longer and thicker hair!
3 Easy Coconut Milk Hair Mask Recipes for Beautiful Hair
1. Banana Coconut Milk Honey Hair mask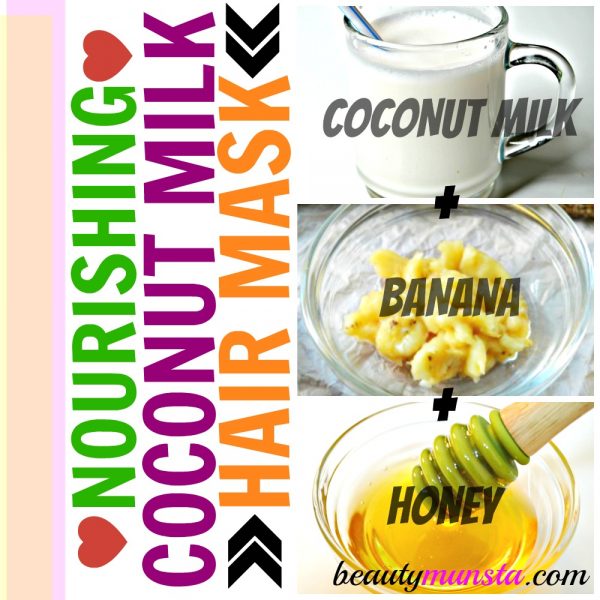 Banana is a great moisturizing, nourishing and hair conditioning ingredient. It is rich in penetrative moisture that works wonders for dry and overly greasy hair. Honey is a natural humectant that absorbs moisture from the surroundings. Coconut milk can actually cause dry locks for some people, but not to worry! The banana and honey will counteract any drying effect. Overall, this hair mask is suitable for all hair types and will leave your hair looking glossy with a beautiful shine.
Ingredients
1 banana
1 tablespoon organic liquid honey (get it here)
2- 4 tablespoons coconut milk (get it here)
Directions
Blend the above ingredients into a fine puree without any lumps in a high speed blender. This is very important, a lumpy hair mask can give a hard time when rinsing off as the lumps tend to stick onto hair strands. Onto wet hair and scalp, massage the hair mask mixture gently. Cover your hair with a shower cap once your whole head, including your hair ends, is slathered with the mask. Wait for about 15 minutes. When the time is up, rinse off as many times as possible until the mask is completely removed. Use tepid to cold water. Dry your hair and style as usual.
My Tip Since we're applying the hair mask onto wet hair, please be very careful and gentle as wet hair is more prone to breakage than dry hair.
2. Coconut Milk Olive Oil Hair Mask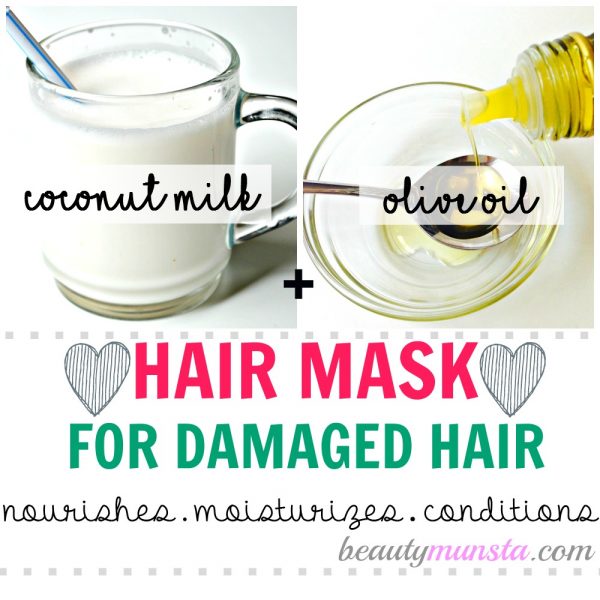 This coconut milk olive oil hair mask is a very simple yet totally effective hair mask for hair loss and damage. Olive oil is also rich in fatty acids that moisturize dry strands as well as prevent them from breaking. Only 1 teaspoon of olive oil should be used though! Too much of it will cause greasy hair!
Ingredients
2-4 tablespoons coconut milk (get it here)
1 teaspoon olive oil (get it here)
3 drops tea tree essential oil (get it here)
Directions
In a small bowl, combine the above ingredients thoroughly. Using your fingers, apply the mixture onto your scalp and hair strands. Cover your hair with a shower cap and let the mask penetrate for about 15 minutes. Rinse off thoroughly using warm water to remove the hair mask. Your final rinse should be with cold water to close off the open hair follicles. Towel dry your hair.
My Tip Make sure to coat your scalp and hair with a liberal amount of the hair mask. Do not apply the hair mask until it starts to drip off your hair strands. You can store excess hair mask mixture in the refrigerator for up to three days!
3. Avocado Coconut Milk Egg Hair Mask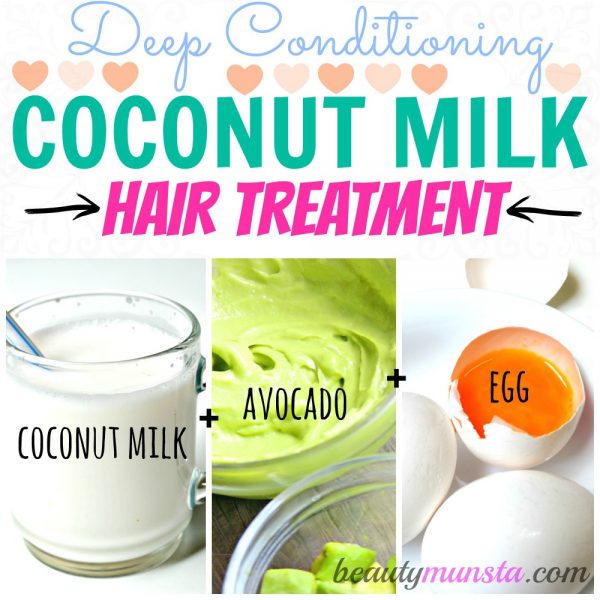 Eggs are rich in protein, sulfur, fatty acids and moisture that are all needed for strong thick hair. Avocados contain vitamin E, healthy fats and antioxidants that feed hair follicles, condition and moisturize hair locks.  Combined with coconut milk, this avocado coconut milk egg hair mask will perfectly moisturize your locks!
Ingredients
1 avocado
2-4 tablespoon coconut milk (get it here)
1 egg
Directions
Throw your ingredients into a high speed blender and blend away! Your hair mask mixture should be smooth, frothy and without any avocado bits. Start applying the hair mask onto your wet hair starting from the scalp to the hair ends. Massage the hair mask onto your scalp for about 1 minute to promote blood circulation and allow the mask to penetrate deep. Wrap your hair on the top of your head and cover with a shower cap. Wait for 15 minutes. In this time, you can relax yourself by soaking in a warm bath. When the time is up, rinse off the mask thoroughly using cold water.
My Tip Do not use hot or even warm water to rinse off your hair mask as this will make the hair mask ingredients like avocado or banana to stick to your hair strands. What a pain to rinse off! Just use tepid or cold water to rinse off your hair.
Where to Get a Natural Shampoo
If you are going chemical-free on your hair, but want to save the time of making a homemade shampoo, this Maple Holistics Sage Shampoo is a game-changer. It contains powerful herbs such as sage: for dandruff & itchy scalp treatment, rosemary: for hair growth and prevention of hair loss and spikenard for dandruff treatment. It also has argan, jojoba and tea tree oils that all protect the scalp from germs, keep hair clean as well as hydrated and moisturized. This shampoo does not contain sulfates, so it will not lather the way you are used to, but you will quickly get used to it and notice the difference!