Olive oil has a tremendous number of benefits for hair: it conditions, softens, moisturizes and lubricates hair, seals off split ends, repairs damaged hair, nourishes the scalp, promotes hair growth and much more! It is one of the best emollients that can penetrate deep into the hair shaft and follicles, thereby stimulating hair growth and improving hair elasticity. Check out the nutrients in olive oil that make it good for hair:
Healthy fats – Olive oil contains mono-unsaturated healthy fatty acids that will lubricate dry frizzy strands and add lustre to dull dehydrated hair. The healthy fats also penetrate deep into the hair shaft, strengthening it and preventing breakage. The hair follicles are kept healthy when the healthy fats of olive oil sink deep and nourish them.
Vitamin E – Vitamin E is not only good for skin but also for the hair too! Vitamin E will repair damaged hair strands and fight off scalp inflammation. Inflamed hair follicles are weak and will often cause hair fall. This powerful antioxidant will prevent hair fall by strengthening and repairing damaged follicles.
Anti-oxidants – The powerful antioxidants in olive oil help stave off free radicals that are responsible for causing premature greying of hair.
Choose from one of these three olive oil hair mask recipes for luscious hair:
1. For a beautiful sheen: Olive oil hair mask with Coconut oil & Honey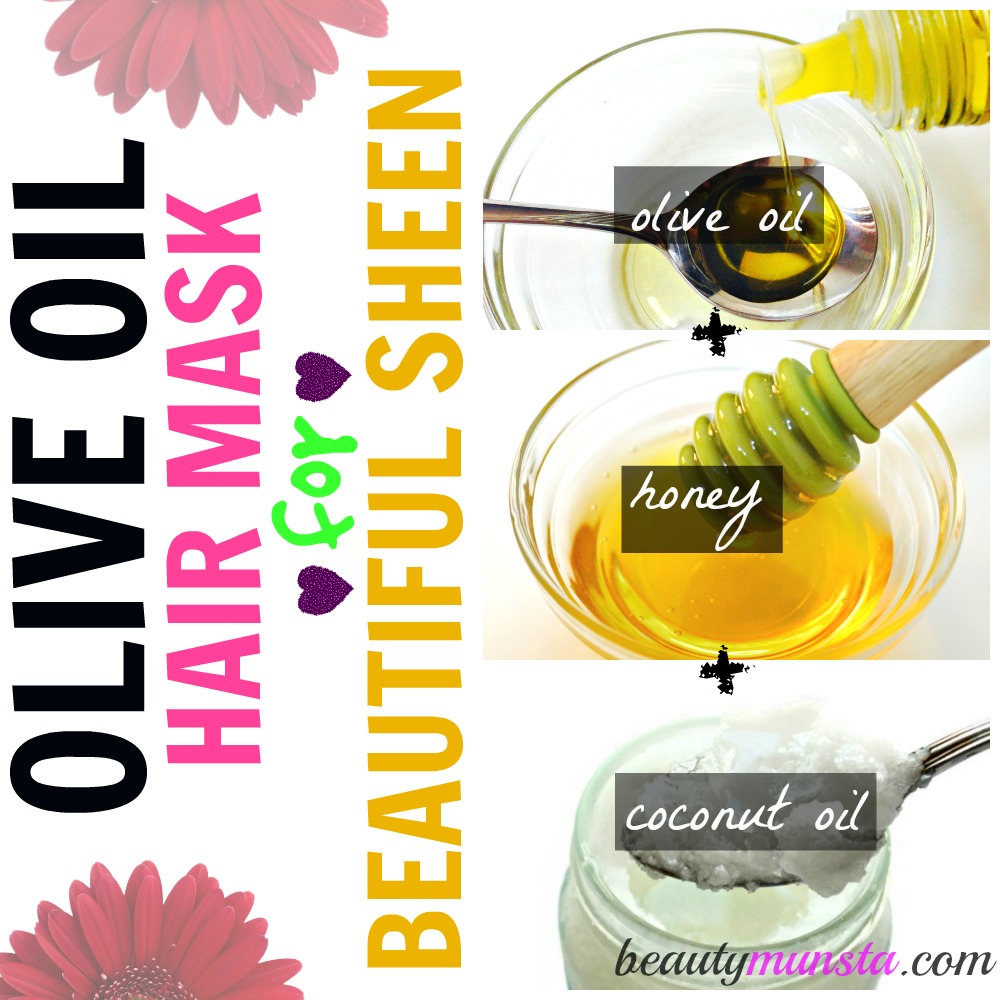 Olive oil is rich in vitamin E that is vital for soft, luscious and shiny hair. Coupled with coconut oil and honey, this olive oil coconut oil honey hair mask will penetrate deep into the hair shaft and seal in moisture and healthy fat. Check out more the benefits of coconut oil and honey for hair below;
Coconut oil – Coconut oil is highly penetrative and sinks deep into the hair shaft, strengthening it and preventing damage. It contains lauric and capric acid which are both healthy fatty acids that keep hair soft smooth and shiny.
Honey– Honey will add moisture to your locks as it is a natural humectant that holds moisture. Honey is also a great cleanser which can help purify your scalp and get rid of grime, germs and dirt.
Ingredients
1 tablespoon olive oil
1 teaspoon coconut oil
1 tablespoon honey
Directions
In a small bowl, pour 1 tablespoon olive oil, 1 teaspoon coconut oil and 1 tablespoon honey. This measurement works well for waist long hair, more than this will actually make your scalp and hair look greasy. Mix it thoroughly and warm the mixture a little. Wet your hair and work this coconut oil olive oil hair mask through your hair from the roots to the tip. When you're done applying, pin up your hair and wrap a warm towel around your head. Keep yourself busy for 15 minutes as you wait for the hair mask to penetrate deep. When the time is up, rinse off the mask with warm water. Your final rinse should be with cold water to seal the hair cuticles.
My Tip: Warm the coconut oil olive oil honey hair mask until it is warm to touch. Do not overheat/boil it.
2. For soft silk tresses: Avocado olive oil coconut milk hair mask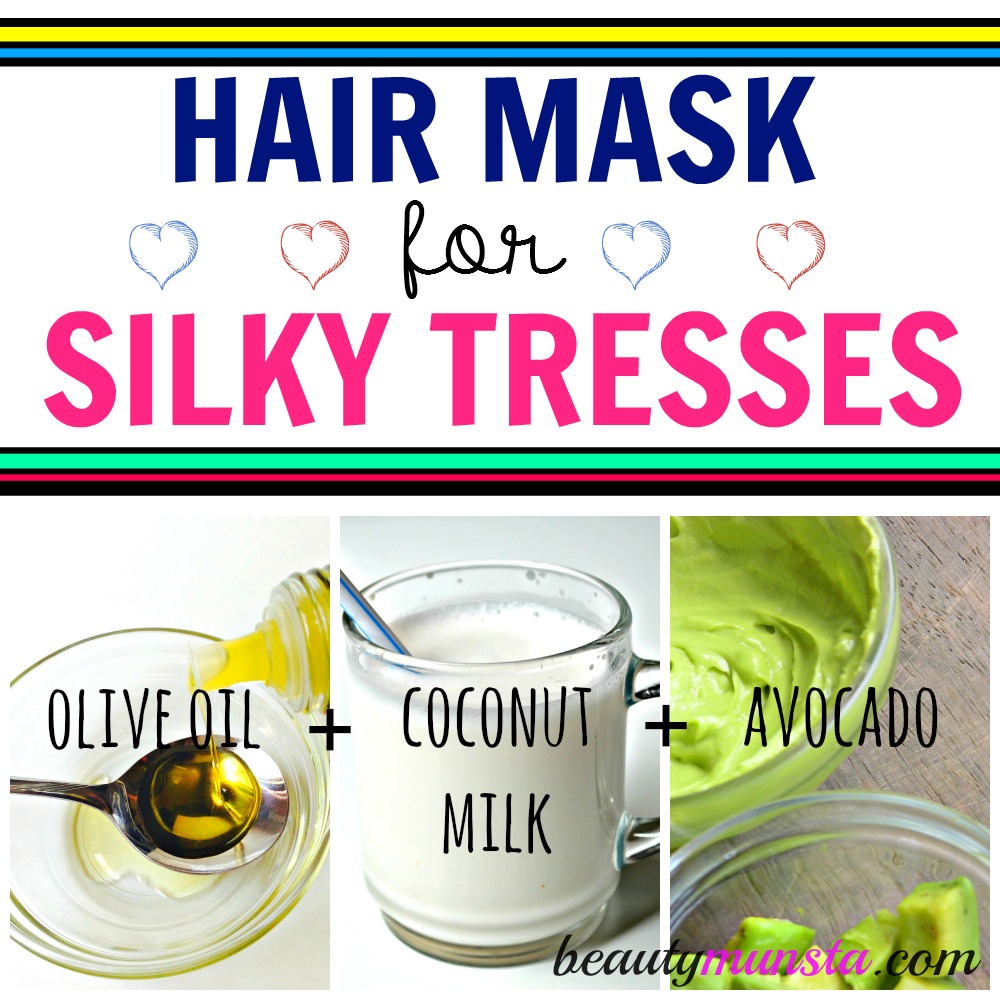 Avocado and coconut milk are both amazing natural hair conditioners. They help soften rough damaged hair and tame wild frizzy locks. The olive oil will help lock in much needed moisture, the avocado will lubricate dry hair strands while the coconut milk will transform your hair into a soft silky mass! Here are more benefits of avocado and coconut milk for hair:
Avocado– Rich in oleic acid, vitamin E, biotin and other healthy fatty acids that promote hair growth. The natural oils in avocado will condition and moisturize hair as well as keep it looking glossy.
Coconut Milk– Coconut milk is filled with healthy fatty acids, loads of vitamin E and other minerals that will nourish as well as balance the pH of the scalp and deep condition your tresses.
Ingredients
1 tablespoon olive oil
¼ avocado
1/3 cup coconut milk
Directions
Puree ¼ an avocado with 1/3 cup coconut milk until you get a thick completely lump free mixture. Place that in a bowl and stir in 1 tablespoon olive oil. Mix it very well. Apply the avocado olive oil coconut milk hair mask onto your wet scalp and strands. Pin your hair up into a loose bun and cover with a shower cap. Let the hair mask penetrate for 15 minutes. When the time is up, rinse off with tepid water. Wring and wrap your hair in a fluffy towel.
My Tip: Ensure that you blend the avocado with the coconut milk until you get a lump free thick hair mask. If you do not blend it well, you might remain with tiny avocado bits stuck to your strands after you leave the shower.
3. For long luscious locks: Banana egg olive oil hair mask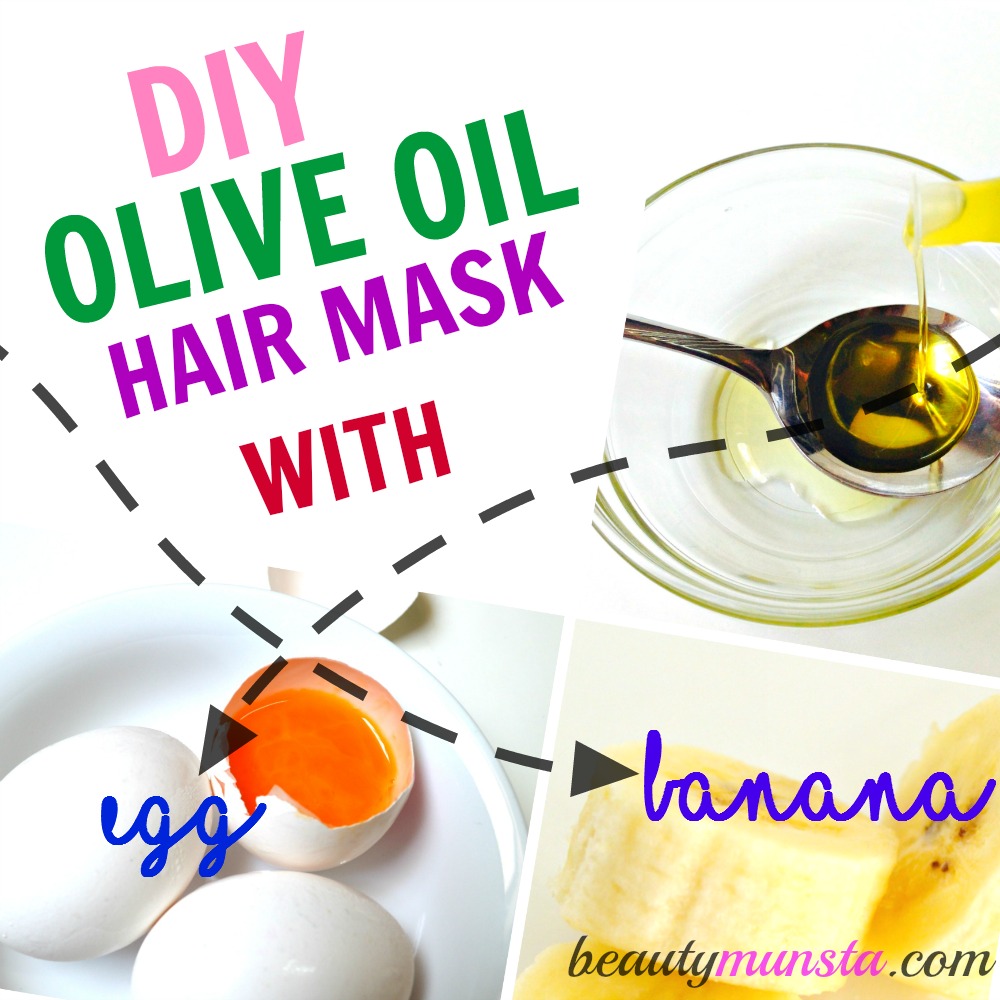 If you want a fast and effective natural hair growth formula, you don't need to look wide and low! With this banana egg olive oil hair mask, your tresses will not only grow long in record time but also, hold moisture and remain luscious! Below are the benefits of banana and egg for long locks:
Egg– Rich in biotin, sulphur, omega fatty acids and protein, eggs provide an intense protein treatment which will nourish the hair follicles, rejuvenating them with necessary nutrients for luscious long hair.
Banana– Banana contains about 75% water and a high amount of potassium which will promote hydrated and baby-soft hair strands.
Ingredients
1 tablespoon olive oil
1 egg
1 overripe/ripe banana
Directions
Toss all the above ingredients into a high speed blender and blend away! Your final hair mask mixture should be completely lump-free and thick. Wet your hair with warm water and start applying the hair mask from the scalp moving downwards to the ends. Take time to massage the mixture on your scalp using clean fingers. Tie up your hair and cover with a shower cap. Sit for 15 minutes. When the time is up, rinse off as many times as possible with tepid to cold water until the hair mask is completely removed. Air-dry your hair.
My Tip Use tepid/cold water to rinse off this banana egg olive oil hair mask. Using warm/hot water will cook the egg and banana and make it stick to your strands.
Where to Get a Natural Shampoo
If you are going chemical-free on your hair, but want to save the time of making a homemade shampoo, this Maple Holistics Sage Shampoo is a game-changer. It contains powerful herbs such as sage: for dandruff & itchy scalp treatment, rosemary: for hair growth and prevention of hair loss and spikenard for dandruff treament. It also has argan, jojoba and tea tree oils that all protect the scalp from germs, keep hair clean as well as hydrated and moisturized. This shampoo does not contain sulfates, so it will not lather the way you are used to, but you will quickly get used to it and notice the difference!