Does Shea Butter Promote Hair Growth?
Many people wonder if shea butter promotes hair growth and most importantly natural hair growth! Of course it does! Shea butter is rich in hair boosting nutrients including saturated fatty acids, vitamin A, vitamin E and vitamin K. All these nutrients are immensely good for promoting and maintaining luscious hair and preventing hair loss. The fatty acids help feed the hair follicles and strengthen the strands and shaft, thereby reinforcing them and preventing them from breakage and hair fall. Vitamin E in shea butter is a powerful anti oxidant and also wards off scalp inflammation, eczema and psoriasis that can lead to hair loss.
When mixed with other hair growth ingredients such as egg, coconut oil and castor oil, shea butter can really help promote beautiful luscious longer and thicker hair!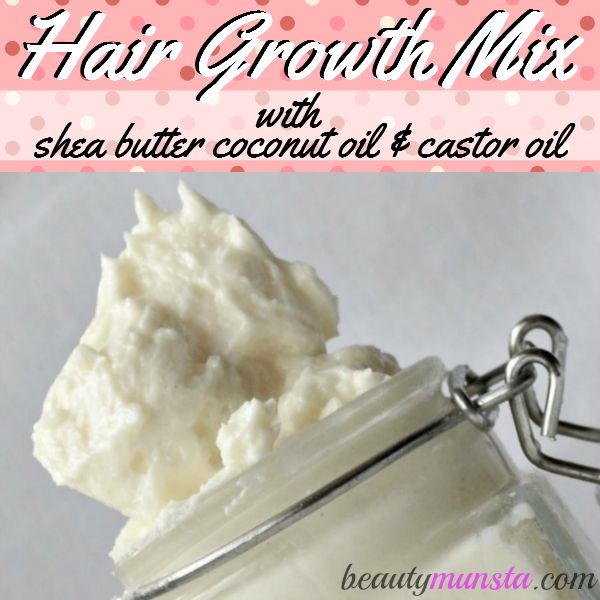 Beautymunsta's Ingredient Profile
➝ Coconut Oil – If you ever get stuck with which oils to use for hair growth, know that coconut oil should always be your number one! In Ayurveda, coconut oil is highly recommended as the best oil for hair growth because of its rich nutrient content and short chain medium fatty acids that easily penetrate the hair follicles and nourish. Coconut oil contains capric, caprylic, lauric and many other fatty acids that penetrate deep into the scalp and stimulate hair growth. Read 20 beauty benefits of coconut oil here.
➝ Castor Oil – Castor oil is an ancient remedy for hair loss and thinning edges. It is rich in vitamin E, omega 6 & 9 fatty acids, protein, minerals and other nutrients that all promote healthy scalp and hair. Castor oil helps treat and get rid of dandruff, seal split ends, restore damaged hair, strengthen hair strands against breakage, moisturize and add a shine to hair as well as fight scalp infection, inflammation, dryness and acne which can lead to hair loss. The star ingredient in castor oil is ricinoleic acid which has a myriad of hair growth benefits including promoting blood circulation in the scalp, balancing the scalp's pH and so much more!
➝ Rosemary Essential Oil – Rosemary essential oil is a powerful hair growth booster. It stimulates the hair follicles and increases blood circulation in the scalp, enabling each and every hair follicle to receive nutrient-rich blood. Rosemary also helps awaken 'sleeping' or dormant hair follicles that weaken with time and lead to hair loss. Read my hair loss story and experience with rosemary essential oil here.
➝ Lemongrass Essential Oil – Lemongrass essential oil has a refreshing lemony scent and blends well with shea butter. It helps mask the smell of shea butter that some people find unpleasant. It's a powerful antiseptic, anti-fungal, antimicrobial and antibacterial agent so it's incredibly good for healthy scalp health. It's also a natural astringent which means it can help reduce excess scalp & hair oiliness.
➝ Rose Water – I love using rose water in my diy recipes with shea butter! It makes the shea butter mix less greasy as well as creamier and softer. But it doesn't stop there – rose water also has hair growth properties! It is rich in nutrients such as vitamin C that are vital for strong hair follicles. Rose water also cools and refreshes the scalp, seals in moisture and leaves hair smelling gorgeous!
How to Make a Shea Butter Coconut Oil Castor Oil Mix for Hair & Skin
Ingredients
Directions
If your raw shea butter is hard, first soften it by placing the shea butter jar in a bowl of hot water.
Once softened, whip it using a hand mixer for about 30 seconds to make it creamier. The reason why I whip it alone first, is because I find that it helps blend the ingredients very well in the next step and creates a well mixed fluffy and creamy shea butter mix!
Next, add the coconut oil (you don't need to melt it) and whip for about 10 seconds.
Scrape the sides of the bowl with a plastic spatula.
Then add the castor oil and the rest of the ingredients including the essential oils and whip again for a minute or two till all the ingredients are fully incorporated.
Woohoo! Your shea butter hair growth mix is ready! Spoon the shea butter coconut oil castor oil mix into a sterilized mason jar or container.
Store in a clean and dry place and keep it away from water and other contaminants.
My Tips
Add any other essential oil of your choice! I recommend frankincense, lavender, geranium and palmarosa. Here's my shea butter and essential oils guide for more essential oils that blend well with shea butter.
Don't have a hand mixer? No worries! Blend everything together using a small blender or Ninja food processor.
Where to Get a Natural Shampoo
If you are going chemical-free on your hair, but want to save the time of making a homemade shampoo, this Maple Holistics Sage Shampoo is a game-changer. It contains powerful herbs such as sage: for dandruff & itchy scalp treatment, rosemary: for hair growth and prevention of hair loss and spikenard for dandruff treatment. It also has argan, jojoba and tea tree oils that all protect the scalp from germs, keep hair clean as well as hydrated and moisturized. This shampoo does not contain sulfates, so it will not lather the way you are used to, but you will quickly get used to it and notice the difference!
Other Hair Care Resources:
DIY Egg Shampoo for Hair Growth
Homemade Herbal Hair Oil Infusions eBook
Complete Guide to Using Essential Oils for Scalp & Hair Care