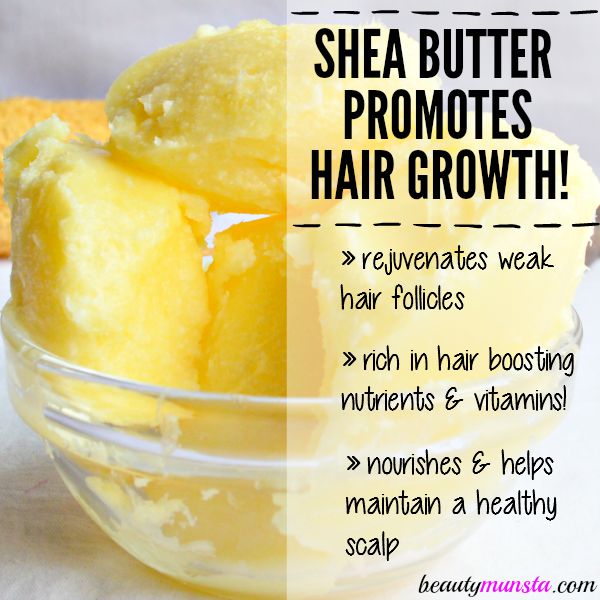 Using Shea Butter for Hair Growth
Shea Butter is extracted from the seeds of the fruit of the Karite tree, native to the East and West of Africa. Ancient African women used shea butter ages ago to moisturize their skin and hair. It's an excellent emollient and a must-have natural ingredient for all naturals out there!
Does Shea Butter Help with Hair Growth?
Not long ago, I shared with you guys an effective & luxurious shea butter hair growth mix featuring shea butter, coconut oil, castor oil and other hair growth stimulating ingredients. Using that shea butter mix gives wonderful results for anyone who wants to grow their hair longer and thicker! You'll also find some amazing hair growth recipes with shea butter in my Tried & Tested Shea Butter Recipes Ebook so don't forget to check that out as well!
Shea butter has a laundry list of benefits for hair. Some of them include: sealing moisture into dry hair, treating itchy scalps & damaged hair, softening hair and PROMOTING hair growth! Many naturals have asked if shea butter actually helps promote hair growth & stopping hair loss and the answer is yes it does! There are many causes of hair loss, including bad hair products, build-up of the DHT hormone in the scalp, dirty scalp and a DRY scalp. By keeping your scalp moisturized and nourished with fats and vitamins, shea butter helps prevent hair loss.
Now when it comes to promoting hair growth for already thinning hair, shea butter works by:
Rejuvenating weak and sleeping hair follicles and strengthening them
Moisturizing and nourishing a dry scalp and strands that are prone to breakage and hair fall
Enabling hair to grow thicker and lustrous
If you've been experiencing hair loss, receding hair line or even bald patches, start using shea butter now by applying it regularly. You don't need to use it just the way it is – you can spice it up by mixing other hair growth boosting ingredients such as rosemary essential oil (the best essential oil for hair loss: read why here) or eucalyptus essential oil (here's why it works for hair loss), coconut oil, sweet almond oil, eggs and so much more.
Where to Get Shea Butter
Personally, I use Shea Butter Nilotica because I find that it's so much better than West shea butter – it's not greasy like West shea, it has a more pleasant scent that's slightly plus it is SO SOFT. You do not need to melt or soften East shea butter. It's so soft and creamy and feels great on my skin and hair.
If you're not going to be using East shea butter, then I recommend one of the highest quality shea butters out there which is Shea Butter Nilotica from Slice of Nature. It's great for making your own shea butter homemade products.
What I've seen other people using – 100% African Shea Butter. I don't really use this shea butter because I haven't really seen many good reviews about it – one person even said she bought it and it was moldy or something!
Shea Butter Hair Growth Recipes
Other Resources:
My Favorite Tried & Tested Shea Butter Recipes Ebook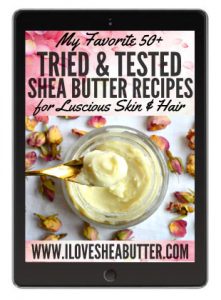 Do you love shea butter and want to make your own beauty products with it?! Check out this ebook "My Favorite Tried & Tested Shea Butter Recipes for Luscious Skin & Hair" for 30 awesome recipes,complete with step-by-step instructions, beautiful pictures and other valuable shea butter info!
All Natural Hair Care Guide with Essential Oils
Want to know more about essential oils for hair and how to make scalp & hair care recipes with essential oils? Check out our Complete Guide to Using Essential Oils for Scalp & Hair Care that talks about the magical properties, benefits & uses of essential oils for your scalp and hair with over 100 recipes to make your own chemical-free hair products for a healthy scalp and beautiful hair.
DIY Herbal Hair Oil Infusions Guide with Recipes
Want to make your own herbal hair oils? Check out our DIY Herbal Hair Oil Infusions eBook that contains an A-Z list of healing herbs and spices to infuse for hair, what base oil to choose for your hair type, methods of infusing your hair oils plus 20 exciting hair oil recipes for dry hair, heat damaged hair, hair growth, even gray hairs, scented hair and more!
Where to Get a Natural Shampoo
If you are going chemical-free on your hair, but want to save the time of making a homemade shampoo, this Maple Holistics Sage Shampoo is a game-changer. It contains powerful herbs such as sage: for dandruff & itchy scalp treatment, rosemary: for hair growth and prevention of hair loss and spikenard for dandruff treatment. It also has argan, jojoba and tea tree oils that all protect the scalp from germs, keep hair clean as well as hydrated and moisturized. This shampoo does not contain sulfates, so it will not lather the way you are used to, but you will quickly get used to it and notice the difference!