Find out why using eucalyptus essential oil for hair loss works!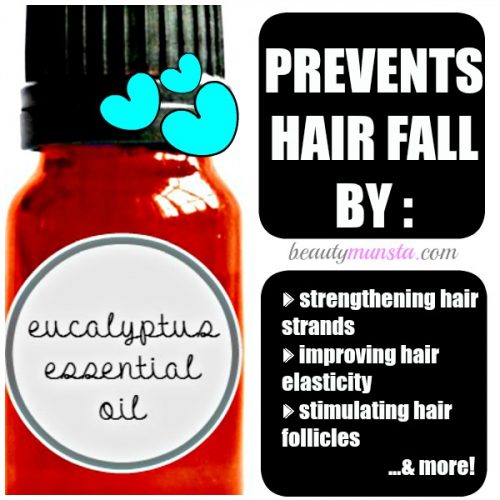 How to Reduce Hair Loss
If you're losing hair, the number one thing you shouldn't do – that almost everyone does is start panicking. Did you know that panicking creates stress and stress will instantly lead to more hair fall?! Instead of stressing, what you can do is start patiently identifying the root cause of hair fall.
There are many causes of hair fall – internal & external, including: poor diet, not washing your scalp & hair well, over washing your hair & scalp, dandruff, lice, heat tools & harsh hair styles, the weather, chemical hair products, inflammatory skin conditions, poor hydration, washing hair with tap water containing chemicals like chlorine and so much more!
Here are just a few things you can do to reduce hair loss & prevent more hair from falling:
Regularly wash your hair and scalp
Eat a balanced diet including protein, sulfur & essential fatty acids
Get a chlorine filter for your shower
Limit the use of heat tools & other damaging hair styling tools
Examine your diet for any allergens that cause eczema & psoriasis and eliminate them
Stop stressing
Drink water
Use natural hair masks & hair oils
The above are lifestyle changes that will gradually show signs of improvement so be patient and consistent to get amazing life changing results! Now let's look at how you can use eucalyptus essential oil for hair loss:
How Eucalyptus Essential Oil Helps Prevent & Treat Hair Loss
Eucalyptus essential oil has many amazing properties, some of which help stimulate hair growth and prevent as well as reduce hair loss. Here's how eucalyptus essential oil helps control hair loss:
Hair stimulant. When mixed with a carrier oil and applied to the scalp, eucalyptus essential oil (where to get it) gives a tingling sensation which is said to stimulate the hair follicles, thereby improving blood circulation in the scalp. This ensures that nutrient-rich blood reaches every cell and hair follicle, thereby encouraging hair growth.
Gets rid of dandruff & itchy scalp. Eucalyptus essential oil has powerful anti bacterial & antiviral & antimicrobial properties that will fight off malasezzia, which is a dandruff-causing fungus. Dandruff and itchy scalp problems can cause hair loss by clogging up hair follicles. Also, over scratching the scalp with the nails not only leads to inflammation & infection but is also proven to cause hair fall in Ayurveda.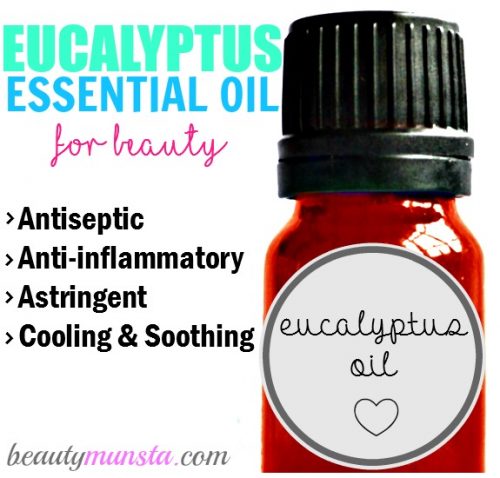 Improves elasticity of hair. A study conducted in Thailand in the University of Technology researched on the effects of eucalyptus extracts on the scalp and hair and the results were that eucalyptus not only increased the amount of ceramides on the scalp but also strengthened the hair shaft and improved elasticity. Improved hair elasticity enables the hair to be strong without breaking thereby preventing hair loss.
Kills lice. Eucalyptus essential oil mixed with a carrier, for example rosehip oil can be spread all over the scalp to kill off lice and nits by suffocating them. It also contains powerful antimicrobial properties and a very strong composition & overpowering scent that can kill off lice.
Controls oily scalp. The natural astringent properties of eucalyptus essential oil help regulate sebum on the scalp which can end up clogging hair follicles. This stale sebum can get stuck deep within the pores together with dirt & grime, thereby causing hair fall.
 Note: Please consult your health care practitioner before using any essential oils. Pregnant and lactating women and babies should not use essential oils.
Hair Growth Recipes with Eucalyptus Essential Oil
Eucalyptus essential oil is very potent so limit using it to once a week/ every three days. If you're using it for the first time, you can use it once a week/ fortnight. Please ensure you use only a few drops of eucalyptus essential oil as using too much of it can burn and severely irritate the scalp. Check out these effective remedies starring eucalyptus essential oil for hair loss:
Take Care
Never use eucalyptus essential oil 'neat' or undiluted on your skin. Always dilute with a carrier oil first. If using eucalyptus essential oil for the first time, add a few drops to a carrier oil (2 drops in 1 tsp of carrier oil) and apply on your inner elbow to see it is safe for you. Avoid eucalyptus essential oil in pregnancy and while breastfeeding.
Where to Get a Natural Shampoo
If you are going chemical-free on your hair, but want to save the time of making a homemade shampoo, this Maple Holistics Sage Shampoo is a game-changer. It contains powerful herbs such as sage: for dandruff & itchy scalp treatment, rosemary: for hair growth and prevention of hair loss and spikenard for dandruff treatment. It also has argan, jojoba and tea tree oils that all protect the scalp from germs, keep hair clean as well as hydrated and moisturized. This shampoo does not contain sulfates, so it will not lather the way you are used to, but you will quickly get used to it and notice the difference!
All Natural Hair Care Guide with Essential Oils!
Want to know more about essential oils for hair and how to make scalp & hair care recipes with essential oils? Check out our Complete Guide to Using Essential Oils for Scalp & Hair Care that talks about the magical properties, benefits & uses of essential oils for your scalp and hair with over 100 recipes to make your own chemical-free hair products for a healthy scalp and beautiful hair.
DIY Herbal Hair Oil Infusions Guide with Recipes
Want to make your own herbal hair oils? Check out our DIY Herbal Hair Oil Infusions eBook that contains an A-Z list of healing herbs and spices to infuse for hair, what base oil to choose for your hair type, methods of infusing your hair oils plus 20 exciting hair oil recipes for dry hair, heat damaged hair, hair growth, even gray hairs, scented hair and more!