Here are 5 most effective essential oils for thinning hair plus a few effective recipes to use!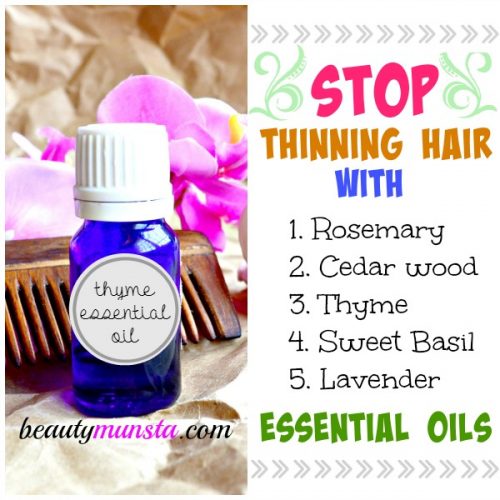 Thinning hair can be caused by a lot of internal and external factors including stress, poor diet, washing your hair with tap water which contains chlorine, poor hygiene, dandruff & other skin inflammatory conditions, among others.
A study on hair loss treatment found in the Archives of Dermatology  found that applying & massaging a mixture of cedarwood, thyme, lavender and rosemary essential oils promoted hair growth after consistent use over several months.
In this post, I've included all the above potent essential oils for thinning hair + why they are good for hair + how to use and apply them effectively. But first, let's take a look at some lifestyle habits to adopt while on this journey to stop thinning hair:
Wash your hair regularly
Eat a balanced diet (include fish, eggs, nuts)
Don't stress
Drink lots of water
Have a good night's sleep
Get a chlorine shower filter for your shower to remove chemicals like chlorine and soften hard water
Workout at least thrice a week
Nourish your hair with homemade hair masks
Avoid chemical hair products
Try to avoid heat tools for styling hair
Apply homemade hair oils for hair growth
While implementing the above lifestyle habits, use one or more of these 5 best essential oils for thinning hair to stop hair fall & promote new hair growth!
5 Effective Essential Oils for Thinning Hair
1. Rosemary Essential Oil
In Ancient Egypt, rosemary oil was combined with other oils like sweet almond oil, fir oil & castor oil to stimulate hair growth. Rosemary essential oil, extracted from the herb rosemary, is one of the best essential oils for thinning hair and it has been recommended to stimulate hair growth and improve blood circulation. Read more: How to Use Rosemary Essential Oil for Hair Growth
It contains powerful anti-oxidant and anti-inflammatory properties that promote a healthy scalp. This essential oil is also said to slow greying due to its antioxidant properties and can be used to treat dandruff & an itchy scalp due to its anti-fungal and antiseptic properties.
►Rosemary Shampoo: You can make your own DIY rosemary shampoo for hair growth with instructions in this article: DIY Shampoo for Hair Growth

2. Cedarwood Essential Oil
Hair follicles can weaken because of poor blood circulation in the scalp. Using cedar wood essential oil stimulates blood circulation in the scalp and thereby promote hair growth. Cedar wood essential oil also has anti-fungal properties that protect the scalp from fungal infections that stop your hairs from growing properly and cause them to fall out. Read more: Cedarwood Essential Oil for Hair Loss | How it Works & Usage Tips
► Scalp Massage: Mix 6 drops of cedar wood essential oil in 2 tablespoons of coconut oil and apply it onto your scalp in gentle circular motions. Do this an hour before you shower. Or leave it on overnight and wash your hair the next day. Cedarwood is also said to promote deep sleep!
3. Thyme Essential Oil
Bacteria, fungi and other germs can accumulate on the scalp, cause scalp infections and lead to hair fall. Thyme essential oil contains antiseptic properties that wards off germs or bacteria which clog up hair follicles and cause hair to fall out. Massaging thyme essential oil mixed with a carrier oil improves circulation, slow hair loss and promote new hair growth. There are many different types of thyme but the thyme that is ideal & safer for thinning hair is white thyme as red thyme contains more phenols and is also said to cause irritation for some people.
►Thyme Treatment: Add 6 drops of thyme essential oil to 2 tablespoons of grapeseed oil. Mix well and apply it to your scalp. Wait for about 30 minutes and then wash your hair as usual. Shampoo twice, if your hair feels oily.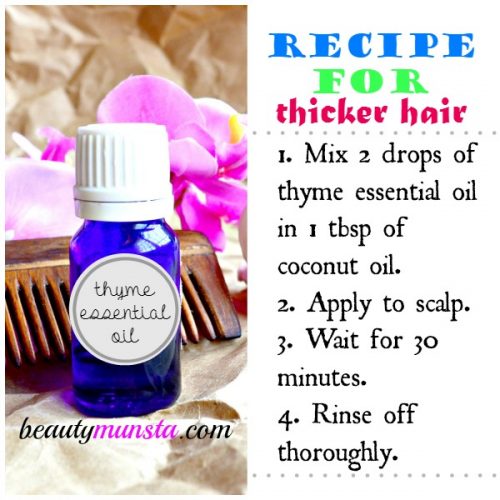 4. Sweet Basil Essential Oil
I love growing my own basil because it's filled with powerful antioxidants and other nutrients that can help fight flu & colds. It is also a potent anti-inflammatory agent that can heal any inflammatory condition including acne.
Sweet basil essential oil can also help unclog blocked hair follicles and clear up an oily scalp & dandruff. It has stimulant properties that promote proper circulation and this ensures all areas of the scalp are nourished with nutrient-rich blood hence facilitating hair growth. Please use only recommended doses of basil essential oil because it is extremely potent and can be very toxic and dangerous if not used in the right way.
► Add to Shampoo: Add 10 drops of sweet basil essential oil to an 8 oz bottle of shampoo, shake well and use as usual! Remember to use a natural sulfate-free shampoo like Maple Holistics Sage Shampoo.
5. Lavender Essential Oil
Added to many hair care products, lavender essential oil is extracted from the beautifully scented lavender flowers.
It has strong antiseptic properties that helps get rid of germs that clog up hair follicles and cause infection, which leads to hair fall. Lavender essential oil is also a stimulant which helps improve blood circulation on the scalp thereby preventing hair fall due to poor circulation.
► Hair Growth Spray: I love using a refreshing hair growth promoting spray! Here's how to make it: DIY Essential Oil Hair Growth Spray

DIY Hair Care Resources
Where to Get a Natural Shampoo
If you are going chemical-free on your hair, but want to save the time of making a homemade shampoo, this Maple Holistics Sage Shampoo is a game-changer. It contains powerful herbs such as sage: for dandruff & itchy scalp treatment, rosemary: for hair growth and prevention of hair loss and spikenard for dandruff treatment. It also has argan, jojoba and tea tree oils that all protect the scalp from germs, keep hair clean as well as hydrated and moisturized. This shampoo does not contain sulfates, so it will not lather the way you are used to, but you will quickly get used to it and notice the difference!
Take Care
First check with your doctor to see if essential oils are okay to be used by you if you suffer from hypertension, skin allergies and other medical conditions.
Always use 100% pure and high quality essential oils.
Never use essential oils 'neat' onto your skin. Always dilute first with a carrier oil (as a rule of thumb, dilute 2 drops of essential oil in 1 tsp of carrier oil). For more info read: How to Dilute Essential Oils
If you are pregnant or lactating and would like to use essential oils for nail growth, please first consult your doctor as most essential oils are not safe to use for pregnancy/lactating women.
New to essential oils? Then please take some time to read this amazing quick guide Caution and Safety when Using Essential Oils