Find out the 7 best essential oils for dandruff in this post!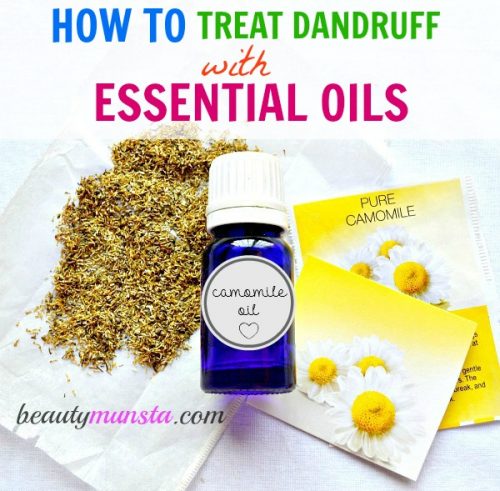 More and more people are turning to safe & effective home remedies to get rid of dandruff and with good reason too – store-bought anti dandruff products & other conventional treatments not only have adverse side effects but also don't even seem to get rid of the problem in the first place!
Personally, I must admit that most store-bought anti-dandruff shampoos have never really helped get rid of my dandruff permanently and it has always ended up being a never ending cycle of trying different medications and store bought products all in the name of curing dandruff.
Although essential oils won't cure dandruff overnight, using them in your hair care routine will definitely help treat dandruff. Before looking at the top 7 essential oils for dandruff, we must first understand the causes of dandruff, and start implementing lifestyle changes which includes good diet habits, to find out the root cause of the problem.
Causes of Dandruff
Using essential oils for dandruff is one of the best home remedies to treat, soothe & calm an itchy scalp as well as get rid of dandruff once and for all. However, in addition to using these essential oils, also try following these effective tips:
Here are 7 best essential oils for dandruff to disinfect, calm & soothe your scalp as well as take the itch away.
1. Tea Tree Essential Oil
Tea tree essential oil contains powerful antiseptic, antimicrobial and antibacterial properties that kills bacteria, yeast and germs that accumulate on the scalp and cause dandruff. It provides a soothing and cooling sensation when applied to an itchy & inflamed scalp caused by dandruff. Although tea tree essential oil can be used neat on skin, some people especially those with sensitive skin can experience burning sensations. Therefore, please ensure to mix it with a carrier oil like jojoba, coconut or olive oil to stay on the safe side. Don't miss: 16 Beauty Benefits of Tea Tree Essential Oil for Skin, Hair & More
2. Lavender Essential Oil
This essential oil contains powerful anti-fungal and anti-inflammatory properties that keeps away fungus that causes dandruff as well as soothe redness and itchiness on the scalp. Its regenerative properties help promote a healthy and germ free scalp. Read more: 10 Beauty Benefits of Lavender Essential Oil for Hair, Skin & More
3. Rosemary Essential Oil
Rosemary essential oil is popularly used as an effective ingredient in many home remedies for dandruff due to its potent anti-fungal and anti-inflammatory properties. It also increases circulation to the scalp which promotes hair growth! Don't miss: 18 Beauty Benefits of Rosemary Essential Oil for Skin & Hair
4. Thyme Essential Oil
Containing strong anti-fungal & antiseptic properties, thyme essential oil staves off any germs & fungi that cause dandruff and scalp infections. Thyme essential oil also invigorates the scalp thereby stimulating circulation in the scalp, which helps keep the scalp healthy and dandruff-free.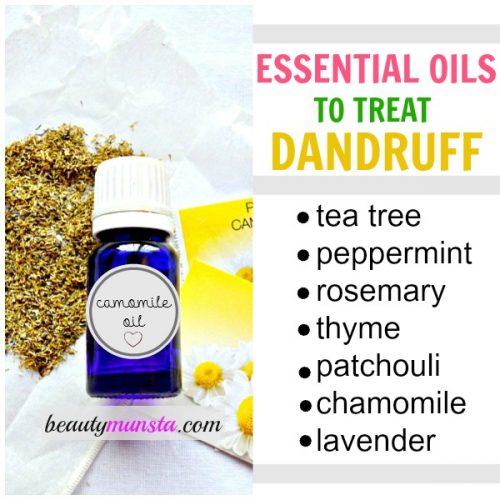 5. Peppermint Essential Oil
Providing a soothing and cooling sensation, peppermint essential oil is especially great for treating dandruff. It will help calm an itchy and red scalp as well as help eliminate flakiness. Don't miss: 19 Beauty Benefits of Peppermint Essential Oil
6. Patchouli Essential Oil
Patchouli essential oil is another one of the best essential oils for dandruff. It contains anti-fungal properties that will stave off yeast and bacteria that not only cause dandruff but also build-up and form scalp infections. Patchouli oil can usually be applied directly without dilution.
7. Chamomile Essential Oil
Chamomile essential oil has numerous healing properties and one of them is to cure dandruff and flaky scalp issues. It has calming properties that will soothe itchy and dry scalps and its anti-inflammatory nature aids in reducing redness, inflammation and heat that leads to dermatitis. In some cases, an oily scalp can produces excess dead cells and grime that dry up and fall off as dandruff. Chamomile essential oil will treat this type of dandruff by regulating sebum on the scalp. It also saves the scalp from dandruff caused by dryness which is characterized by itchy flakes by balancing out the scalp's natural moisture and oils. This enables the scalp to stay moisturized and hydrated.
How to Use the Above Essential Oils for Dandruff

The Best Natural Anti-Dandruff Shampoo with Essential Oils

Take Care
More natural remedies for dandruff: